Your Guide to the Best Birdwatching PLaces in Guatemala
Guatemala has become an increasingly popular birding destination in recent years, and it's easy to understand why. With a beautiful climate and over 700 bird species, you could spend years birding in this country and not find them all. As a result, it's essential to understand the top birding destinations in the region to ensure that you can properly plan your trip and find as many as possible.
In this article, we'll examine each destination in detail, including its address, the hours, any costs, and the birds you'll see. At the end, we'll answer multiple questions that you might have about birding in this country. So read carefully through this guide and pick several destinations that interest you to ensure you get the best result for your unique birding experience.
Tikal National Park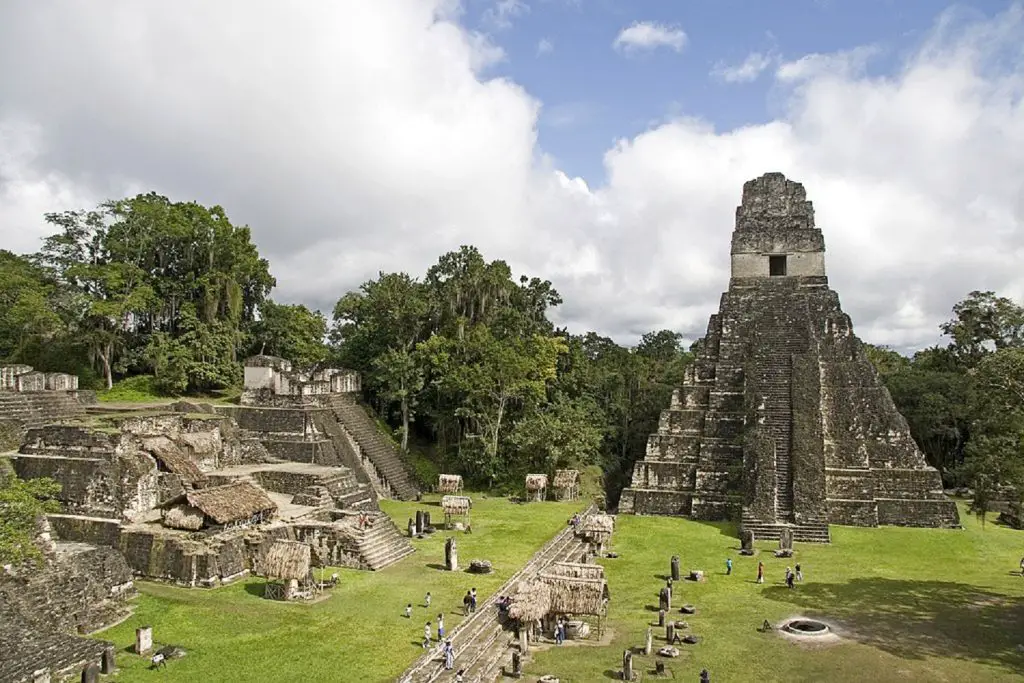 Address: Tikal, Guatemala
Hours: 6 am to 5 pm
Cost: $150 Guatemalan or $19 American
Birds You'll See: Great Currasow, Keel-Billed Toucan, Harpy Eagle
About the Park
At Tikal National Park, you'll get the chance to experience many unique outdoor experiences. It's home to many fantastic bird species, including the Great Currassow and the Keel-Billed Toucan. You'll also see many other animals in their natural environment, such as jaguars and monkeys. So get out your camera and take advantage of this rare opportunity to photograph these amazing creatures.
Beyond the many animals in the park, you'll see multiple Mayan sites where this now-extinct civilization lived between the sixth and tenth centuries. For example, you'll see the beautiful Tikal Temple, which remains intact over 1,000 years after its construction. Please take photos of yourself near the temple but avoid walking up it: it's a protected area. Note: birds don't typically come near these busy areas, so plan carefully.
This World Heritage Site also includes a well-maintained social area where you can meet with other birders and talk about species you found. However, much of the area is lush and forested, meaning you'll likely see many critters flying, crawling, and running around if you go exploring. Stick to designated trails; many travel near beautiful birds' nests and other animal living areas.
Book a sleeping hammock or stay in nearby villages if you want to stay at the park overnight. This popular option increases your chances of spotting beautiful birds. However, note that this option has potential dangers, such as animals checking in on you while you're sleeping. So please camp cautiously and only in areas approved by the Guatemalan authorities.
Get ready for your birding experience, check out the best birdwatching binocular glasses.
Laguna Lachuá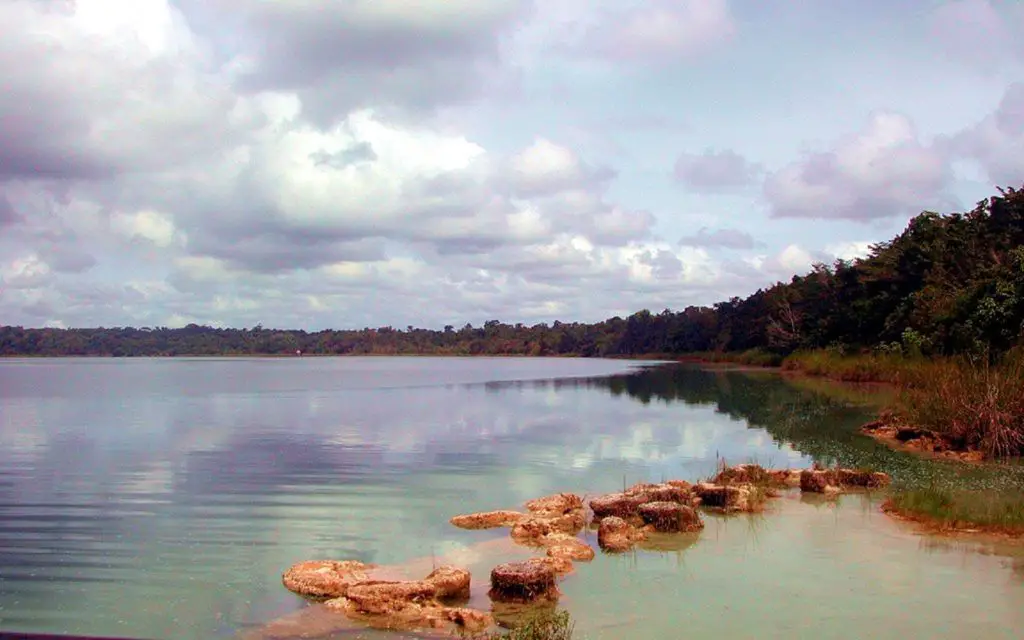 Address: Laguna Lachua National Park
Hours: Sunrise to sunset
Cost: Varies, depending on your location
Birds you'll see: Great Tinamou, Little Tinamou, Northern Shoveler, Lesser Scaup
About This Location
Laguna Lachua is an off-the-beaten-track Guatemalan destination that provides plenty of birding opportunities for clever birders. Many water birds live on this lake, including the Roseate Spoonbill and the Least Bittern. This last bird is one of the toughest to spot in Guatemala, meaning it's an excellent idea to travel to this area if you have yet to spot one.
You will likely see things like monkeys, tarantulas, and various insects and snakes during your visit. Furthermore, you'll have many chances to hike, picnic, explore, swim, or snorkel. Many water birds hang out around the lake because of its abundance of fish. Camping along this region should help you spot just about any of the 300 or so bird species that spend time in this area.
The best thing about this area is that it's less popular than other Guatemalan destinations. You can find adventure tours and cave visits that cost between $71 and $178 per person. These trips attract more people to the area, so try to visit it before it gets too popular. Doing so can ensure you stay calm and make spotting beautiful species easier.
Practice your picture-taking skills with the tips from these bird photography books!
Río Dulce National Park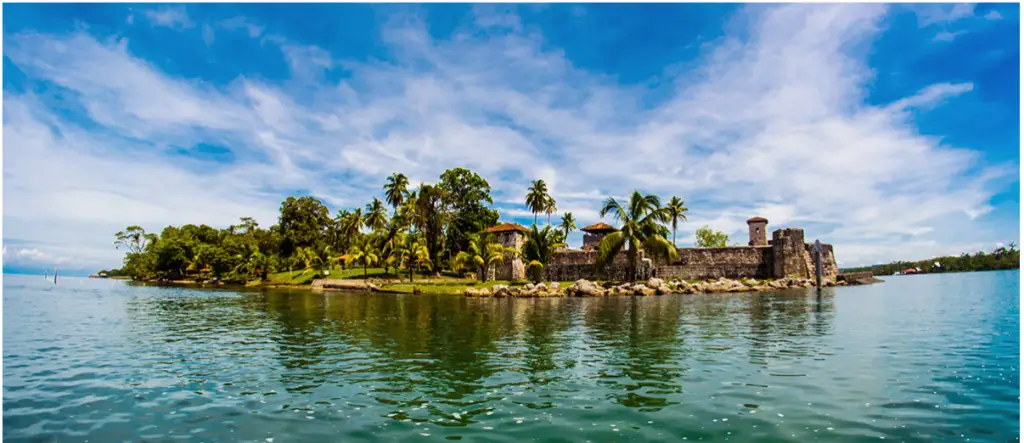 Address: Between the Santa Cruz Mountains and the Minas Mountains
Hours: Sunrise to sunset
Cost: Varies, depending on your tour
Birds you'll see: Toucans, Quetzal, Guatemalan pygmy owl, Pink-Headed warbler
About the Location
The Rio Dulce or Dulce River is a 27-mile or 43-kilometer stretch from Lake Izabal to Livingston, providing plenty of birding options. It moves through wetlands, tropical forests, mangroves, and the Rio Dulce National Park. This region includes over 400 bird species, meaning it shouldn't be hard to find some to add to your books and photo collections.
Guided tours down the river will allow you to spot many bird species. For example, aquatic birds often flock to this river shore where they can catch fish, relax in the sun, and even feed off crocodile teeth. Thankfully, the river's short length makes it easy to move through in a few days, giving you plenty of time to explore the surrounding region when you pull in and camp for the night.
If you want to avoid camping, there are multiple hotels throughout the region, particularly in Fronteras de Guatemala. This destination includes more comfortable sleeping amenities, such as temperature-controlled rooms, that make your stay more enjoyable. However, the river also has multiple campsites to relax and rest for the night with your party.
While traveling, we strongly suggest covering your belongings with a plastic, waterproof sheet. Also, buy a camera protector that keeps water from its body and lens. You'll always want your camera out while on the river because you never know when a bird will take flight over your head. Protecting your equipment in this way prevents water damage and keeps your bird pics safe.
Related post: Best Birding Boots and Birding Gloves
Cerro San Gil Reserve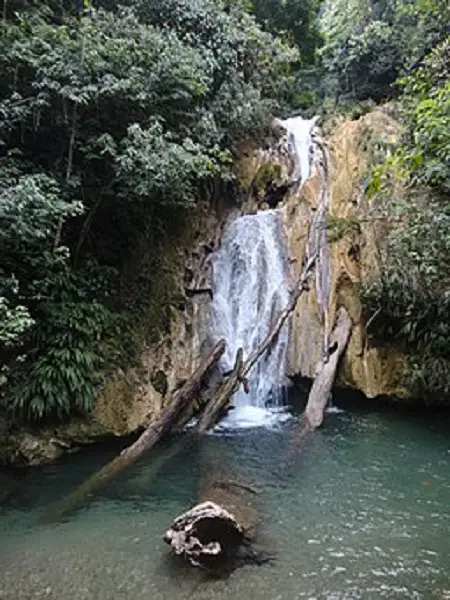 Address: Izabal, Guatemala
Hours: 8 am to 4:30 pm
Cost: $1.50 per resident and $5 otherwise
Birds you'll see: Roseate spoonbill, Least Bittern, Jabiru Stork, Amazon parrot, Quetzal
About The Location
The Cerro San Gil Reserve is a popular destination for birders because it includes over 200 different bird species. Some of the most sought-after birds in the country live here, including the Horned Guan and the Quetzal.
Located near Quetzaltenango, Cerro San Gil is home to over 200 bird species, including the rare Black-capped Swallow and the endangered Horned Guan. You'll also spot birds like the chestnut-bellied heron, the crested eagle, the sunbittern, and the tody motmot. If you've never heard of these birds, you should come to this park and see if you can spot them.
The trails throughout this area are typically well maintained, though some areas are in bad shape. Thankfully, you can also visit one of the many observation tours in the region more easily spot birds. Be careful when climbing these tours because some are better maintained than others. Those more profound into the reserve are usually less maintained, so plan your visit accordingly.
Unlike other popular birding destinations, you can find well-maintained campgrounds and bathrooms throughout this reserve. You can also book local guides to various popular birding areas. That should make your trip a lot easier.
You might wanna equip yourself with any of these compact binoculars or mid-range binoculars for birdwatching!
Maya Biosphere Reserve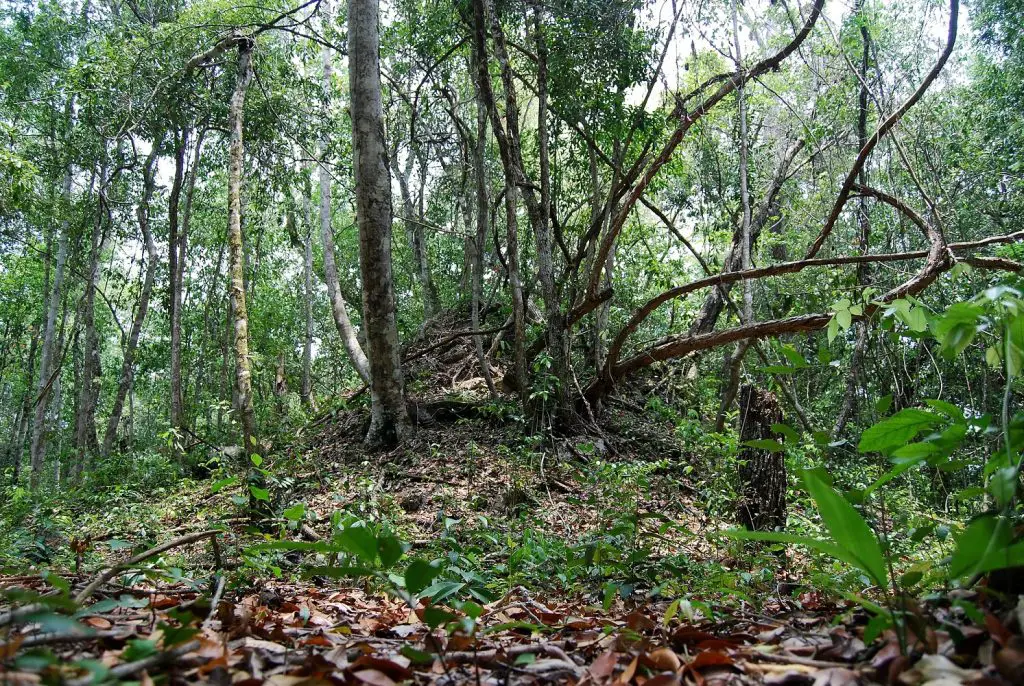 Address: Throughout Guatemala
Hours: Sunrise to sunset
Cost: Varies, based on the location
Birds you'll see: Jabiru stork, Black-Capped Swallow, Amazon Parrot, most toucans
About the Location
The Maya Biosphere Reserve is a vast region covering one-fifth of Guatemala's surface. That means it's home to most of the country's birds, including over 500 species. It's a popular destination for birders who want to take photos of the Jabiru Stork or Black-Capped Swallow. These species are often hard to spot elsewhere and endangered, meaning taking pics while you can is essential.
Throughout this region's core areas, you'll explore four national parks and three wildlife reserves across multiple landscapes. These include lowland forests, where you'll see more common birds and savannas with rarer species. You can also find caves and rocky areas alongside lakes and lagoons, giving this area a diverse and consistently engaging array of things to do.
Please note that this region is also home to dangerous animals like jaguars and cougars. Though they mostly leave people alone, traveling too far away from designated paths can bring you closer to them. As a result, it's best to stay close to your guided tour while here. Just as importantly, the species in this park are protected, so be careful and avoid leaving behind any trash or residue during your visit.
Catch a sight of hawks in their migration across Veracruz, Mexico!
Sierra de los Cuchumatanes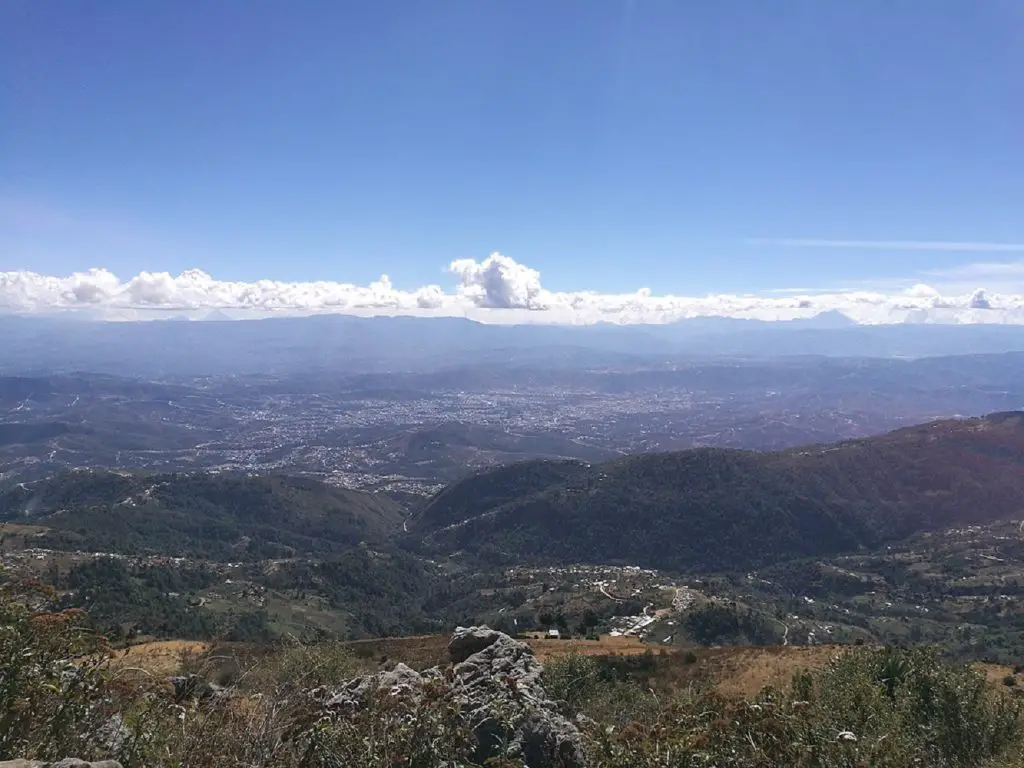 Address: Western Guatemala
Hours: Sunrise to sunset
Cost: Varies, depending on your tour
Birds you'll see: Resplendent Quetzal, Horned Guan, parrots, toucans, Jabiru stork
About This Location
Sierra de Los Cuchumatanes is an extensive mountain range in western Guatemala. It is home to over 400 bird species and includes multiple terrain types. You'll climb rugged mountains, cross ample rivers, wade through waterlands, and see fantastic and unforgettable vistas. Area guides can help you find different bird species to minimize travel.
Most people start their trip in Huetenango or Todos Santos Cuchumatan, villages that provide a great place to stay and relax between birding trips. It takes about 30 minutes from either town (on a microbus or chicken bus) to get to the mountains. You can book with a local guide or go alone, though we strongly suggest finding someone who can take you to common birding spots in the region.
You can also explore the many grassland areas, including juniper, pines, and fir trees. These sites often provide the best birdwatching opportunities because of the extensive forests and easier access. Here, you're more likely to see Amazon parrots, which may have something to say to you as you take their picture. Unfortunately, these grassier areas may also have more snakes, so watch your step!
Prep for your birding experience with these birdwatching rules and ettiquette.
Common Questions About Birding in Guatemala
You may have many questions about the best places to find beautiful birds in this country. Thankfully, we've researched and can answer the most common questions asked by birders in Guatemala. Reach out to us if you need more information before planning your trip.
What Time of Year is Best for Birding in Guatemala?
While you can catch birds just about any time of year in Guatemala, they're most active between February through April. These months include the warmest summer weather in the country and have extensive mating and nesting periods. Unfortunately, this country experiences heavy fires during these months, so be careful when booking your trip.
What Kinds of Birds Are Common in Guatemala?
When you visit Guatemala, you'll see some birds you won't find at home, like the Horned Guan, Black-Capped Swallow, White-Tailed Jay, Guatemalan Quetzal, Black-Faced Solitaire, Azure-Rumped Tanager, and other beautiful species. While you're not guaranteed to see these or any of the 700 bird species in the nation, visiting the spots above increases your chances.
What Other Wildlife Will I See in Guatemala?
Beyond the many birds you may see in Guatemala, you can also see animals like the Admiral Butterfly, Agouti, Anole Lizard, various bat species, thousands of bees, wasps, blind snakes, bobcats, Brazilian Treehoppers, many cows, crocodiles, Fiddler Crabs, jaguars, Mexican Aligator Lizards, moles, mole crickets, turtles, and much more. In other words, plenty of fantastic photo opportunities!
What are Some Tips for Birding in Guatemala?
Make sure you practice your Spanish before visiting Guatemala, the region's official language. Bring a guidebook and practice the area's various bird species' names. Doing so can help you find them more easily. You should also bring all your gear with you, like your binoculars, birding guide, and camera. Lastly, head out in the morning, as birds are usually most active then.
Are Birding Trips Available?
Guatemalan birding tours include multiple setups, including 3-21 day trips with guided photography tours. You can book these trips ahead of time and base them around the birds you want to see the most. Do your research before choosing a tour; many take place year-round and may focus on different parts of the country during each trip. This gives you plenty of options to select from, thankfully.
Where Can I Stay in Guatemala?
Guatemala City is a large and bustling capital city with plenty of places for birders to stay. These include hotels, bed, and breakfast destinations, and hostels. You may also stay in Lago de Atitlan, Laguna, Chichicastenango, Antigua, and Livingston. Thankfully, you can also camp in many areas, though you should be careful to choose only nationally approved destinations.
Add to your European birdwatching bucket list these awesome birding spots in Spain!
Wrap Up – Best Birdwatching Places in Guatemala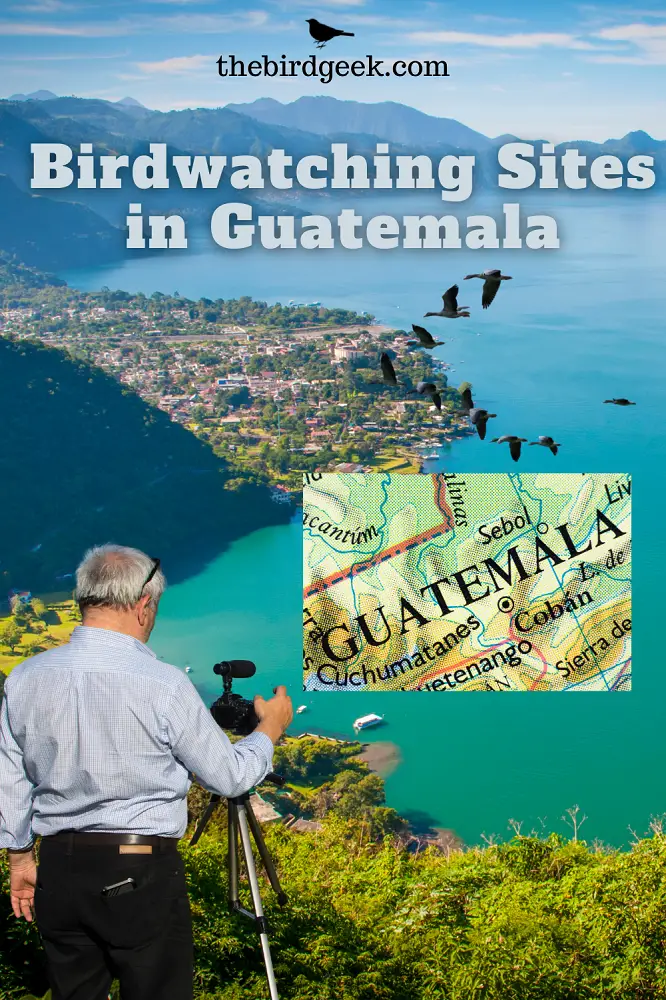 We hope you enjoyed our list of the best birdwatching spots in Guatemala that you can visit and explore!
Related post: The Best Birdwatching Places in Cancun!
Check out these hawk watching sites for more birdwatching-worthy spots:
Related post: Best Places in the Rocky Mountains to Go Birdwatching