The 6 Best Bird Photography Books for Beginners and Masters  
Bird photography is a fascinating art that lets you capture beautiful pictures of birds in flight, while eating, or even interacting with others of their species. However, this skill takes some time to learn and requires a powerful camera, great lenses, and a little luck. That said, you can improve your bird photography through practice and by reading books about bird photography.
The following books will teach you how to set up your camera, frame your shots, identify birds in your area, and much more. They include comprehensive DIY steps, gorgeous photography, and even buying guides for cameras. Buying one or more of these helpful field manuals will improve your birding photos and ensure you capture the breathtaking shots you've dreamed of for years.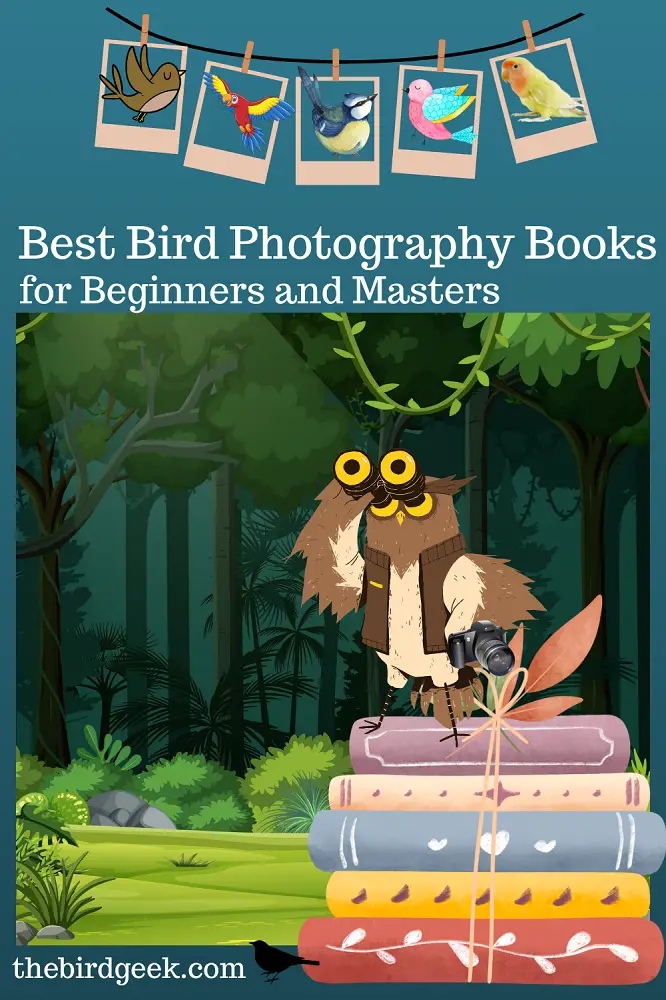 The Top 6 Birding Photography Books on the Market Today
We carefully researched each book in this guide to ensure they meet your high-quality standards. Our team confirmed each book was written by an established expert with years in the business. Beyond that, we checked the tips and suggestions included in each guide and found they were sound, reasonable, and practical. As a result, you should have a great experience with each of these books.
100 Flying Birds: Photographing the Mechanics of Flight
About the Book
Peter Cavanagh is a successful bird photographer with years of experience, and his practical guide provides many unique tips and suggestions throughout each chapter. Over 100 photos highlight multiple species, including eagles, hummingbirds, gulls, and raptors.
Cavanagh highlights the technical demands of each shoot, including what lenses work best for each species, the shutter speeds used to capture fantastic images, and where to find each bird. You'll also get unique facts about each bird and learn more about his photography career.
While this book could use more in-depth facts that would make it even more interesting, we love the more personal approach that Cavangh took. We also enjoy the multiple points he shares about the species, his tips and suggestions, and the gorgeous photos that prove his methods work.
What We Like About This Book
The over 100 beautiful birding photos that highlight his techniques
In-depth guides to multiple bird species to make photography more fun
Interesting facts about photography and each species spread throughout the book
A beginner-friendly language that makes this book an easy read for anyone
Related post: Best Birdwatching Binocular Glasses
Mastering Bird Photography: The Art, Craft, and Technique of Photographing Birds and Their Behavior
About the Book
Marie Read is an acclaimed author and bird photographer that has written a fascinating and engaging photography guide. Her early chapters focus on choosing the best camera, picking an effective lens, setting up your camera, and handling all the basic steps needed for photography.
She then discusses how to compose each shot, tracking bird behavior, necessary fieldcraft steps (such as setting up your tripod and preparing for a trip), and tips on bird habitat. Finally, you'll learn how to find different species in varying setups to ensure you get shots that make sense.
Read also discusses sensitive topics like bird photography ethics, action, in-slight shots, North America's top bird photo sites, editing your photos carefully, and telling stories with your pictures. She also includes 400 of her best bird photos to showcase her photography skills.
What We Like About This Book
The friendly and engaging tone Read uses throughout the book
In-depth and educational chapters that teach you about practical photography skills
Beautiful photos that showcase some of the best birds in North America
The more technically oriented design helps make your photography easier to perfect
Related post: Best Bird Feeder with Wireless Camera
Photography Birds: Field Techniques and the Art of the Image
About the Book
Gerrit Vyn is a well-known bird photographer out of Cornell Lab, with many years of experience capturing unbelievable bird photos. Their approach in this book focuses on a comprehensive guide to bird photography. Before your first shoot, you'll choose a camera, lenses, and other vital elements.
Then, you'll learn how to take photos of birds in action, compose each of your shots, effectively use blinds, a tripod, and a flash, understand bird behavior, and use Adobe Lightroom, a famous bird photography software program. These steps help make you a better photographer.
While beginners may find some of the explanations in this book a little overwhelming, Vyn is a true professional and a skilled writer. That makes this guide a valuable option for people from all walks of the birding world. Even with little experience, you can quickly work through this guide.
What We Like About This Book
The in-depth chapters that truly immerse you in bird photography
Chapters on bird blinds that help you set up and use these tools effectively
Techniques for using a flash that won't cause distress to your favorite birds
Other tips that help you spend time in nature more effectively
Bird Photography: A Beginner's Guide to Mastering the Art of Capturing Stunning Images of Birds
About the Book
Wildlife photographer Mark Smith's guide to bird photography is the perfect choice for people with minimal experience in this field. It highlights important steps for new photographers, including proper camera handling, terms like aperture and focus, and how to change lenses effectively.
Smith also integrates information about using phone cameras, which is nice because there are times when you might be out in the wild without your camera. He also fills his book with personal stories highlighting bird behavior facts. This approach makes his book very readable.
His book is the easiest to read on our list and is endlessly enjoyable for any birder. As a result, we strongly recommend it if you're new to bird photography and need a little help getting used to the unique demands of this exciting art.
What We Like About This Book
Smith's storytelling approach makes this book far more readable than many other guides
A beginner-friendly method that helps introduce newbies to this skill
A step-by-step guide to setting up your camera in different settings
His willingness to discuss cell phone photography, an often neglected field
The Handbook of Bird Photography
About the Book
This book, written by Markus Varesvuo, Jari Peltomaki, and Bence Mate, gathers information from three skilled photographers to create a fascinating and valuable guide. It's designed as an all-in-one manual that helps beginners improve their skills, and more experienced photographers get even better.
Throughout each colorful chapter, you'll see beautiful bird photos, learn more about basic photography, and get tips for improving your existing skills. You'll also learn about choosing equipment, how to light each scene, and the best way to compose and crop photos after you've taken a shot.
If you're interested in becoming a serious bird photographer, this may be the manual for you. It is designed to help transition people into more serious photography skills. There are even tips and suggestions for how to begin a nature photography career if that appeals to you.
For instance, you'll learn how to show off your photos at fairs, promote your new photography business and artwork, and how to sell images. These details help you transition to a career as a photographer and make your experiences even more enjoyable.
What We Like About This Book
The in-depth chapters highlight various shooting techniques, such as capturing movement
Information on the best sites for finding birds throughout the nation
A step-by-guide process for buying and using the best photography equipment
Beautiful bird photos from three of the best nature photographers working in the field today
Related post: Record your birding experience in these Best Bird Watching Journals
Beginner's Guide to Bird and Wildlife Photography: Learn and Master the Art of Wildlife Photography
About the Book
Jorn Vangoidtsenhoven has created a detailed beginner's guide for nature photography that is perfect for people with no experience. While meant as a more general guide for natural photos, it includes chapters highlighting bird photography, including the unique challenges of this approach.
Accordingly, you'll learn about the important basics of digital photography, including shutter speed, aperture, and ISO. Then, you'll learn the differences between a DSLR and a mirrorless camera, making it easier to get started. Once you're ready, you'll learn more hands-on tips and suggestions.
For example, Vangoidtsenhoven discusses the benefits of auto and manual focus to ensure you can transition to more detailed photos. He also discusses exposure compensation, image composition, photography theory, and much more. Each chapter immerses you in more and more information.
While more advanced photographers will already know most of the information here, this book is not designed for them. It's basically for someone who has never picked up a camera in their life. In that way, it's an excellent primer for people interested in birding and nature photography as a hobby or career.
What We Like About This Book
The beginner-friendly approach that makes it adaptable for many users
Bonus chapters that highlight his photography career and the stories behind each shot
Its compact size, which makes it easy to take out on your in-person photo shoots
A personal and friendly approach that makes each chapter easy to enjoy reading
Related post: The Best Children's Birdwatching Books
WRAP UP – The Best Bird Photography Books
These books are among the best references you need to hone your bird photography skills! Whether you're a beginner or a sensei to birding and nature photography, give yourself an edge with these books' guides, tips and tricks.
You might also enjoy: The Best Birdwatching Twitter Accounts that post bird photos (and memes!).
Are you wondering on how to jumpstart your birding adventure? Know the basics and find the answers to most important birdwatching FAQs!