Best Places In The Rockies To Go Birdwatching (9 Destinations You Can't Miss!)
The Rocky Mountains are one of the most beautiful places to visit in the western United States and are a common birding destination. There are over 800 bird species in the mountains spread out across a broad geographical area, which makes them a fantastic and exciting place to travel.
In this guide, we'll take a look at several of the most popular birding destinations in the Rockies and break down what makes them so unique. At the end of the article, we'll answer some of your most pressing questions to ensure you better understand what to expect on your birding trip.
1. She Flew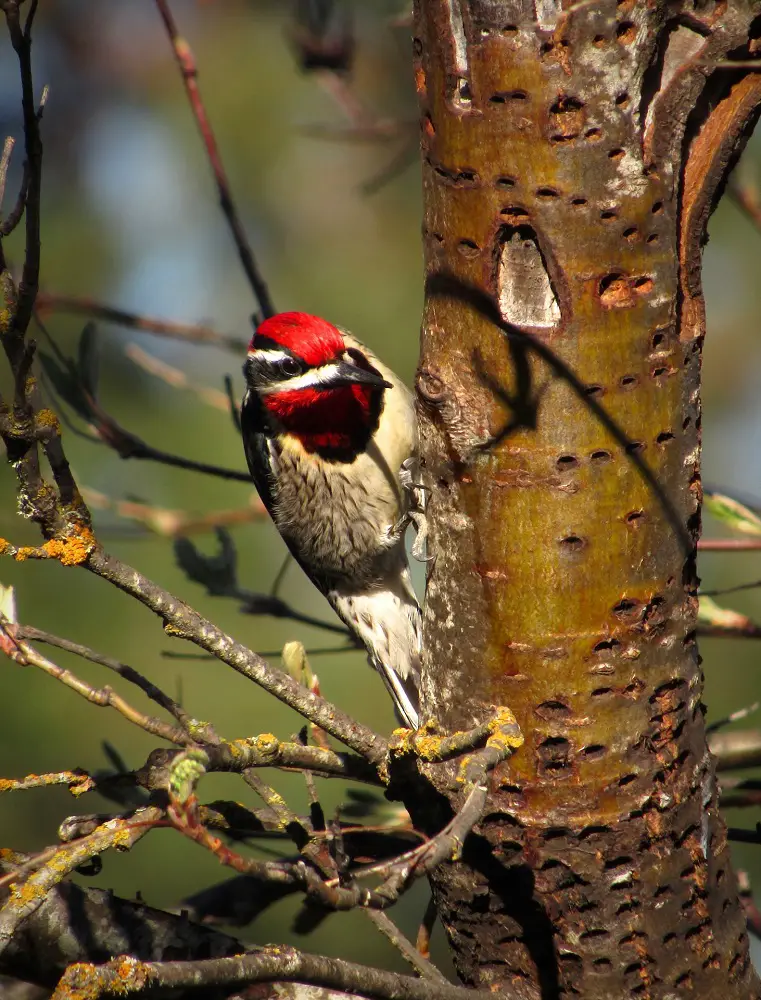 Address: 1000 US Hwy 36, Estes Park, CO 80517
Cost: $400
Hours: June through August
Birds You'll See: White-tailed Ptarmigan, Black Swift, Williamson's and Red-napped Sapsucker, Townsend's Solitaire, American Dipper, Virginia's and Wilson's Warbler, Western Tanager
She Flew Birding Tours is a Colorado-based bird-watching company that has spotted over 282 bird species on many trips. In addition, they provide unique options based on your birding interests. For instance, the Grouse Tour introduces you to the many grouse species common throughout the region. 
The owner, Sue Riffe, has been birding for over 20 years and has spotted over 725 ABA birds. Her interest in birding has extended to an extensive trip throughout the Rocky Mountains. Each tour is several hours long and includes transportation around the area for safety purposes. 
2. Flattop Mountain Trail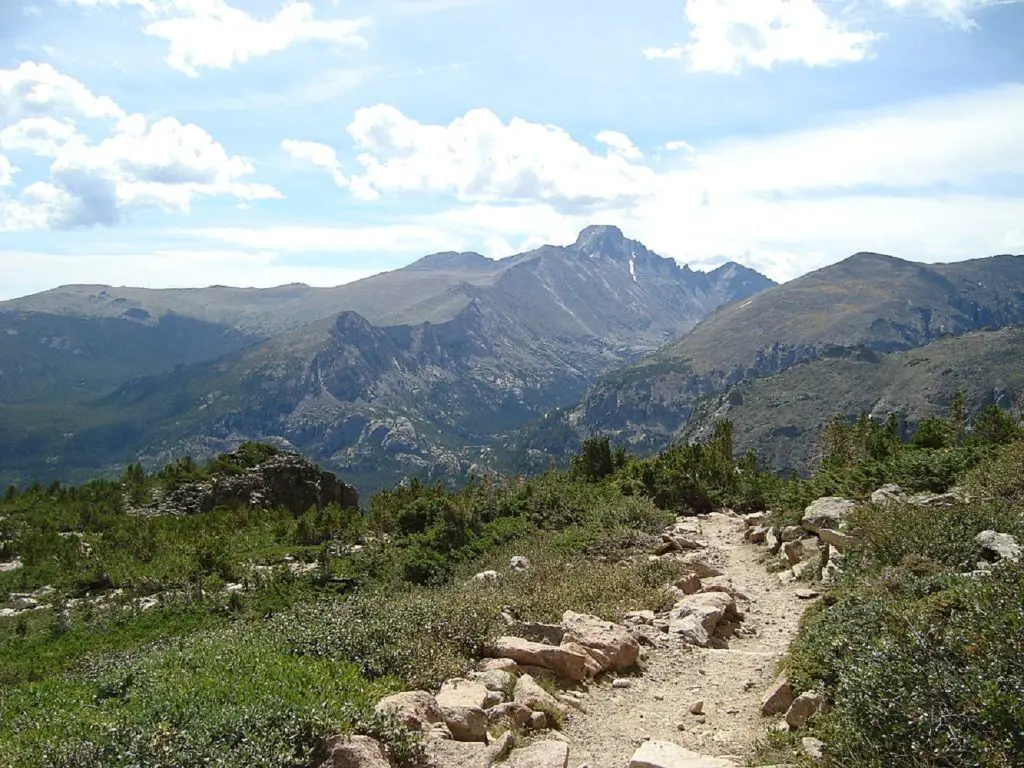 Address: 1000 US Hwy 36, Estes Park, CO 80517
Cost: $30 entrance fee
Hours: Office open 8-4 daily in Summer and 8-12 Saturdays and Sundays in Winter, park open 24 hours a day
Birds You'll See: Broad-tailed Hummingbird, Ruby-throated Hummingbird, Rufus Hummingbird, Calliope Hummingbird, ducks, swans, geese, ptarmigan, grouse, and wild turkeys
Flattop Mountain Trail is one of many fantastic outdoor hiking destinations at Rocky Mountain National Park that we'll cover here. You'll walk along an 8.5-mile trail with an elevation gain of 2,874 feet. The track is well-kept and runs along several regional common birding areas. 
Typically, it's best to visit this trail from May through October, as it is best maintained during this period. However, you might see runners, horse riders, and others on this trail, so make sure that you treat it with respect and scout ahead while you hike to avoid any problems during your trip.
3. Prospect Park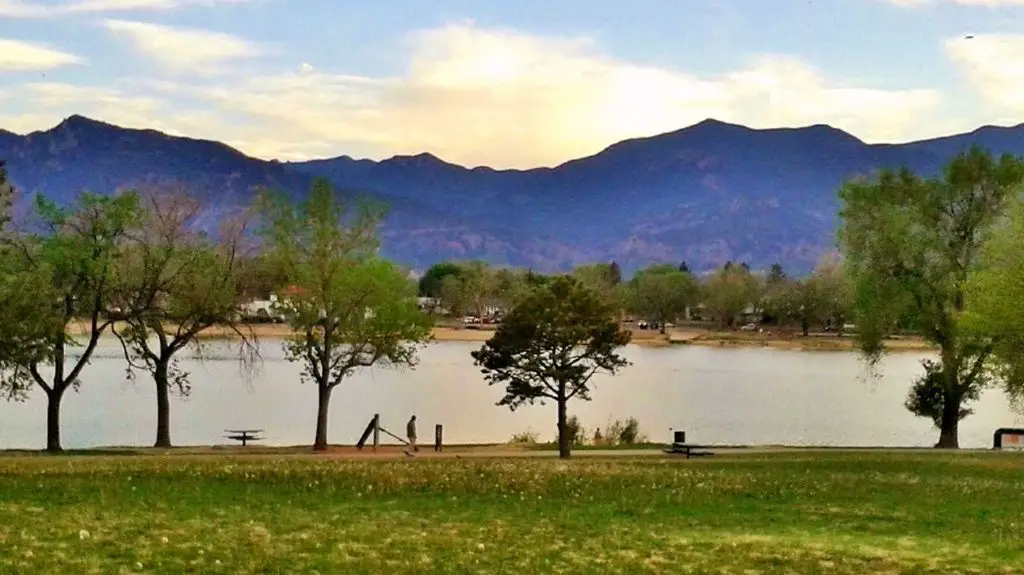 Address: W 44th Avenue and Robb Street, Wheat Ridge, CO 80033
Cost: Free, with $125-230 optional pavilion rental price
Hours: 5 am to 10 pm
Birds You'll See: Mallards, Gadwalls, Green-winged Teals, American Dippers, Buffleheads, Common Goldeneye, Hooded Mergansers, Red-winged Blackbirds, Common Yellowthroats
Prospect Park is a popular outdoor destination in Wheat Ridge that includes multiple habitats and fascinating bird species. Within the park, Tabor Lake provides a popular nesting site for many species, which makes it a great place to visit if you want to spot as many bird species as possible. 
Beyond the riverside and open-water habitat, there's a well-maintained boardwalk near which many bolder birds nest. You can also find a ball field, basketball court, bike/walking path, fishing pits, grills, horseshoe areas, and a pavilion you can rent for the day. This makes it a great family birding destination.
4. Rocky Mountain Birding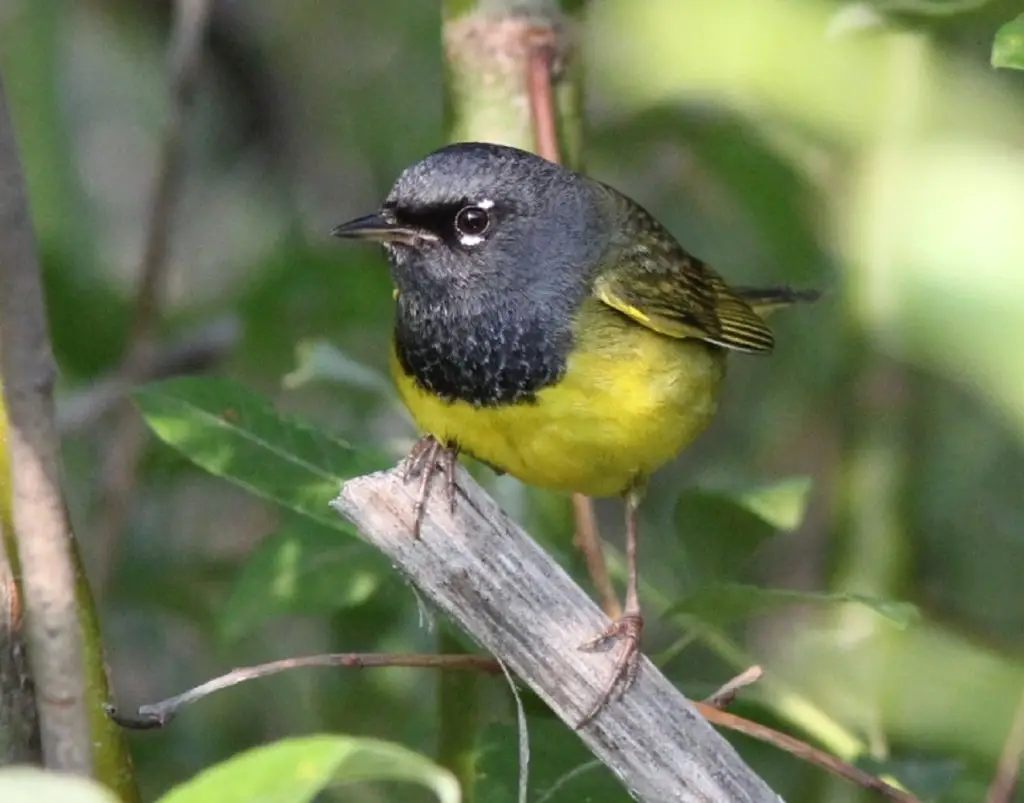 Address: 1000 US Hwy 36, Estes Park, CO 80517
Cost: $525
Hours: Varies depending on your trip
Birds You'll See: Northern Pygmy-Owl, Townsend's Solitaire, Steller's Jay, American Three-toed Woodpecker, Red-naped Sapsucker, MacGillivray's Warbler, American Dipper
Rocky Mountain Birding is one of the most popular birding tour companies because they create a customized itinerary based on your interests. They'll pick you up from your hotel or home and visit spots you choose based on what birds you want to see. The evening then ends when you want. 
That makes this an excellent option for people who know what birds they want to see but aren't sure where to go. Of course, you'll also likely see animals like moose, elk, sheep, coyotes, and chipmunks. They also provide you with lunch, snacks, and drinks and cover all park fees (included with your expenses).
5. Lily Lake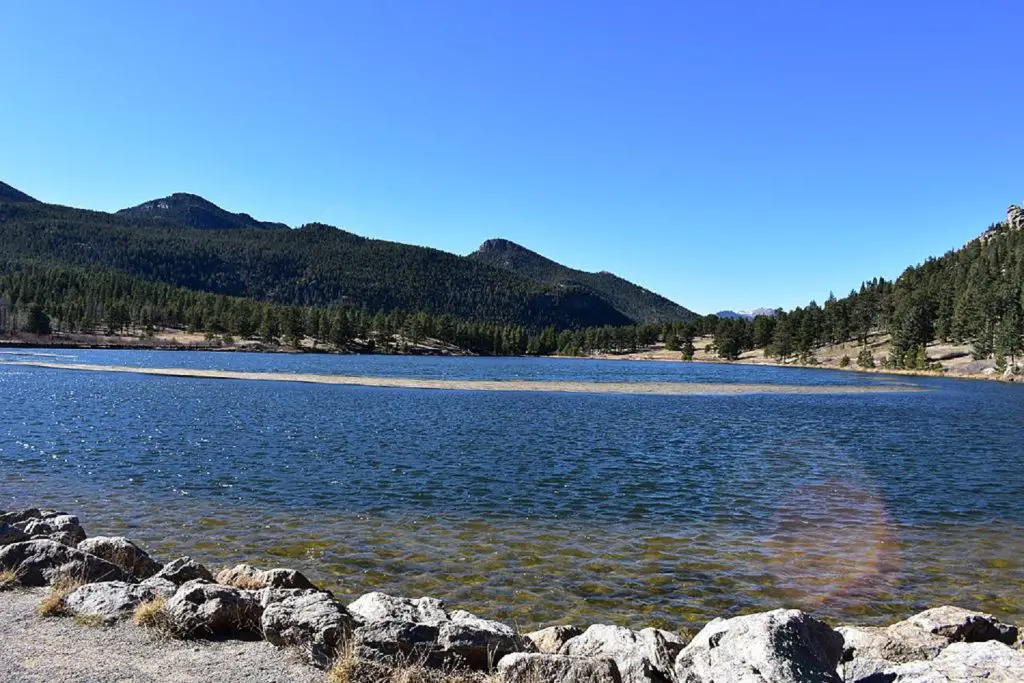 Address: 1000 US Hwy 36, Estes Park, CO 80517
Cost: $30 entrance fee
Hours: Office open 8-4 daily in Summer and 8-12 Saturdays and Sundays in Winter, park open 24 hours a day
Birds You'll See: Great Horned Owl, Northern Pygmy-Owl, Boreal Owl, sparrows, finches, wrens, dippers, thrushes, warblers, crows, jays, swallows
Lily Lake is another Rocky Mountain National Park destination with a small but nice trail. This nearly one-mile trail includes a 29-foot elevation gain and loops around the lake. It's a relatively easy trail, which makes it an excellent option for older people or those who want a more direct birding experience. 
Thankfully, the lake has many bird species, including owls, sparrows, and swallows. You'll also likely see many reptiles, amphibians, and other critters flocking to the lake for a drink. Lily Lake is also labeled kid-, wheelchair-, and stroller-friendly, making it great for many birders.
6. Birdquest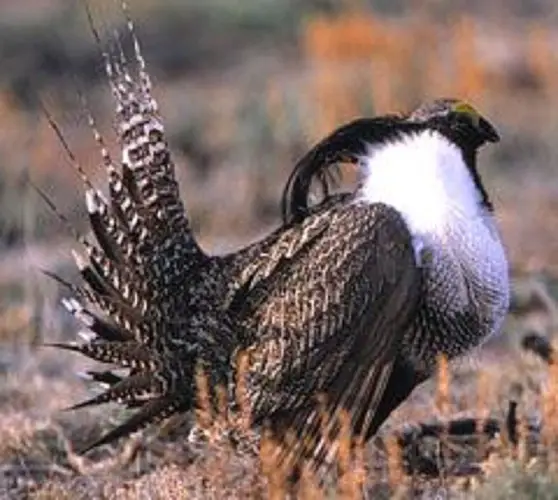 Address: Varies based on the trip
Cost: $4,676
Hours: Eighth hours a day for 13 days in March
Birds You'll See: Pure white White-tailed Ptarmigans, Greater and Lesser Prairie Chickens, Gunnison Grouse, Dusky Grouse, Sharp-tailed Grouse, Black, Grey-crowned and the Colorado-breeding Brown-capped finches
Birdquest is a famous national birding company that provides many high-quality events. Their Colorado tours check out the Rocky Mountains and include an extensive itinerary with multiple grouse species, all three rosy-finches, and up to 50 other birding species. 
This extensive tour includes nearly two weeks of stops, including spots in Georgetown, over into Kansas, and throughout the rest of the area. All your needs are handled on this trip, including hotels, motels, travel, food, and more. In addition, you cover all other shopping costs. 
7. Rocky Mountain Arsenal National Wildlife Refuge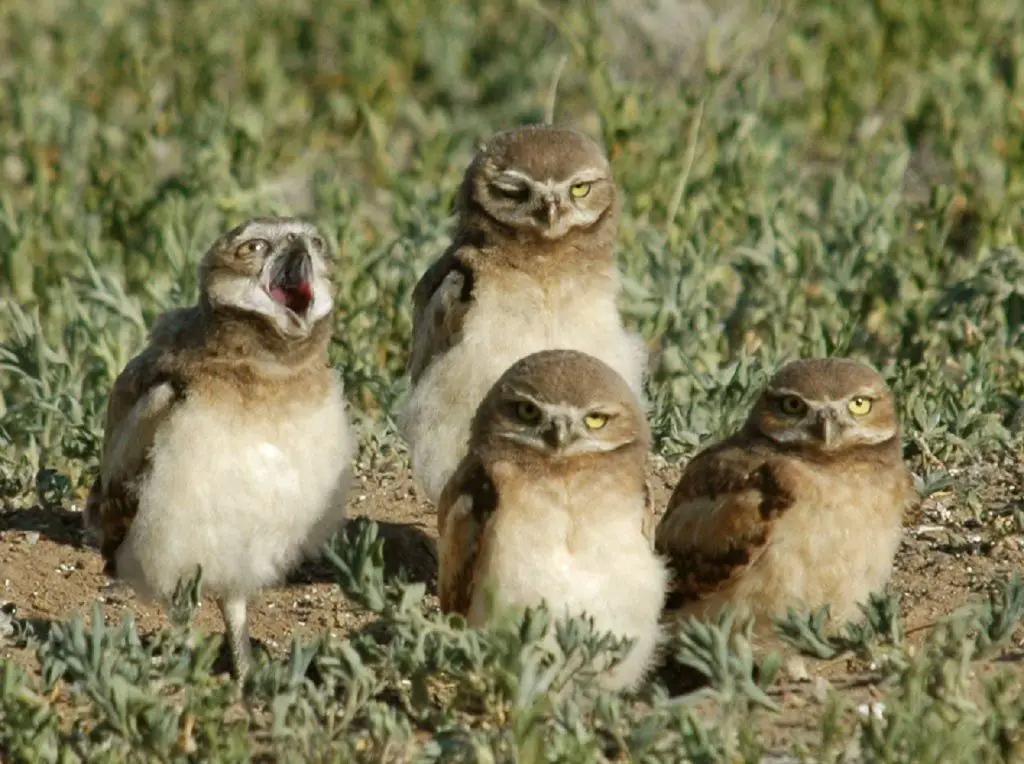 Address: 6550 Gateway Road, Commerce City, CO 80022
Cost: Free with a $3 fee for fishing
Hours: Sunrise to sunset
Birds You'll See: Wilson's Warbler, Bullock's Oriole, Western Bluebird, American Avocets, Northern Shovelers, Ring-billed Gulls, finches, owls
Rocky Mountain Arsenal National Wildlife Refuge is a 15,000-acre park with a beautiful wildlife drive on which you can see many birds. There are also 20 miles of trails that wind through the refuge and provide a unique birding experience for anyone interested. 
If you bring your kids, you can also take them to the visitor's center to learn more about this park. For example, it started as a chemical weapons facility in World War II but eventually became the nation's most extensive urban wildlife refuge. This information gives more context and interest to your trip.
8. Cub Lake Loop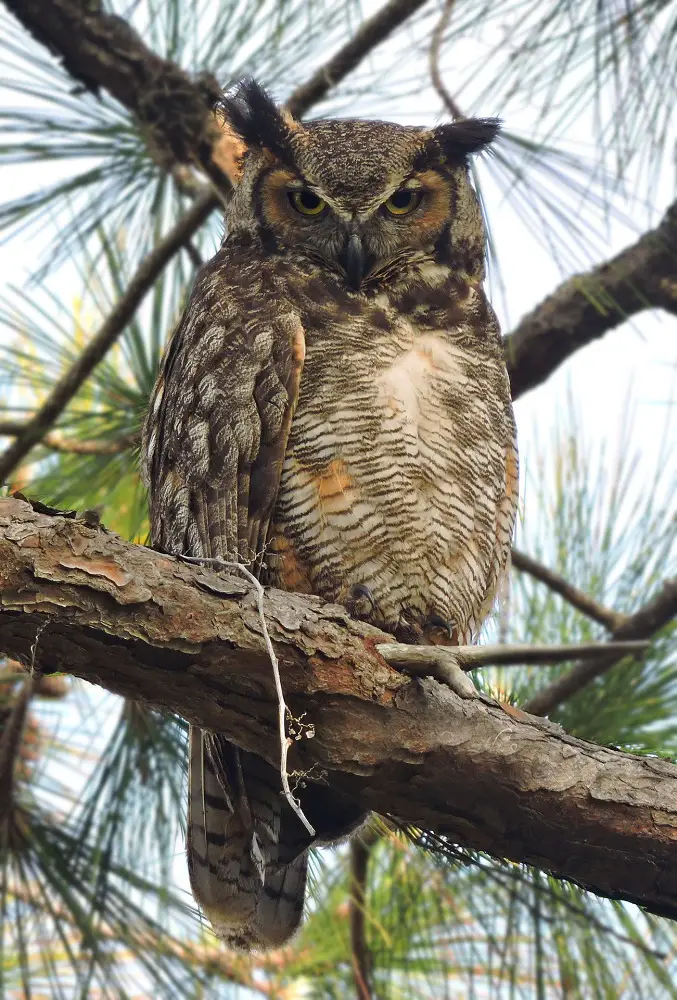 Address: 1000 US Hwy 36, Estes Park, CO 80517
Cost: $30 entrance fee
Hours: Office open 8-4 daily in Summer and 8-12 Saturdays and Sundays in Winter, park open 24 hours a day
Birds You'll See: American Three-toed Woodpecker, Hairy Woodpecker, Great Horned Owl, the Northern Pygmy-Owl, eagles, hawks, ospreys, falcons, kestrels, vultures
Cub Lake Loop is another popular Rocky Mountain National Park trail with a six-mile length that rises 744 feet. This loop stretches across moderately challenging terrain and is popular for backpacking, camping, and fishing. However, you can spot many birds along this trail too. 
That's because it winds between Beaver Mountain and Steep Mountain, home to many of the region's most exciting birds. You'll see many hawks, eagles, and falcons if you bring a spotting scope with an extensive zoom that can see up high mountain peaks.
Related post: How to Identify Owl Feathers
9. Belmar Park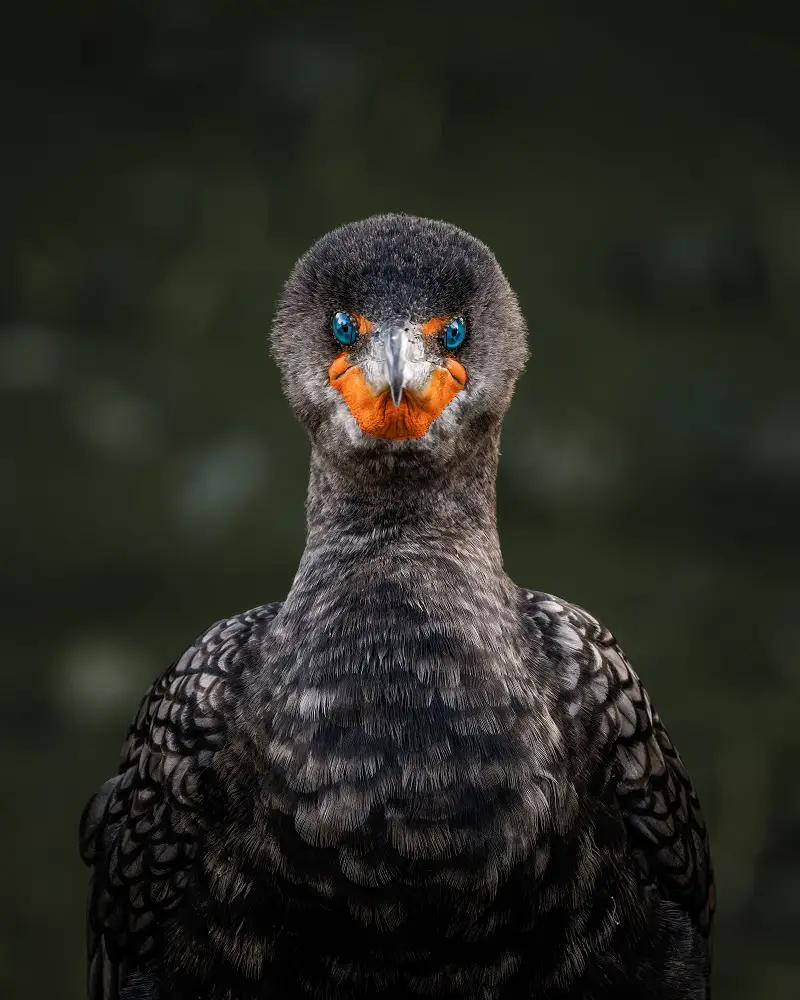 Address: 801 S. Wadsworth Blvd, Lakewood, CO 80226 
Cost: Free
Hours: Sunrise to sunset
Birds You'll See: Great Blue Heron, Ruble-crested Cormorant, American Avocets, Black-crowned Night-Herons, Snowy Egrets, a variety of warbler species, Cedar Waxwings, dabbling ducks, diving ducks
Belmar Park is part of the extensive Lakewood city park system located directly in town. It has 132 acres with two miles of trails, 17 acres of water, and a beautiful creek. There's also a small island where many of the birds in the area root, including gulls, ducks, and more. 
Though not the most rugged or outdoor-oriented destination, this park works well if you want a quick trip or plan on bringing your family birding. It provides ample parking and easy access to popular Lakewood destinations, such as Belmar Library and a fun museum.
Frequently Asked Questions About Birding in the Rocky Mountains
Before you visit any of these common birding destinations in the Rockies, it's essential to address a few of the most common questions about this area. The following questions should help you prepare for your trip and ensure you get the best results possible. It'll also help you understand any potential dangers in the area. After all, you'll be in the wilderness, and animals will surround you.
What Time of Year is Best for Birding in the Rocky Mountains?
Winter can be pretty extreme in the Rocky Mountains, so try to avoid this area in the snowiest part of the year (January and February). Typically, April through May is the best option for spring migration, while August through September works the best for fall migration in this area.
Breeding season usually runs from May through July, which is generally the best time to see birds in the Rocky Mountains. That said, winter birding can be very rewarding because various owls and other rare birds may be easier to see as they forage for food and try to survive.
What Kinds of Birds Are Common in the Rockies?
There are over 800 bird species in the Rocky Mountains, including the American Crow, Black-Capped Chickadee, Clarks Nutcracker, Cliff Swallow, Magpie, Great Horned Owl, Turkey Vulture, Great Horned Hawk, and many common species, such as gulls and terns.
Note that these birds will vary heavily based on your location. For example, many birds of prey, like eagles and hawks, are typically found higher up in the mountains, which may make them harder to find. Talk to local wildlife authorities to learn more about what to expect. 
What Other Wildlife Will I See in the Rocky Mountains?
The Rocky Mountains are a large and diverse place and include many fascinating animal species. These include beavers, bighorn sheep, black bears, yellow-bellied marmots, coyotes, rabbits, squirrels, mountain lions, mule deer, and fun species like pika, which look a bit like hamsters.
Other animals you might see include the boreal toad, wood frog, eastern fence lizard, silvery checkerspot butterfly, juniper hairstreak butterfly, bees, wasps, ticks, spiders, and caterpillars. Most of these animals are harmless, but some can be problematic, such as ticks and wasps.
What Clothes Should I Wear in the Rockies?
The Rocky Mountains can be rather chilly even during the summer, though temperatures can hit highs of the 80s during the warmest months of the year. It's best to consider a layering system of clothes, wearing light T-shirts and pants on the bottom and adding more clothes as the temperature decreases.
It would help if you also had hiking boots, strong gloves, a hat to protect you from the sun, and durable clothing designed for long walks. Though not every destination on this list takes place high in the Rockies, being prepared for this eventuality is smart when in the Rocky Mountains.
What Gear Do I Need for Birding?
When birding, you must bring various items to make your trip more manageable. For example, you'll want a field guide, checklist, spotting scope, video camera, binoculars, GPS device, digital camera, tripod, and bird feeder. All these items make spotting birds in the Rocky Mountains much easier.
It's best to find a comfortable backpack that fits easily on your shoulders and isn't too hard to haul. Find one with multiple pockets designed for hiking or birding. Check different outdoor goods stores near you for options, as several birding-friendly bags should be available.
What Dangers Should I Consider in the Rockies?
Visiting the rocky mountains is mostly reasonably safe, but some dangers exist. Most of these occur in the winter, such as avalanches and potential hypothermia risks. Therefore, pay attention to avalanche warnings and always bundle up properly when visiting this area in the winter.
You should also avoid stepping into water sources like rivers, ponds, or streams because many are pretty swift and could be a drowning risk. Animals like foxes, coyotes, wolves, bears, and mountain lions live on these mountains. While attacks are rare, they may occur if you threaten the animal.
Wrap Up – Best Places In The Rockies To Go Birdwatching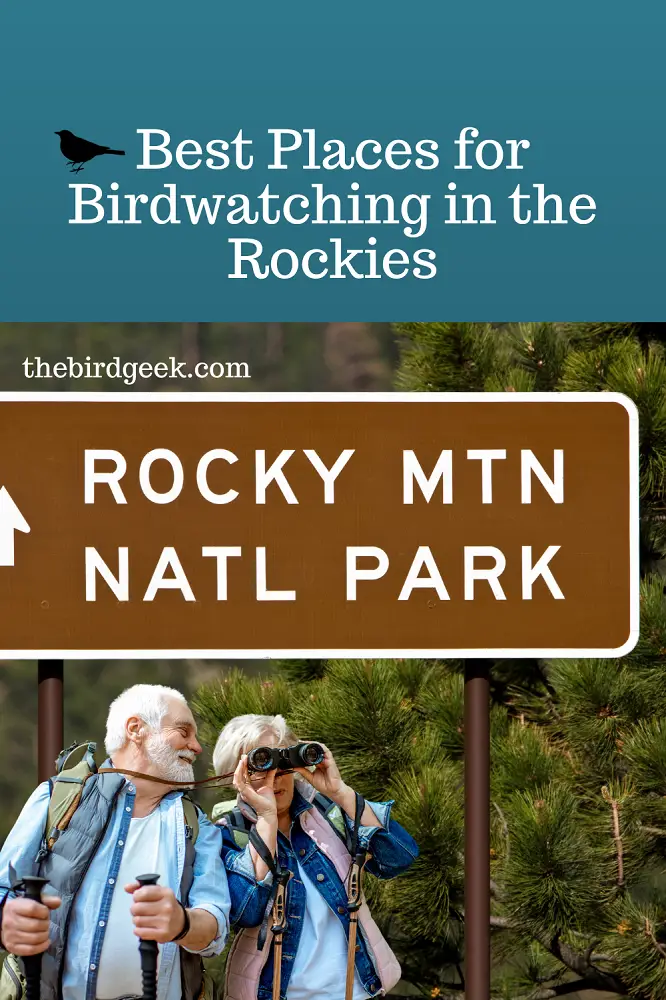 There you go! With over 800 bird species nestling in the Rockies, there's surely a lot to see in these destinations. Got anymore questions for your birding escapade in the rocky mountains? Maybe we can help. Let us know in the comments!
Related post: The Best Birdwatching Places in Cancun!
Check out these hawk watching sites for more birdwatching-worthy spots: