The Best Birdwatching Binocular Glasses
Bird watching is a fantastic hobby but can be complicated by skittish birds that fly the moment you near them. That's why so many birders buy high-quality binocular glasses to spot their favorite species. They provide a fantastic range of options, and many can be worn right on the face to ensure that you have on-the-go viewing for the most skittish birds in your neighborhood.
The following binocular glasses are among the most popular online and will provide you and your friends with plenty of amazing viewing experiences. What we like about these is that they can be used in many other scenarios, such as going to the opera or for general sightseeing. That makes them adaptable to just about any situation and an excellent investment for the biggest birding fans.
Senmonus Binocular Glasses
Features
Senmonus produces inexpensive but high-quality products, including these binocular glasses. They weigh far less than a pound and should fit snugly onto most people's faces. While it might take some getting used to some because they're heavier than regular glasses, most people adapt to them well.
The adjustable eyepiece lens is particularly lovely on these binoculars, as you can move them easily to adjust your viewing. You can also quickly adjust the focus to provide a smooth image. Even better, the strap lets you hold them to your face while you're walking without losing them.
As a result, it should be reasonably easy to climb large hills, hide in your viewing area, and even sit at home and spot birds from reasonably far away. Note that these glasses also have a night vision design that makes it easier to spot night birds or even bats if you're into that sort of thing.
Magnification is at 3X, with the objective diameter at 34 millimeters. Extra features include side shades, a neck strap, nose pieces, ear keepers, cleaning cloths, and a carrying case. These items help to provide even more value for binocular glasses that are already relatively inexpensive.
Pros
The price is definitely suitable for most birding fans
Hands-free design makes them easy to use in many different situations
Work well with both kids and adults for multiple birding scenarios
Surprisingly light sitting on the face, though there's more weight than standard glasses
Coated green film optics provides a beautiful view with minimal issue
Comfortable rubber that may be bent to fit your face more comfortable
It gives a sharp central image that is free of blurriness
Cons
Some people may find them heavy on their face
Night vision design could be a little better
It may not fit on very large heads without adjustment
Some users found the edges a little blurry when using
Other birdwatching gears: The Best Birding Boots
Healifty Binocular Glasses
Features
These might be a good option if you're looking for a more budget-based option for binocular glasses. You get three glasses with each order, which is helpful for birding fans. They work particularly well as backup or secondary options when birding with others.
Each model provides 4x magnification with a hands-free design that makes it useful for general birding. They can also be used in multiple other situations, such as when at sporting events or watching television. Unlike some binocular glasses, they're light and comfortable on the face.
They also fold up easily, meaning you can take them off when you're not using them and store them in your pocket. Typically, they keep their focus very well between uses, meaning you rarely have to adjust them once you've set a specific focus for your eyes.
While they're not exactly attractive to look at when you're not using them, they provide an excellent and inexpensive option for birders on the fence about binocular glasses. You can even use them as stocking stuffers or a kid's gift if you know a young one who loves birds.
Pros
A very low price makes them more than affordable for most birders
Most people find them relatively comfortable and easy to fit on the face
A simple focus dial makes it easier to get a sharp image without any difficulty
Multi-purpose design helps users get maximum usage out of their binoculars
Sunshade design minimizes glare and helps keep you comfortable in the field
A rugged plastic design that should resist wear and tear problems
Cons
Some users have complained about sharp points on the nose rest
They're not quite as adjustable as other models on our list
The lack of a head strap may make it easy for them to fall off your face
They may feel "cheap" to users who prefer more robust binoculars
Other birdwatching gears: Birdwatching Gloves
DPLUS Fishing Binoculars
Features
If the last model seemed a little too essential for you, here's an upgrade that may work perfectly for your birding needs. While pricier than the previous option, it has a more attractive overall look that fits comfortably on most faces thanks to a lighter overall weight and feel.
Like the previous models, though, these are a 4x design that should provide more than enough magnification for your birding needs. They're popular with anglers as well because they can see the fish underwater with them and identify better fishing spots as a result.
Thankfully, these glasses upgrade the somewhat flimsy plastic of the budget model with a stronger acrylonitrile styrene. This material is very durable and light on the face, meaning you can wear them for long periods while birding without feeling uncomfortable or uneasy.
Each model comes with an HD optical lens with a glare-proof design that keeps your birding more comfortable. You can also use them while at sporting events, theaters, or operas to see the action in more depth. It also comes with a case that makes carrying them much easier to carry.
Pros
An upgrade on the budget model with the same excellent zoom level
A robust material design that minimizes breakage risks and more
The hands-free design that makes it easier to climb or wield your camera while birding
An easy-to-use focus that should provide a maximum image clarity level
The surprisingly powerful lenses that make viewing birds from a distance much easier
A stable view that doesn't shake while you're walking in the woods
Easy to store without having to worry about smudging or damaging the lenses
Cons
Some users have complained about troubles with the focus
The zoom could be a little better for the price you pay
Other users have complained about the glasses sliding off their face
Using them with television is more challenging than outdoor viewing
Other birdwatching gears: Budget-friendly Birdwatching Binoculars
ttnight Binocular Glasses
Features
Like many binocular glasses, this model is designed for multiple uses. First, it is beneficial as an inexpensive birding option because it can fit comfortably on the face and provide up to 10x viewing for your birding. That makes it an excellent choice for spotting more skittish birds.
The focus is also very flexible and easy to adjust, meaning you can typically quickly find a good range without a lot of work. They are also adaptable to a head strap, meaning you can quickly put them on your head without worrying about falling.
The overall weight is pretty light, too, meaning that they don't fit heavily on the face like some binocular glasses. While some might find they feel a little "flimsy" as a result, their strong plastic material should withstand most wear-and-tear problems with relative ease.
You can even adjust the exit pupils between 58-74 millimeters, meaning they can fit on a broad range of different head sizes. Though somewhat awkward in appearance, these binocular glasses have enough features to help them stand out from other options on the market.
Pros
A powerful focus that works well for many birding situations
Adjustable lenses that let you change each option for different viewing needs
A strong anti-glare coating that ensures you don't scare away any birds while in the field
The 100% optical resin lens prism that provides long-term viewing
An easy-to-use hands-free design that keeps you free to do anything you need
Independent sharpness adjustment that enhances the overall image
A comfortable 34-millimeter objective viewing area with a 58-74-millimeter spacing option
Cons
Some users have complained about the zoom quality
The material, while strong, may feel a little weak to some
Users used to heavier glasses may find them a bit too light
The overall style might be a little strange to some users
Other birdwatching gears: Best Compact Binoculars for Birdwatching
Fujinon HC 8×42 Binoculars
Features
These high-quality binoculars are among the highest-rated options on Amazon and provide birders with plenty of unique viewing opportunities. They are designed to easily fit in the hand with ergonomic handles that won't strain you, though people with larger hands may find them somewhat awkward.
However, they more than compensate for that with their High Clarity design with a vast field of view. In addition, the objective lens diameter is wide enough for most eyes without being too huge and typically fits fairly comfortably against the face. At under two pounds, they're also easy to hold for long periods.
Even better, the lenses are designed for Fuji digital cameras, meaning that you get excellent clarity, magnification, and electronic stability control. They automatically adjust for low-light conditions as well, meaning you don't have to worry about missing out on dusk bird viewing.
While these binoculars are a little on the high end for price, they're more than worth it for the right person. If you're a serious birder, these are an excellent option as your primary viewing glasses. However, you might want to find a less expensive secondary model for friends or for more casual home viewing.
Pros
A solid body that minimizes complications with the binoculars
An attractive and streamlined shape that holds easily in the hands
Hyper Clarity design that provides maximum viewing options
Coated lenses keep light from affecting your viewing
Water-resistant design that minimizes your damage risk
Adaptable with eyeglasses for birders with corrective lenses
Fog-proof design that keeps your lenses strong and secure
Cons
It might be too expensive for some users
It can seem heavy in some people's hands
Image stabilization can be hard for some people to understand
Not genuine "glasses" or wearable on the face
Related post: Best Mid-Range Binoculars for Bird Watching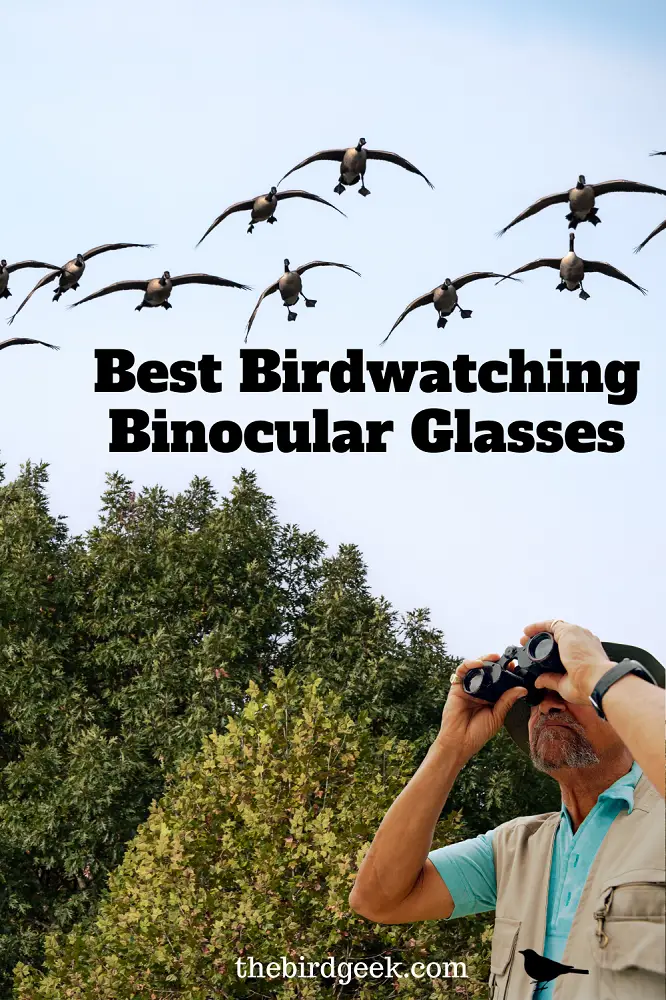 Essential Features to Consider When Buying Binocular Glasses
If you're interested in any of these binocular glasses, it is important to know about a few simple features. When buying a model, you can weigh these different elements and decide which is more important to you. Just a few of these include:
Cost: Do you want to spend a lot of money on your binoculars, or do you want a budget model? Note that you typically get what you pay for with inexpensive options, meaning a mid-priced option is probably the best choice for those trying to save a little money.
Zoom Level: The models on our list have varying zoom levels, with some going all the way up to 10x. You'll pay more money for higher zooms, and some might not find them helpful, such as people viewing out of their homes. Generally, a higher zoom option is a better choice for most people, though.
Material Quality: What kind of material are your binocular glasses made out of, and is it as strong as possible? Plastic is a standard option for manufacturers, though others may use higher-value options. If you plan on using these often and in tough situations, try to get better materials.
Comfort: Are you going to be comfortable wearing these glasses for hours at a time? Some people may get fatigued viewing everything in a high zoom or even find some fatiguing on their faces. Try out a few at a local sports shop to see how they feel on your face before buying one.
Other factors to consider include style and features, such as whether they look appealing or not. You should also make sure that they have things like easy focus management, anti-glare lenses, and even straps to hold the glasses to your head. These items provide more quality for your glasses and make them more useful for long-term use.
Related post: Best Bird Photography Books for Beginners and Masters