Best Birdwatching in Cancun – 7 pLACES You Can't Miss
Cancun is one of the most popular vacation destinations in Mexico for a reason. Its beautiful array of beaches, outdoor adventure zones, and luxury hotels makes it very welcoming to visitors. For birders, it's a surprisingly wonderful place to visit and should help you spot many unique species. 
The following parks and birding tours provide excellent birdwatching choices, including guided trips, self-directed travels, and much more. Read this list to find an option that appeals to you, paying close attention to the bird species to direct your trip.
1. Birdwatching From Cancun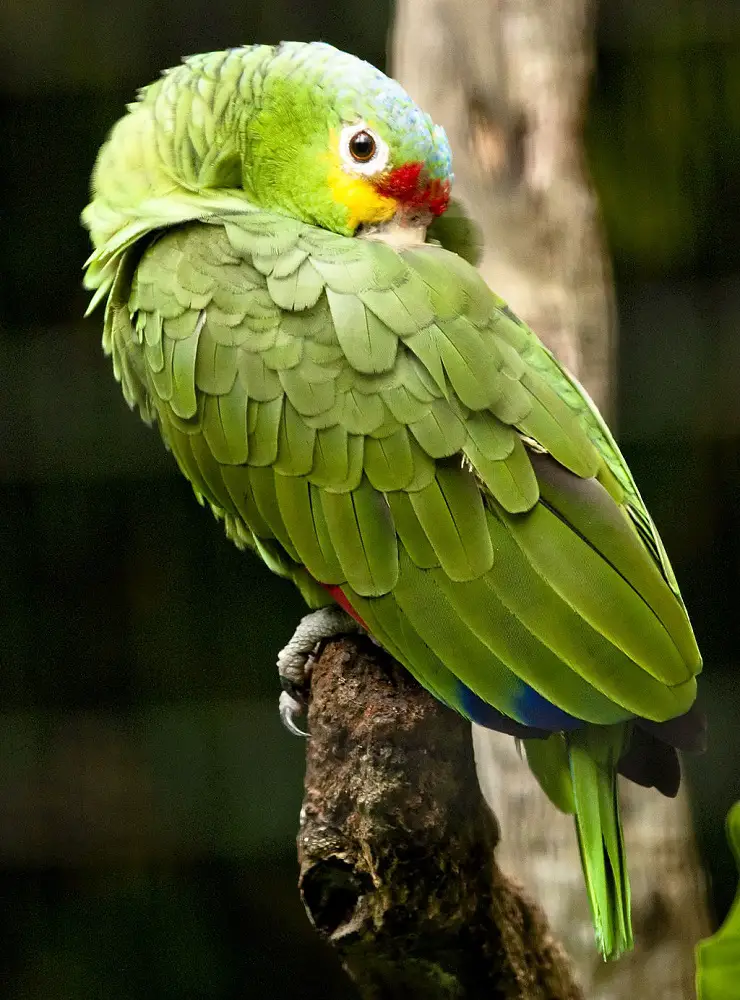 Address: Varies depending on your trip
Hours: Six hours, from around 5 am to eleven
Cost: $495 per four-person group 
Birds You'll See: Tropical Gnat Catcher, Cinnamon Hummingbird, Vaux's Swift, Yellow-lored Parrot, Rose-Throasted Tanager, Orange Oriole, Yucatan Jay
Birdwatching From Cancun is a popular six-hour trip that covers many of the most popular birds throughout the area. You'll get picked up and dropped off at your hotel and travel with up to six people on a guided tour showcasing the region's best birding locations. 
You'll travel throughout the Yucatan Peninsula, near Puerto Moreles, into the Mayan Jungle, and up to the Riviera Maya. It's an extensive and exciting trip, and your guide will point out known nests to ensure that you find species that interest you. 
Note that infant seats are available on the trip, but it can be a long and arduous journey for a young one. You'll be out for six hours and seeing many bird species, so make sure that any little ones you bring with you are ready for this trip. If so, they'll likely have fun spotting lizards and other critters. 
Related post: The Best Birdwatching Places in Guatemala
2. Playa Las Tortugas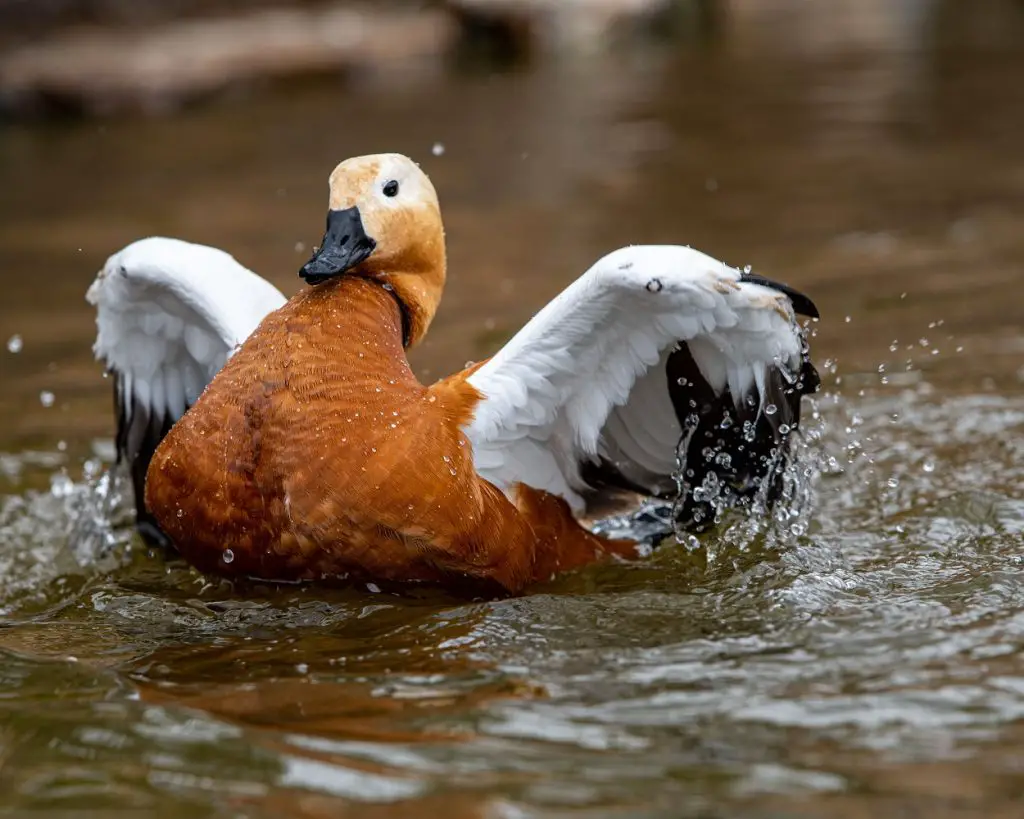 Address: 15 miles south of Platanitos
Hours: Sunrise to sunset
Cost: Free
Birds You'll See: Seagulls, Herons, Terns, Jays, some Eagles, multiple types of Crows, Ruddy Crake, several Hummingbird species
Playa Las Tortugas is an extensive natural preserve centered on a 10-mile beach alongside a former coconut plantation. You'll also travel near a sea turtle conservation camp and find many birds. People often visit this area for birding, though they may also go boogie boarding, swimming, and surfing. 
Bring plenty of sunscreen and a chair to relax on the beach and look for birds as they fly by the beach. While some campgrounds are in the area, other sections don't allow overnight stays. So, set up your viewing spot somewhere that won't affect the birds, such as just off the forest line.
Note that this beach is located within two different time zones: Central and Mountain Time. This will explain why your watch or phone suddenly changes if synced to a data network. Like other outdoor environments, ensure you respect the area by cleaning up after yourself.
3. Mexico Kan Tours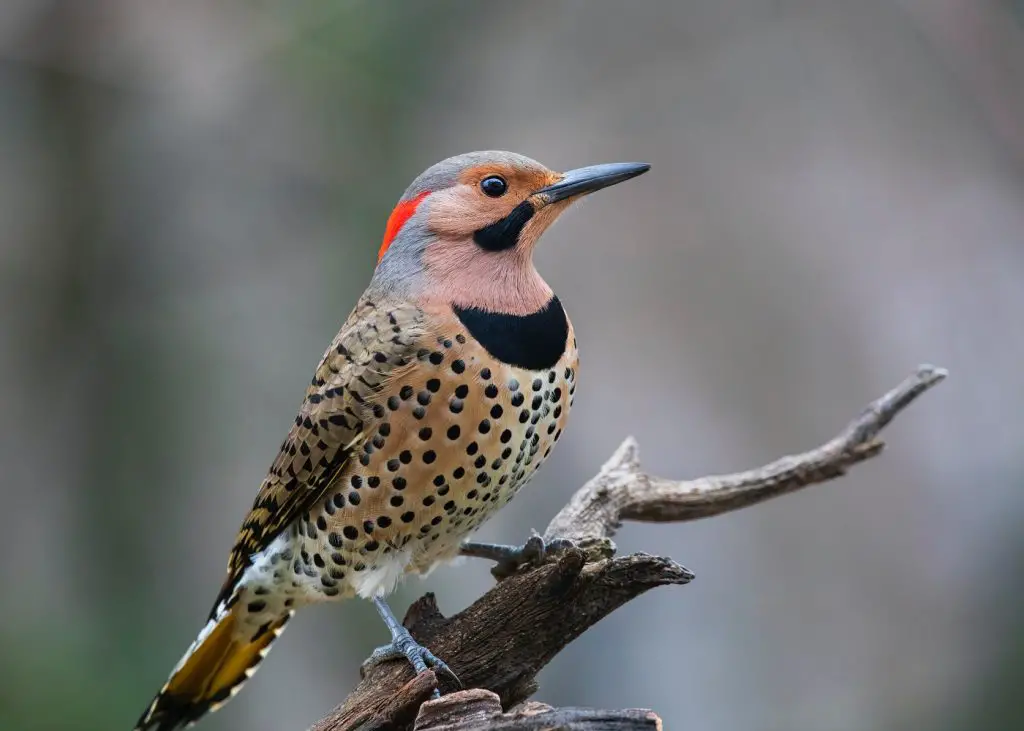 Address: 77760 Tulum, Q.R., Mexico
Hours: 6 am to 11 am
Cost: $185 to $245 per person
Birds You'll See: Yucatan Woodpecker, Cinnamon Hummingbird, Ornate Hawk-Eagle, Barred Forest-Falcon, Ruddy Crake, Crane Hawk, Thicket Tinamou, Yucatan Jays
Mexico Kan Tours takes you throughout Puertos Morelos to see anywhere from 40-70 bird species. This five-hour trip includes multiple destinations and starts at six in the morning after you're picked up from your hotel. You'll get breakfast and hang out with other birders at the trip's end. 
This simple day tour is an excellent option if you're in Cancun and don't want to spend much money. While it's not as extensive as some other bird tour options, it should provide a unique experience and offer a fun and memorable time. In addition, it's great for people who need guided help finding birds. 
Mexico Kan Tours strongly recommends wearing comfortable clothing, sunglasses, binoculars, cameras, and sun and mosquito protection. You'll be outside for most of the day and must stay safe from the sun and the bites of persistent and annoying mosquitoes. 
Related post: Best Birdwatching Locations in Scotland
4. Parque Urbano Kabah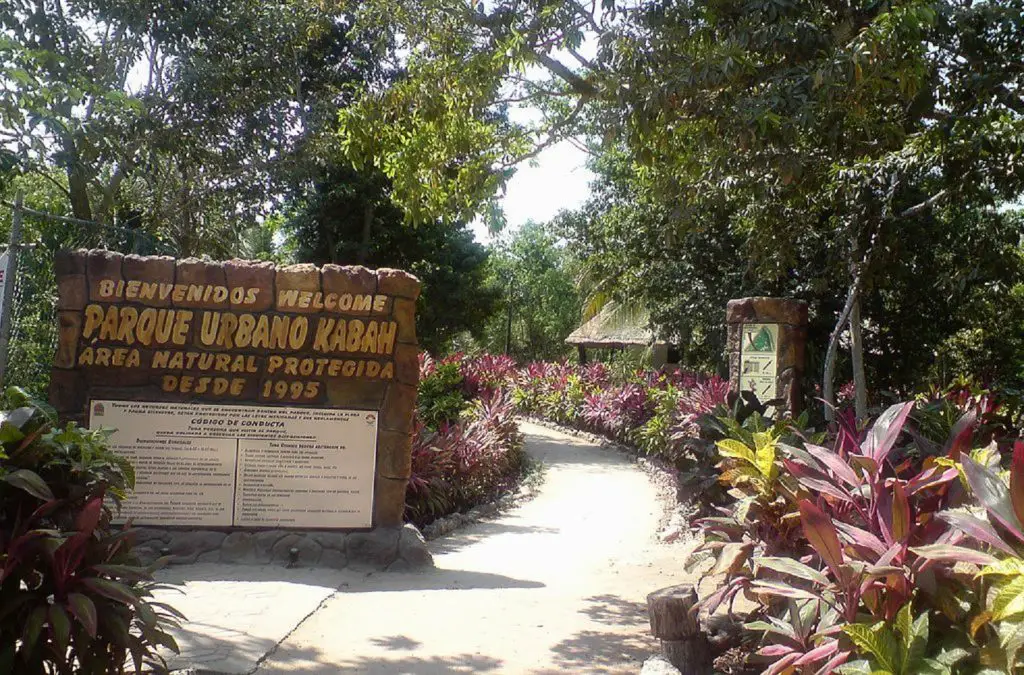 Address: Avenida Nichupté, Súper Manzana 51, 77533 Cancún QROO, Mexico
Hours: 6 am to 1 pm
Cost: Free
Birds You'll See: Grove-billed Ani, Green Heron, Turkey Vulture, Roadside Hawk, Zone-Tailed Hawk, Boat-billed Flycatcher, Yellow-backed Oriole, Magnolia Warbler, Blackburnian Warbler
Parque Urbano Kabah is a popular outdoor destination in Cancun right in the city. This urban green space includes a nearly two-mile trail loop that takes you through the town and near various forested areas. As a result, you'll typically see far more animals than you might expect while visiting. 
For example, birders have reported spotting birds as diverse as Green Herons, Turkey Vultures, Roadside Hawks, and Groove-billed Anis at this park. You must bring binoculars if you plan on birding because most species will stay far away from the paved path whenever possible.
This park also includes a stroller- and wheelchair-friendly design with a paved path perfect for walking and running. It's a good option for anyone who wants to spot great bird species in Cancun but doesn't want to travel far outside the city to find them. 
5. Birding Cancun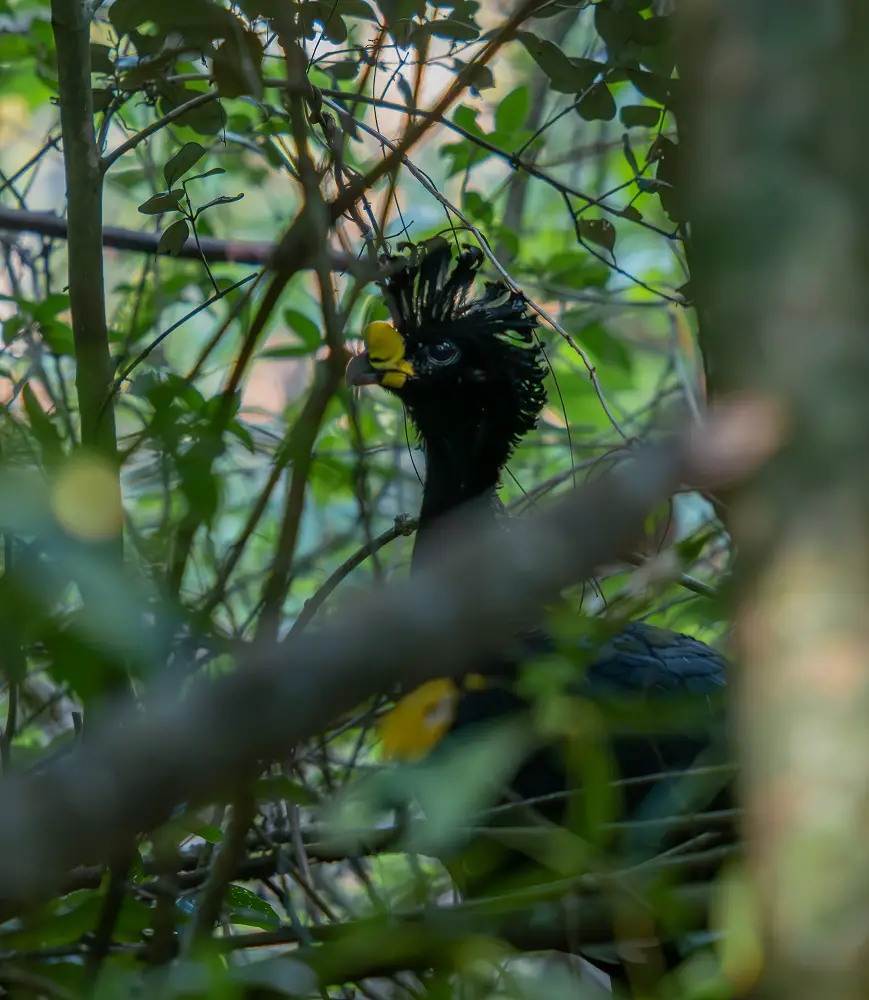 Address: Starbucks Plaza Caracol, Blvd. Kulkulcán km 8.5, Centro Comercial Plaza Caracol, Punta Cancun, Zona Hotelera, 77500 Cancún, Q.R., Mexico
Hours: Six-hour trip that varies depending on your booking
Cost: $165
Birds You'll See: Great Curassow, Black-throated Bobwhite, Lesser Yellow-Headed, Yucatan Parrot, Rufous-Necked Wood-Rail, Orange Oriole, Mexican Antthrush
Birding Cancun is a day trip that includes a private tour throughout the jungle with a birding expert. You'll hike to various secluded regional areas and get personal transportation from your hotel. Bottled water, snacks, soda, and other amenities are provided during your trip.
This adventure is one of the least expensive options on this list and includes many times. You can book whenever you want, as long as you have enough people for the trip. Often, the bird guide can help you find people if you're interested in this trip and have no one else coming with you.
Note that a maximum of six people are booked for each trip and that an adult must accompany all children. Further, this trip is not recommended for people with physical health issues, particularly those in a wheelchair because the path is rough and over unpaved areas.
6. Ta'Akbil Ja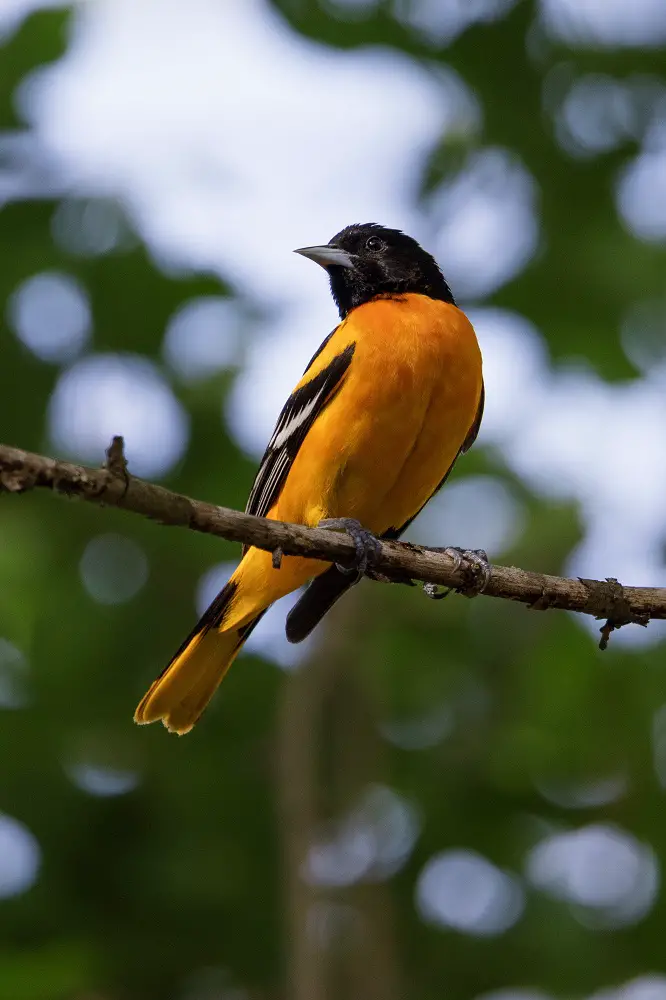 Address: Calle Federal a Coba, Cancún, MX 77500
Hours: Sunrise to sunset
Cost: Free if you go by yourself; varies if you hire a guide
Birds You'll See: Great Curassow, Black-throated Bobwhite, Lesser Yellow-Headed, Yucatan Parrot, Rufous-Necked Wood-Rail, Orange Oriole, Mexican Antthrush
Ta'Akbil Ja is a bit of a hidden treasure in the Cancun area because it's an out-of-the-way destination that isn't as widely explored as others. Nevertheless, you'll find many caves and wildlife areas that make this a fun place to visit, though you might want to hire a tour guide to ensure you get through the site safely. 
Many people rappel deep into the caves around this area, while others bike and set up their tripods not far from the forests. Seeing some bird species here might be trickier if you don't have experience, so make sure you feel comfortable spotting birds before coming to this destination.
Note that many of the caves in this area are not monitored and could be dangerous to explore if you have no experience with spelunking. As a result, it's best to stay outside them and watch for cave birds or other animals. Often, there are clear areas near each cave where you can set up your gear.
7. Birds of the Mayan World 1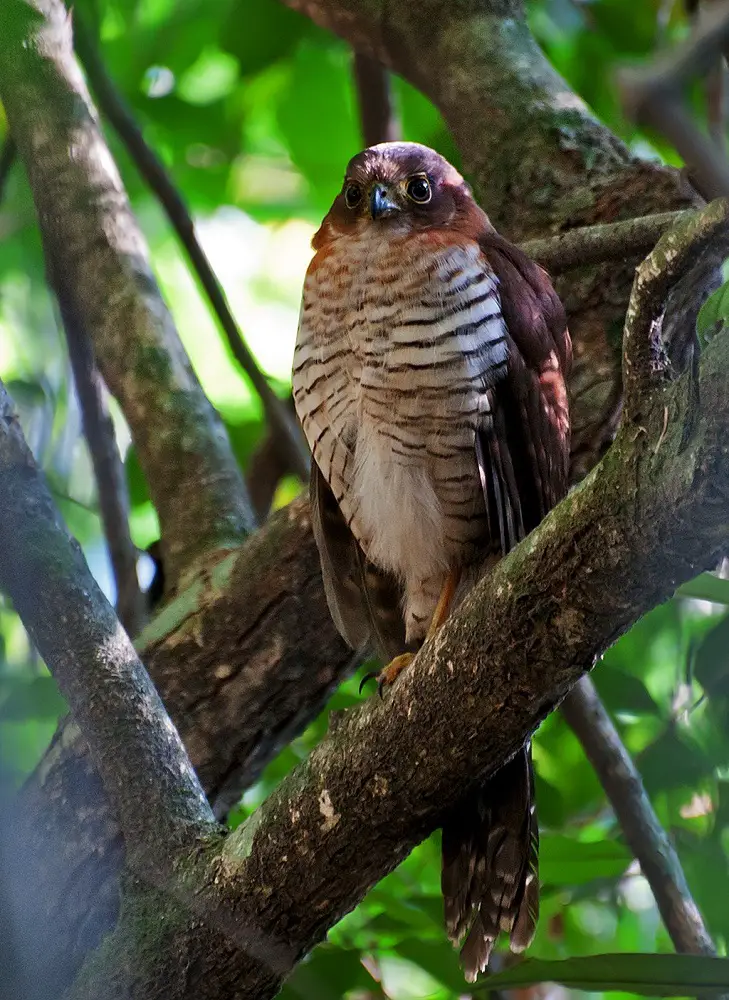 Address: Flamboyán, Smz 18, Joaquín Zetina Gasca, Q.R., Mexico
Hours: Depends on your trip
Cost: $180 per person
Birds You'll See: Yucatan Woodpecker, Black-throated Bobwhite, Barred Forest-Falcon, Ruddy Crake, Crane Hawk, Thicket Tinamou, Orange Oriole
Birds of the Mayan World 1 is an intensive birding tour near Cancun in Joaquin Zetina Gasca. It's earned acclaim as one of Cancun's fairest-priced and most extensive birding trips. You can choose from multiple starting times throughout the week. 
Each session includes multiple stops, including densely forested areas, more open plains, wetlands, and much more. All of these unique stops give you a diverse array of options that can make finding different species easier. Your guide will also help you identify bird nests as you move.
During the trip, you'll also get lunch about halfway through your six-hour journey. You'll also meet up at the place where the trip started to ensure you can get back home quickly and effectively. The multiple starting time options make this an excellent opportunity for people who may want numerous trips.
Related post: Where to go for hawk-watching in Veracruz, Mexico
Frequently Asked Questions About Birding in Cancun 
Before booking your next big birding trip to Cancun, take a minute to read through the section below. We answer important questions about birding that you need to understand before you get out in the wild. With our help, you should find it easier to identify great bird species in Cancun, particularly any that might be a little trickier to determine when you're out in the wild.
What gear do I need when birding in Cancun?
Bring all the birding gear you need for your trip, including cameras, field guides, tripods, and binoculars. However, you should also bring mosquito repellent, sunscreen, and a reusable water bottle to stay well-hydrated during your trip.
How should I dress when birding in Cancun?
Try to dress lightly while birding in Cancun because the temperature is typically relatively high. In addition, you'll need book hiking boots and a large hat to keep the sun out of your face. Sunglasses also help protect your eyes and avoid painful temporary blindness while out in the field.
Where can I see birds in Cancun?
You can see birds everywhere in Cancun, including its many beautiful beaches. However, the parks on the edge of town and right in the city also provide perfect viewing spots. It's usually best to book a trip with a birding expert to ensure you see as many species as possible.
What kind of birds fly by Cancun?
The most common birds that fly through Cancun include the Ornate Hawk-Eagle, the Ruddy Crake, the Lesser Yellow-Headed, the Yucatan Woodpecker, the Great Curassow, the Black-throated Bobwhite, and the Barred Forest-Falcon. Even more birds are in the area, so watch the skies carefully.
Are there any other animals I'll see while birding in Cancun?
Cool animals you might see while birding in Cancun include the Coatis, Iguana, Flamingo, various species of tarantulas, many bats, Whale Sharks (if you go on a tour), and even wild cats. Most of these animals are relatively safe though bats may have rabies, and contact should be avoided.
What are the best birdwatching hours in Cancun?
The best birdwatching hours will vary depending on what species you want to see, though it's usually best to come early in the spring or summer to catch them during mating season. Early morning hours, just after sunrise and before sundown, work best because the temperature is more manageable. 
Are there toucans in Cancun?
Toucans are found all over Mexico, including throughout the Cancun region. Unfortunately, they're often harder to find than some birds because they usually hide from people when possible. However, a birding tour can help you find some, particularly those focused on this species.
Related post: Check out these other awesome birdwatching spots in Spain!
Wrap Up- Best Birdwatching in Cancun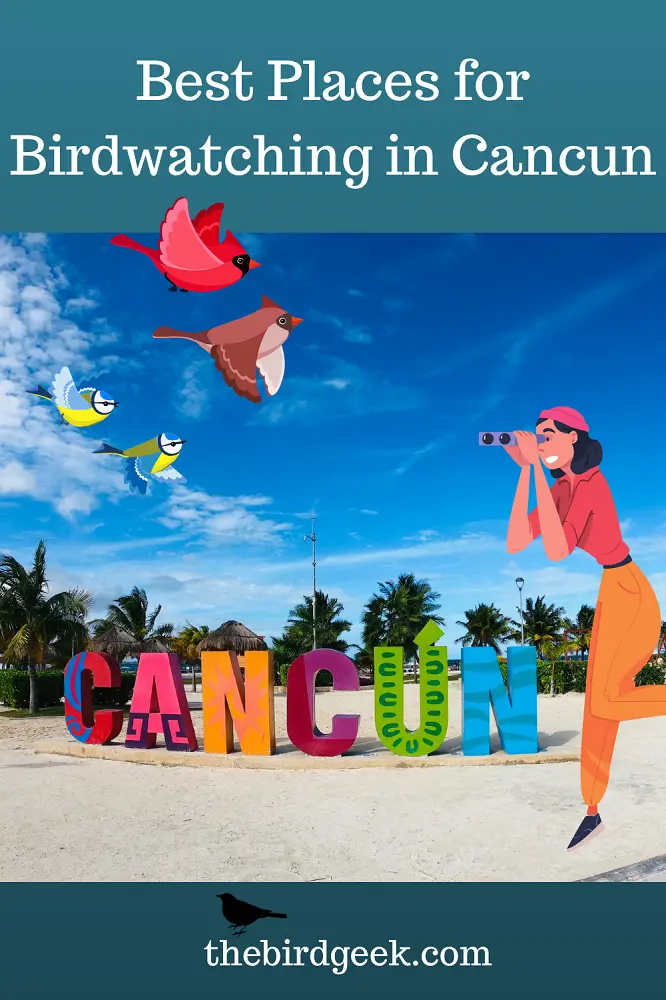 Cancun has so much to offer for birders. Do you know of any other visit-worthy places for birdwatchers in Cancun? Please let us know in the comments!