The 5 Best Water Wigglers For Bird Baths (and More)!
Bird baths provide birders like you with the perfect place to watch your favorite species bathe, feed, and play. Water wigglers have become a popular way of upgrading your old-fashioned bird bath and creating a more engaging experience for you and your birds.
This article will discuss several different bird bath water wigglers (agitators) and highlight what makes them unique and engaging. We'll also discuss a few features you should watch for when choosing one to ensure you get the best results possible.
What is a Water Wiggler, and Why Would You Want One?
A bird bath water wiggler or agitator is a device that creates continuous ripples and movement throughout your bird bath water. It performs this step in a few ways, such as creating air bursts that ripple through the water or even dripping a little water onto the bath as it sits.
The different varying options on the market provide you with an exciting array of features that make them worth buying. Typically, people buy water wigglers to keep their water from getting moldy and to help attract more birds by making it look and feel more like a natural watering area.
Features to Consider in Water Wigglers
When searching out a high-quality water wiggler for your home, looking at a few different features is essential. These can help you choose a high-quality device that works well for many situations. Just a few items you need to consider on a wiggler include: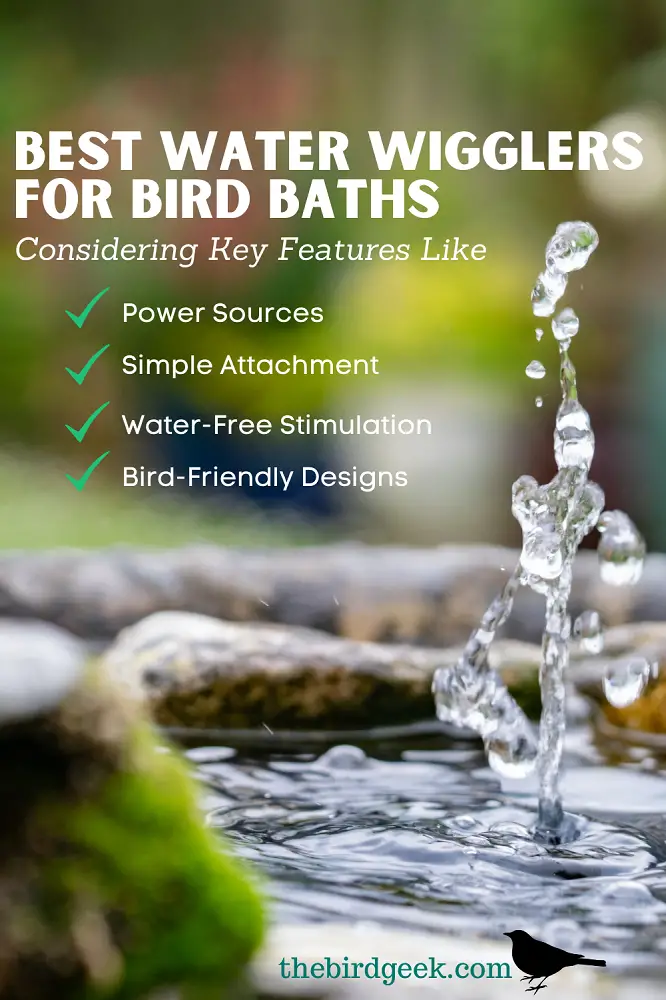 Power Sources: A good water wiggler should have a self-contained power source, such as a battery, that makes it easy to hook up to your bird bath and operate efficiently.
Simple Attachment: The best water wigglers attach easily to your bird baths and provide unique water stimulation options, which helps to keep your bath running smoothly and effectively.
Water-Free Stimulation: While many wigglers use water to agitate your bird bath (and work just fine), other models use air or different types of forces to mix the water.
Bird-Friendly Designs: Some water wigglers integrate perches and bird-safe design features that make them even more attractive. Look for elements like these to choose the best wiggler.
Look through these different features when reading our mini-reviews below. Doing so will help you better understand what each wiggler has to offer. Our team did the hard work for you and researched the elements that make each wiggler unique to your needs.
The Best 5 Bird Bath Wigglers Available to You
After searching long and hard, we came across the following bird bath wigglers and are confident that they're the best option your money can buy. They each operate differently but provide the same quality wiggling your bird bath water needs.
API 4WW Water Wiggler
About This Product
This simple water agitator is designed to fit comfortably in bird baths to agitate the water and attract birds. In addition, it helps break mold apart and keeps mosquitoes from laying eggs in your bath. In this way, your yard is protected from the annoyance of biting pests.
This unit requires two D-cell batteries to operate without water or plumbing. Instead, it uses a steady vibration from its legs to keep your water agitated and safe. Surprisingly, it also has a heating option that you can use to produce a comfortable winter bird bath for your favorite species in winter.
Turn on the agitator and place it in your bird bath to get it running. It will sit comfortably in place in your bird bath and vibrate gently. It gives enough room beneath it for smaller birds to play and takes up very little room to ensure your birds are as comfortable as possible.
What We Like About This Wiggler
The simple setup requires no special knowledge to handle
The heated option makes this comfortable for birds throughout the year
A no-plumbing design that decreases how much maintenance you must perform
An extremely lightweight design that makes it easy to remove and operate
A simple and comfortable place for birds to sit if they want to get out of the bath
You might also want to check out: The Best Bird Feeder with Wireless Camera
Allied Precision 7WW Water Wiggler
About This Product
The Allied Precision 7WW Water Wiggler is designed to sit in your bird bath and provide consistent vibration to agitate your water. It uses two double-D batteries to run, which creates a no-wire design. That's an excellent option for those who feel uncomfortable hooking electrical devices up near the water.
Just as importantly, it is designed to sit comfortably as its agitator moves beneath the unit. This helps to stir the water and keeps birds engaged without attracting mosquitoes. It also creates a unique glow of rainbow colors at night that makes it more appealing and which could attract even more birds.
With the double-D batteries, this wiggler should agitate the water in your bird bath for two months on a 24-hour schedule. That's a great power use, making this an excellent option for your summer birding. However, it lacks a heating element, limiting its use in these seasons.
What We Like About This Wiggler
The simple installation and compact design makes it easy to use
The gorgeous colors that come from the rainbow display at night
An automatic light control system that keeps your battery from running out
Its attractive design should fit into just about any birdbath style
One of the best rippling effects found on agitators
Related post: How to build a squirrel-proof birdfeeder
Penchen Solar Water Wiggler
About This Product
If you want a wiggler that doesn't need a new battery every few months, this might be your option. The Penchen runs on solar power, which gathers energy from the sun during the day, converts it into power, and stores extra in a strong lithium battery that should last the unit's life.
As a result, you can set up this agitator in your bird bath and let it run with minimal maintenance. The backup battery will agitate the water when there's little light available. The device also automatically turns off at night to ensure it isn't running for no reason.
Its simple agitation design uses two stems that agitate the water in your bath and keep it from attracting mosquitoes. The compact and inexpensive design is surprisingly durable and should last many years without replacement, making this an excellent option for birders with multiple baths.
What We Like About This Wiggler
The solar design will save you money on your birding needs
A budget price that is more than fair considering the product's quality
An environmentally friendly design that is easy to install and use
Its one-button operation makes it impossible to make a control mistake
The sturdy legs withstand plenty of action in the birdbath
Related post: How to make your own bird seed
Fdit Solar Power Water Wiggler
About This Product
Like the previous wiggler, the Fdit Solar Power Water Wiggler uses a simple top-mounted solar battery to power the unit. However, it lacks a lithium-powered battery, meaning it only runs when the sun is out. However, that's a minor issue because its high conversion rate ensures it runs on cloudy days.
The simple agitator runs continually to keep mosquitoes out of the bird bath and stop birds from laying eggs: a common issue many people have to deal with in their baths. It is also very easy to install and has a transparent shell that captures more sun and ensures better power.
This wiggler is also designed to run quietly and not cause any distracting noise. As a result, you can sit outside without worrying about hearing it operate. Even better, your birds won't be scared away by it as it works, improving its overall usage.
What We Like About This Wiggler
The transparent case maximizes energy capture and provides an attractive style
The surprisingly powerful mixing legs improve water distribution in the bath
No need to hook up plumbing or wiring to get this cute unit running
A practical and super quiet operation that won't scare away your birds
Energy-saving design that minimizes unnecessary waste
More backyard birding tips: The Best Bird Food to Attract Colorful Birds
Aisitin 3.5W DIY Solar Fountain Pump
About This Product
This simple water pump installs directly on your bird path to create a steady flow of water that will agitate the surface and keep mosquitoes and birds from laying eggs. It requires hooking it up to a water supply to operate, such as a hose. While it runs, the water flies up in attractive shapes and lands in your bird bath with ease.
The solar-powered design eliminates the need for power cords, which is a significant benefit. It will ensure that your unit runs smoothly without running into any electrical issues. Just as importantly, it will provide you with an attractive visual and keep your birds engaged when they visit your yard.
What We Like About This Pump
The attractive overall design that fits comfortably in most yards
A simple solar-powered energy method that maximizes water use
The fun spraying motion that will attract birds
The easy-to-install method that works with most bird bath designs
The cute clear-plastic nozzle that looks like glass
Wrap Up – The Best Water Wigglers For Bird Baths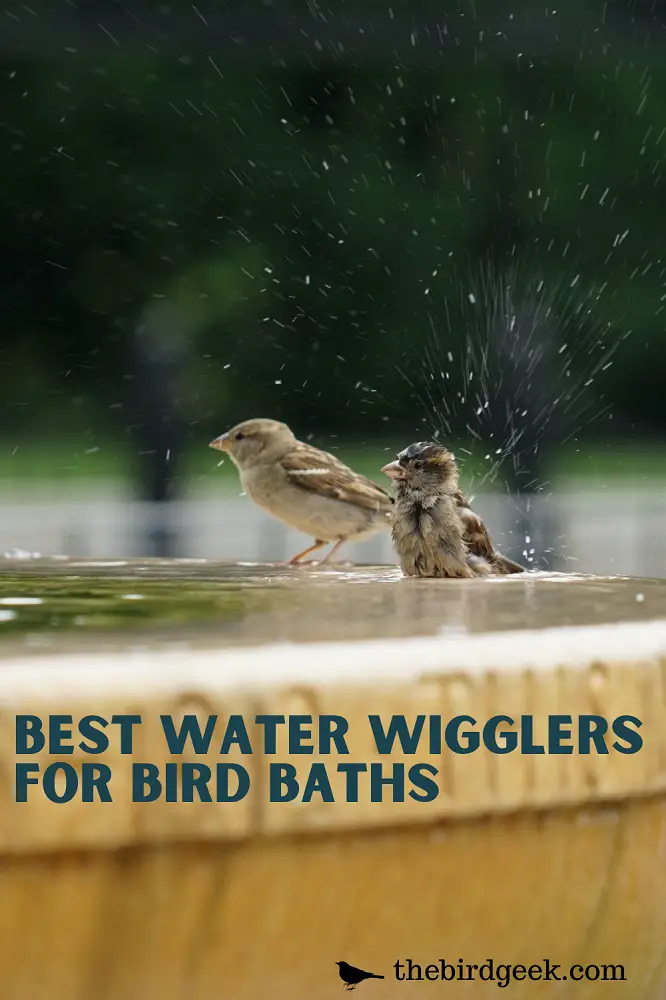 Your bird friends will agree that water wigglers make great add-ons for your bird baths. When choosing one, we consider its power source, ease of installation, design, and the overall fun it gives your feathered guests.