The 7 Best Bird Feeders With Wireless Cameras
Have you ever watched visiting birds in your feeder and wished you could get an up-close-and-personal view of them that you can't get from your porch? Well, technology is basically magic at this point, because excellent bird feeders with cameras aren't just available but incredibly popular on the market today. Here are several of the most popular and effective bird feeders with cameras available on the market, including their most exciting features and what we like the most about them. Use this information to pick an option that makes the most sense for you.
In the following mini-reviews, we'll give you an in-depth understanding of what features make each of these phones great. We'll discuss their features and amenities, as well as what makes them stand out from other options. In this way, you don't have to do any frustrating and overwhelming research. We took care of the hard stuff for you, so dive right in and find a camera that will give you the dream perspective you've always wanted from your favorite bird species!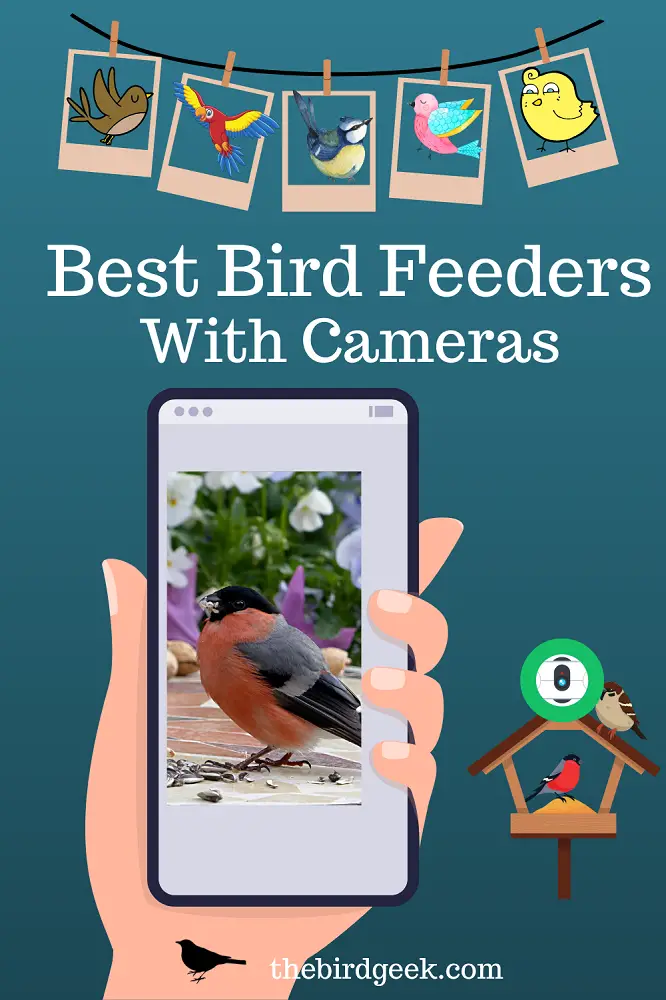 1. NETVUE Birdfy Lite- Smart Bird Feeder Camera
The NETVUE Birdfy camera lets you capture birds on your camera whenever they come to visit your feeder. It is installed directly on the feeder with a protective screen that keeps it safe from weather problems, stains, and curious birds. Thankfully, it's also glare-free to minimize the risk of scaring away any visiting birds before they have a chance to settle down on your feeder.
The 1080P resolution provides an excellent resolution that captures beautiful photos and videos in color. Just as impressively, you can take shots of birds during the night. Some species simply prefer feeding at night to avoid predators, and this camera can help you get pictures that are usually hard or nearly impossible to snag. That makes it a great option for birders in areas with night feeders.
The feeder itself is also quite strong, providing a weatherproof stand that is perfect for birds of many sizes. The 1.5-liter capacity ensures that your birds have more than enough food to eat and also minimizes your feeding times. Even better, NETVUE has a very active online community, meaning that you can share photos and videos online and see other users' media as well.
Why We Like It
The easy-to-use wireless setup that most people can understand quickly
The powerful night vision that lets you check on night feeders
A motion sensor that lets you know when you have a visitor
An extremely sensitive camera that captures the most from your shots
Beautiful zoom that enables you to see individual feathers on each bird
Related post: Should I put up a birdhouse or bird feeder?
2. NUOTUN Smart Bird Feeder Camera
The NUOTUN Smart Bird Feeder camera is an excellent option for just about any birding fan. It includes a PIR motion detection option that automatically detects birds within 132 feet of the camera. However, it only triggers when it detects a bird and can tell the difference between these flying creatures and bats, insects, and other species. After detecting a bird, it automatically tracks and records it.
That feature is a huge reason why this is such a popular bird feeder camera. That said, it also comes with a 1080P camera with full HD and night vision, including a 940nm infrared illumination tool that captures night birds in full color. Like most other smart bird feeders, the camera is protected from birds and the weather to ensure that it lasts for years with minimal risk of damage.
Even better, the feeder has a 400-gram storage capacity, a water sink, a hummingbird feeder, and a firm stand that you can pair up with a mounting belt, handlebar mount, and an adaptor. You also get a USB cable and a 32GB memory card that installs easily in the camera. That means you can basically start capturing beautiful pictures and videos minutes after installing your feeder.
Why We Like It
The large storage capacity that decreases your feeding times
The PIR motion detection that will capture just about all your bird action
An impressive night vision option that helps you get impossible shots
A simple control system that any birding fan should quickly understand
Comfortable seating areas for many birds
Related post: Should I put a bird feeder near a bird house?
3. ESOXOFFORE Smart Bird Feeder with Camera
The ESOXOFFORE Smart Bird Feeder is designed to meet a few specific needs. First, it's perfect for general wild birds, including robins, bluebirds, and any other species you have in your area. However, it also has a hummingbird feeder for those beautiful and sometimes elusive species. As a result, it can hold seeds, water, and nectar to let you capture picture-perfect shots of your favorite birds.
In fact, it features five flower-shaped feeding pods for hummingbirds, making it one of the best camera options for people who love hummingbirds. The camera itself has a PIR motion sensor with an automatic 0.8-second capture that stores pictures and HD video with 1080p resolution. The automatic detection activates at 33 feed, minimizing false alerts or birds too far away from your camera.
Critically, it has a 100-degree wide-angle lens and 940nm no-glow infrared technology that lets you capture night photos quickly and effectively. Even better, the camera can last for extended periods and automatically shuts off when not in use, keeping it usable for most of the year. In addition, if the battery dies on you, it is easy to remove and recharge, providing you with maximum usage time.
Why We Like It
An automatic standby option that minimizes battery usage
IP65 waterproofing that keeps your camera strong for years to come
Accurate and precise 1080P HD camera that will provide accurate images
The shorter-distance PIR automatic trigger that minimizes false alarms
Attractive two-use design that makes it beneficial for multiple bird types
Related post: Bird Seed Expiry Date
4. AMOEJOV Smart Bird Feeder Camera
The AMOEJOV Smart Bird Feeder stands out for several different reasons. The biggest is its multi-person sharing option. It lets you watch your feed from up to three different devices. As a result, you can share your account with your college-aged student so they can watch birds while far away or with family members in other states. In addition, this option produces a more open and active sharing environment.
Just as importantly, this bird feeder is one of the most bird-friendly on the market. It includes a two-story design that makes it very comfortable and appealing to many species. The overall size is large enough for just about any bird, and the rests will hold multiple weights with little challenge. The IP65 rain protection and waterproofing further protect it from serious concerns.
Like the other feeders we've examined so far, it has a 1080P HD camera but has a wider 110-angle lens that expands your viewing options. Even better, you can set up a security tracking mode to track movement through your yard and keep you safe. So while not quite as broad as a complete security camera, it can provide a little extra protection for your home when you need it the most.
Why We Like It
An equipped 32G SD card that lets you save your photos and videos anywhere
A bird-friendly design that makes it as comfortable as possible for your birds
Real-time bird watching on a 2.4GHz wi-fi internet connection
The multi-person sharing option that makes it stand out from other options
Drainage holes that get rid of excess water to keep your feed protected
Related post: Best Bird Photography Books for Beginners and Masters
5. Isyoung Smart Bird Feeder with Camera
The Isyoung Smart Bird Feeder has a lot of great things going for it. This includes a 2.5-liter feeding capacity that can hold food like peanuts, sunflower seeds, corn, safflower seeds, and much more. This considerable holding ability makes it great for those birding fans who want to set up their feeder and not worry about it for weeks at a time, particularly during the coldest part of the season.
However, its most significant advantage is its 130-degree 1080P HD camera. That range is higher than most of the cameras on this list and gives you a nearly 180-degree view of your yard. As a result, you'll typically see just about every bird that comes your way. You can also use this camera as a general security option, using the night-vision capability to spot potential issues.
Furthermore, you can sign up for the Isyoung storage option to store them online for up to seven days for free or indefinitely with an inexpensive membership. Even better, you can share these pictures and videos with others online, creating a bustling and attractive online community that will help connect you with birders from around the world.
Why We Like It
The option to share and save your videos and pictures online for an inexpensive membership
The larger-than-normal feeding capacity to keep your birds satisfied and well-fed
An extensive camera angle that provides an excellent range for viewing birds
An affordable and well-performing 2.4GHz wi-fi capacity for syncing your phone
Visitor notifications that make tracking your birds even more accessible from a distance
Related post: Thinking of pursuing bird watching as a hobby? Check out the history of birdwatching.
6. BirdDock Smart Bird Feeder with Camera
The BirdDock Smart Feeder is a very expansive option with a 1080P HD camera, night vision, and 165 degrees of range. That makes it the broadest camera on our list and the best choice for people who want as close to a full-yard capturing experience as possible. Even better, it comes with a microphone to hear birds feeding and record their calls.
That's not all that makes this camera stand out! It also has a multi-device sharing capacity, meaning you can watch videos with friends and family simultaneously. You also get real-time notifications on your phone that you can sync with your loved ones, meaning that up to three people can watch the same live stream and comment on it with each other without bothering the bird.
Amazingly, it also supports Intelligent Bird Recognition with an internet connection, meaning your phone automatically syncs to Wikipedia to provide you with information about the species. That kind of extra touch is just one reason why this is one of the most popular bird feeders on the market. Paired with the 720-ml feeding capacity and PVC material, these features make it hard to top.
Why We Like It
The Intelligent Bird Recognition features make identifying birds a snap
A better-than-standard construction with solid materials built to last
An easy-to-understand multi-device sharing option for you and your family
The broadest camera angle among the cameras on our list
Accurate and detailed images paired with beautiful and live nature sounds
Related post: Famous bird house designers!
7. BROAIMX Smart Bird Feeder Camera
If you're someone who likes a few creative options for your yard decorations, the BROAIMX Smart Bird Feeder may suit your needs. It possesses a standing bracket bird design, which means that you can easily take it apart and adjust its look and feel, with a bird-friendly overall design that makes it one of the most interesting and engaging options on the market for most users.
The camera is a two-megapixel option with a 1080P HD lens with 120 degrees of angle. That gives it a fairly broad view of your yard that makes it easy to capture multiple different birds. Even better, the solar-powered design means that your bird gets constant battery charging options. As a result, you may never have to replace the battery. The battery also provides up to four months of power on standby.
As for the feeder, it holds up to 2.5 liters, includes multiple large drainage holes, an IP65-weatherproof design, a firm stand that keeps it from swaying in the wind, and a two-way microphone that brings you the lovely sounds of birds right to your phone. This option does so many things right that it's an easy choice for casual and more serious birding fans.
Why We Like It
Provides multi-device sharing options for up to four different people
A very high feeding capacity makes it easy to keep your birds happy
The solar-powered design minimizes your maintenance even further
A higher degree of viewing range than normal for birding cameras
An accurate night-vision mode that helps you view many different birds
Related post: Best Bird Watching Binoculars on a Budget
Wrap up – Choosing The Best Bird Feeder With Wireless Camera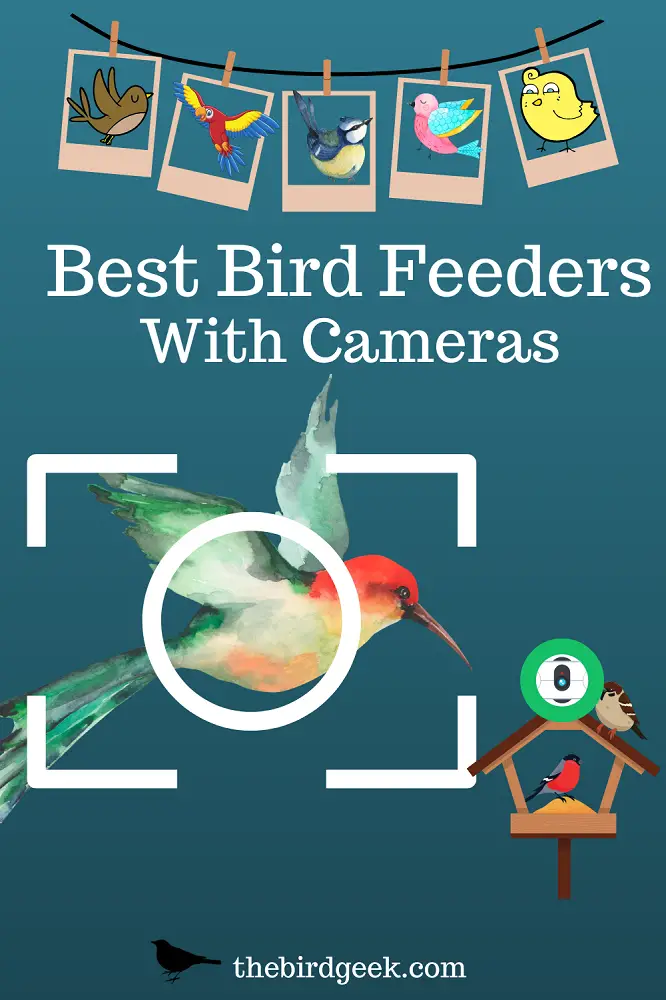 The world is truly an amazing place. Now, from the comfort of your home, you can easily and automatically capture countless pictures of birds visiting your feeders. And there are many options to choose from, depending on your needs.
Make your bird feeder more inviting. Find out how in this post: The Best Bird Food to Attract Colorful Birds