Birdwatching 101 – Answers to Bird watching FAQs
Birding is a fascinating hobby that has captured the attention of millions of people around the world. It's an activity that can be as calming or challenging as you want, depending on your interests and abilities. So, if you're interested in this activity, it's essential to understand what you're getting into before you begin. Many beginning birders like you have many questions that must be answered.
To help you on this quest, we collected several of the most common birdwatching questions asked by beginning birders today. We will cover a broad range of topics and ensure that you get the in-depth answers that you need to each question. Our goal is to ensure that you have the comprehensive knowledge you need to start this fun hobby without getting frustrated.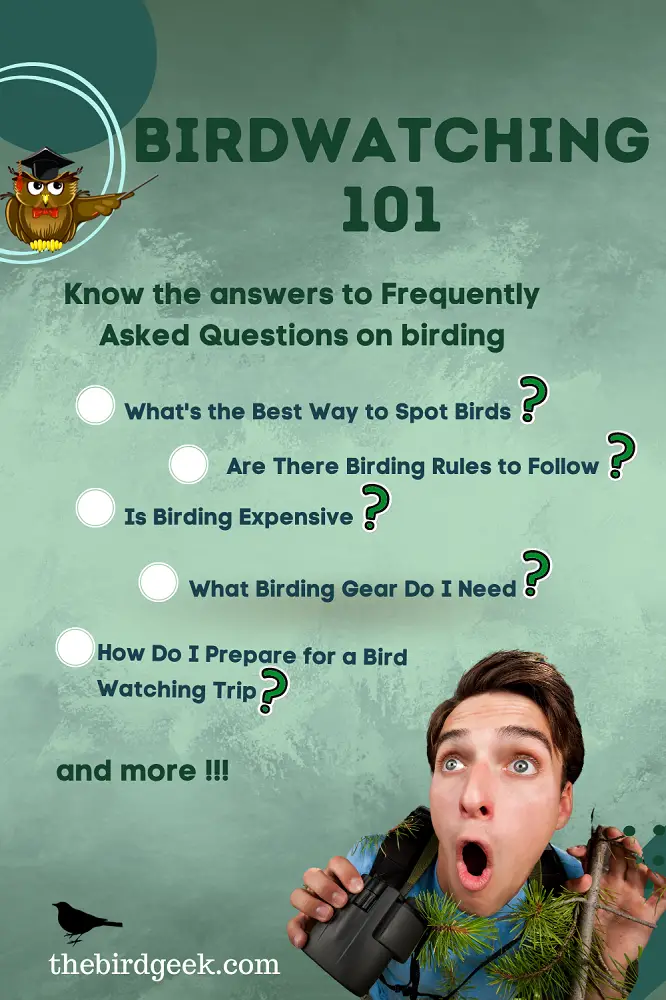 What's the Difference Between Birding and Birdwatching?
Nothing at all! These two terms mean the same thing and are interchangeable. Some people prefer the term "birding" because they believe it involves more than simply watching birds. For example, they may think that hiking in the woods and taking photos is far beyond just watching birds. Others may prefer to use the word birdwatching because they like minimal interference in the bird's life and spend as little time as possible in the bird's environment, watching from their home instead.
Is Birding Popular? 
Birdwatching is one of the most popular outdoor activities in the world, with millions of people participating in nearly every major country. For example, the United States has approximately 51.3 million people participating in minor or significant birding activities. England is particularly enamored with birdwatching and has some of the biggest birding-related clubs in the world. Even areas like Nigeria and Mongolia love birdwatching.
What Do I Do While Birdwatching?
Birdwatching or birding is a relatively simple activity. You simply look for birds in their natural environment and identify their species and their activities. Most people who go birdwatching take a field guide that helps them spot species and track their behavior. Many others will take photos and put them in their field guide. You can also keep a running diary entry of bird behavior to provide more insight into your birdwatching expeditions.
Where Can I Look for Birds?
One of the most fantastic things about birding is that you can go just about anywhere to find birds. Many people who live in rural areas never leave their homes and simply put up bird feeders and houses to attract their favorite species. However, other people have to travel to more natural areas, such as parks or state-owned land, to find birds. Therefore, it's often best to go far from busy city areas and deep into the words to identify species that may be hard to find otherwise. 
What's the Best Way to Spot Birds?
Patience is essential in birding because you'll likely sit for hours before spotting a bird. As a result, the best way to approach this activity is to scout out an area where you've seen birds or heard that they live and find a comfortable spot within binocular-viewing distance of this area. Find multiple sites like these and move between them during your expeditions. Keep your binoculars and ears open: put down your phone and stay actively engaged.
Are There Birding Rules to Follow?
While there aren't specific guidelines you must follow for birding, there are several behavioral tips that most birders suggest. For example, when traveling outside your property, you should stick to public areas, such as parks. If you do visit private regions, ask for permission before getting on their property. Avoid pointing your binoculars at people or into their windows. Lastly, leave no trash behind while out in the woods to keep it clean.
Learn more about birding rules in: Birdwatching Etiquette
Is Birding Expensive?
Birdwatching is one of the least expensive hobbies imaginable. Many people simply buy a pair of binoculars and a field guide or notebook to begin. Much of the gear needed to go out, such as comfortable clothing, is likely stuff you already own. You can invest more money in the hobby, if you want, such as buying a bigger camera with extensive lenses. You'll also have to invest in travel expenses, like gas. Otherwise, this hobby is mostly relatively inexpensive and easy to get into quickly.
What Should I Wear?
Wear comfortable clothing that is appropriate for the season, such as cargo pants, birding vests, and comfortable shoes. You may want to wear boots if you plan on going out deep into the woods or in wetlands. Some people prefer wearing long-necked socks that help protect their feet. Sunglasses are an excellent idea to protect your eyes, particularly in the winter. The glasses should have an anti-glare tint to avoid scaring birds. 
What Birding Gear Do I Need?
You can buy as much or as little gear as you want to go birding. At a bare minimum, you'll need a pair of binoculars to spot birds and a birding guide or bird checklist to keep track of the species you've spotted. Many people prefer digital bird guides, though others like a physical guide that they can write in while in the field. Others may want to bring along a large camera to take photos. Bring snacks and drinks, as well, to stay well-fed and hydrated in the field.
What is a Bird Checklist?
A birding checklist is a wise investment because it lists all the different species within an area and makes identifying them much more accessible. You can order them however you want and check them off as you see them. For people new to birding, these checklists are essential because they streamline this process and make spotting birds much easier. They're a little different than a field guide because those typically include more in-depth listings. However, both are good choices for beginning birders.
How Do I Prepare for a Bird Watching Trip?
Carefully scout out the area you want to visit and talk to locals about what birds are available in the area. Plan the route you will take to the site and get any permission necessary to get on the property. Dress comfortably, pack a bag with snacks and your gear, and bring weather-appropriate gear, such as sunscreen for sunny days and raincoats for wet ones. Let other people know where you're going in case you have an accident, and keep your well-charged phone on you at all times.
What Extra Gear Should I Consider?
If you plan on being outdoors for hours, you need to be as comfortable as possible. Winter touchscreen gloves can help protect your hands and fingers and make using your phone or camera much more manageable. You may also want mosquito repellent if you plan on being outdoors in the summer, as well as a camera or binocular harness to take the weight off your hands. A trail camera may be helpful if you're on your property because it can track birding behavior more easily. 
Is Birding Right for Me?
If you're on the fence about birding, you can start by sitting in your home and watching for birds. Birders must be patient and ready to sit for hours waiting for their favorite species to show up. If you feel bored or uncomfortable during this time, birding might not be for you. In this way, birding is much like fishing because some people love the peace between seeing birds or catching fish. Others find these lulls dull and need more action. As a result, trying birding out at home is an excellent way to gauge your interest.
Is Birding Safe?
Birding is an almost entirely safe hobby that should offer minimal dangers. If you watch from home, you'll be completely safe and can adjust your environment as you need. However, going out into the wilderness does increase the potential risk. Therefore, it's often best to go with a partner in case you experience any problems, such as injuries. You must also dress safely and should avoid going on public land during hunting seasons, as this increases your risk of getting injured.
Should I Take Kids Birding?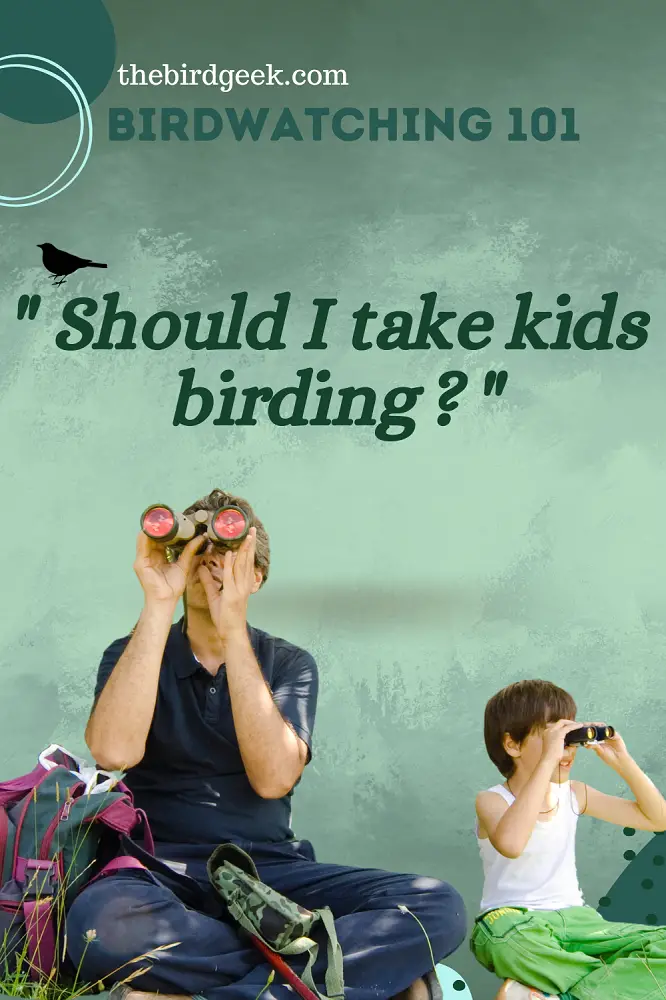 Many children love birding because they enjoy being outside and exploring the woods with their parents. However, not all children are suitable for birding. If your child has difficulty sitting still or staying quiet, they'll likely scare away birds while on your trips. Furthermore, any child with a hard time waiting for something to happen may not enjoy this activity. Thankfully, you can always take them hiking to get them outside in the wild.
Does Birding Benefit My Health?
Birding is a healthy activity that gets many people physically active and out in the wild. What is particularly remarkable about birdwatching is that you can participate at whatever level is right for you. For example, some people simply stand up in their homes and watch with binoculars, while others go on significant hikes and expeditions with friends to spot species. Choose what physicality you want with this activity to get the benefits you desire. 
Will Birdwatching Improve My Mental Health?
Birding is an engaging activity because it satisfies our hunting instincts, which are some of the most primal of all our behaviors. However, you don't actually hurt any of the birds but, instead, get the satisfaction of spotting them. Many people report feeling more satisfied when out in the woods, particularly when they successfully spot multiple species. Others note a decrease in anxiety and depression symptoms, though your results may vary. 
Should I Join a Birding Club?
If you want to improve your birding experience, you can join various birdwatching clubs, such as Audubon Society groups near you. There are also online birding clubs where you can learn more about distant birding destinations and much more. Joining a club isn't mandatory, but it can be fun to meet people interested in this hobby. You can even set up group birding expeditions to spot more species and to make your trips more enjoyable and engaging each time you go out. 
What is the best time of day for birdwatching?
The best times of day for birdwatching are first thing in the morning just after dawn, and late in the afternoon or early evening. 
Birds are often less active around noon when it's hotter. 
What is the best time of year for birdwatching?
The best times of year for bird watching are during spring and fall migrations. Birders will see many species passing through their area, often in large flocks which makes them easier to spot. 
What colors of clothing should I wear while birdwatching?
Subdued colors or camouflage are best for birdwatching. Muted browns, greens, grays, and blues mean it will be difficult for birds to see you.
Wardrobe check! Find out what are the colors you should avoid wearing when birding.
What equipment do I need for birdwatching?
No equipment is necessary for birdwatching. However, having binoculars and a good pair of hiking boots is very helpful! 
What birding books do you recommend for beginner birdwatchers?
Along with your boots and binoculars, I recommend a beginner's field guide.
I highly recommend Sibley's Guide to Birds. You can purchase the edition that has all the birds of North America or the Guide to Eastern North America and Western North America, based on where you live.
How do bird watchers keep track of the birds they've seen?
Bird watchers keep a "life list" or birding journal to document when and where they've various types of birds. 
A bird watcher may keep a life list, which documents all types of birds they've ever seen. Or a year list, or a list for a specific trip they take.
If you're looking for the perfect journal to record your birding adventure, we got you covered. We're featuring our favorite birdwatching journals (and tell you why we like them!).
Wrap Up- Bird Watching FAQs
Do you have other questions for about birding we might help you with? Let us know in the comments!