The Best Bird Watching Binoculars on a Budget
Getting into birdwatching can be an amazingly rewarding new hobby for beginners who love nature and want to experience in a completely new way. However, you may be looking at binocular budgets and feeling a bit overwhelmed financially. Binoculars are absolutely necessary for this hobby but you can't spend a lot of money. Are you stuck trying to spot distant birds with your naked eye?
No way! There are many budget binoculars that work very well for people who don't have a lot of cash to spend. The following X models will work well for beginners who are just trying out the sport or advanced birders who want a backup pair that doesn't break the bank. Even better, these binoculars work well as a primary model, if needed, for advanced birders.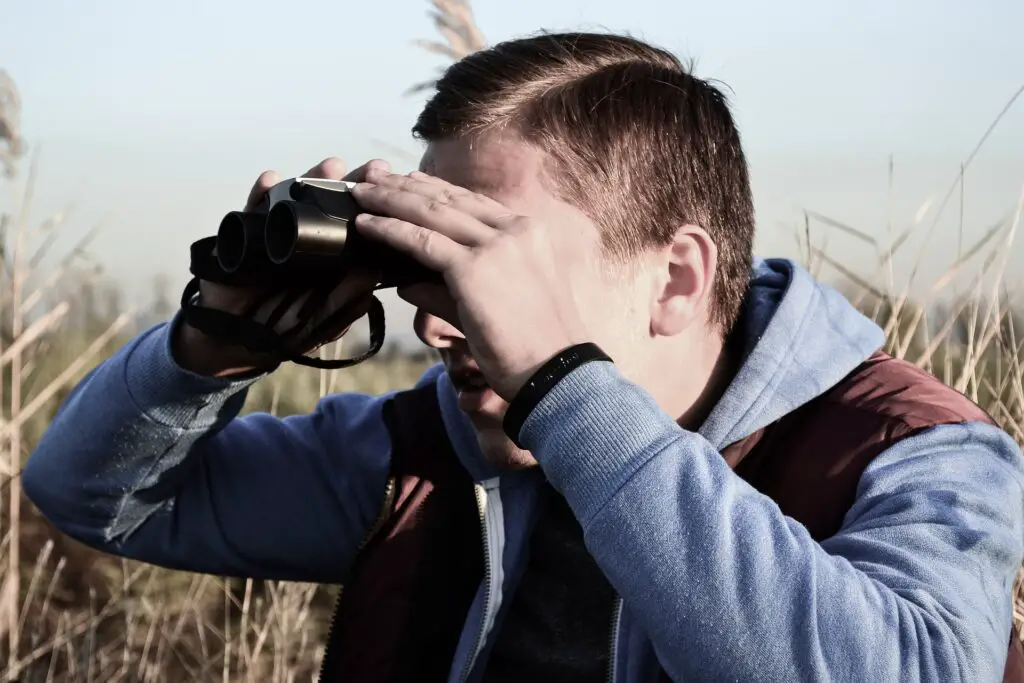 As an Amazon Associate, I may earn a small commission from qualifying purchases at no additional cost to you.
The Top X Budget-Friendly Birding Binoculars
In each of our mini-reviews, we'll highlight the best features of these binoculars and provide a link to where you can buy them if they fit within your budget. Then, we'll end with a closing FAQ section to help you better understand several important facts about binoculars.
1. Celestron Nature DX
These budget binoculars cost a bit more than others on our list but are worth it. Their 8×42 zoom is perfect for many viewing situations and works well with many birding situations. They are lightweight (under two pounds) and come with BaK4 prisms that minimize sun glare and provide very clear and bright viewing conditions that work well for general birding.
Why We Like It
Ergonomic handles that make it easy to hold for long periods
Extremely durable exterior with impact-resistant design
Comfortable eye cups that fit most faces with ease
Tripod adaptable to stabilize your viewing experience
2. Tasco Essentials
If you want a low-priced binocular model that still does the job for your birding, this is the model for you. As one of the lowest-priced options on our list, it will still provide plenty of viewing power and even comes with the free Audubon Bird Guide App! This app lets you track the birds you've spotted in the field. These simple but effective binoculars also work well as a backup model.
Why We Like It
A very fair price that fits well into just about any budget
A surprisingly powerful 8×42 zoom option
The broad field of view (369 feet) for easier spotting
Roof prism design that makes them very easy to use
3. SkyGenius 10×50 Powerful Binoculars
The SkyGenius is a surprisingly powerful pair of binoculars that costs very little compared to higher-end models. They're designed to be easy to use, so kids and adults alike can enjoy them. Their multi-coated lenses keep glares from becoming a problem and provide long-term protection that minimize water damage, shock problems, and other concerns that may affect even pricier binoculars.
Why We Like It
The 10×50 zoom provides great birdwatching opportunities
Includes low-light night vision options
Easy-to-use adjustment knob
The comfortable and attractive overall design
4. Celestron UpClose G2 Binoculars
One cool thing about this budget model is that it comes in several models including 7×35, 8×40, 10×50, and 20×50. Those on a budget should get either the 7×35 or 8×40 pair to ensure that they don't overspend. These binoculars have many features and amenities that make them attractive, including multi-coated lenses and a soft carrying case for hauling.
Why We Like It
The amazing budget-friendly price
Multiple accessories, including eyepiece covers and lens cloth
Varying magnification levels to suit your birding
Water-resistant design that avoids serious damage problems
5. Noptix 10×42 Binoculars
Noptix binoculars are designed to be easy to use but surprisingly diverse in their usage range. For example, this model has Bluetooth connectivity with Smartphones that let you sync their control in many ways. You can take photos in this way to produce surprisingly great shots of your birds. We also love how comfortable they are in the hands and how easily they fit into a limited budget.
Why We Like It
Very long eye relief that makes spotting birds easier
Strong and durable shock-absorbing rubber armor
Anti-reflective and multi-coated lenses that compete with the best on the market
Equipment kit that includes various items, like shoulder straps
6. Wingspan Optics FieldView
Do you want a compact pair of binoculars that you can swap easily in and out of your pocket while out in the woods? Then this model is for you! It is lightweight and compact and provides bright and clear bird viewing. The eye relief should fit well into most people's overall needs, as will the surprisingly affordable budget and the all-weather design that minimizes serious damage problems.
Why We Like It
A great option for mid-range viewing needs
Generous eye relief that should avoid profound viewing fatigue
Adaptable to many types of tripods
The ergonomic grip that avoids slippage problems
If you're looking for the best compact binoculars out there, check out our top picks for them here!
7. Nikon Prostaff 3S
Nikon produces some of the most appealing and attractive binocular brands on the market, and this option is no different. This manufacturer's budget-friendly option provides best-in-class clarity, color, and brightness. With a weight of just over one pound, they're the kind of binoculars you can use for hours without feeling too worn out over time.
Why We Like It
The strong overall design that avoids damage when dropped
Attractive multi-layer lenses with maximum image reproduction
Adjustable eye cups that provide high comfort levels
A 10×42 zoom range that works well for many viewing situations
8. Gosky 10×42 Roof Prism Binoculars
If you want a good and reliable 10×42 pair of binoculars, this option is a great choice. It works well for close and medium ranges and provides HD optics that enhance performance. Just as importantly, the BaK4 prism naturally brightens the image, creating a clearer look. In this way, you'll never have to debate what color you see on a bird's plumage when trying to figure out its species.
Why We Like It
It comes with a comfortable carrying case
The phone-mount strap for easier control
Perfect adaptability for multiple uses, such as concerts
A sleek and modern overall style and look
Other birdwatching gears : Best Birdwatching Binocular Glasses
9. Bushnell Prime 8×42
Bushnell is an excellent binoculars manufacturer that doesn't always provide budget options. However, this low-priced model is slightly more advanced than the others we've reviewed. It earned an eight rating in multiple viewing categories and is one of the market's most comfortable and easy-to-use models. The price is higher than some models here but is more than worth it for the upgrade.
Why We Like It
The included lens covers protect your binoculars from damage
The snug fit that should work with many face sizes
The strong prism design that provides maximum image clarity
Multiple configurations for your viewing needs
10. Nikon MONARCH 5
While this pair of binoculars is on the higher-end of the budget range, they're still fairly inexpensive compared to the highest-end models. As you might expect, this extra price adds features like high-reflective prism coatings, a compact design, an impressive 10×42 with stability sensors, and 100% waterproof design features. These elements make the MONARCH 5 a great option for those with a bit more money.
Why We Like It
User-friendly features make it simple to use
The secure and non-slip grip that avoids damage
The adjustable and comfortable eye cups
A fair price given the quality provided
Related post: Thinking of putting a bird feeder or bird house near you? You may want to consider these bird feeders with cameras to help you capture moments!
Common Binoculars FAQ
What Magnification Binoculars is Best for Bird Watching?
Binoculars typically come in various magnifications, including up to 25x. However, we strongly recommend that you stick with either a 7-10x zoom for your model. Going any higher is likely to increase the price of your model and even make its image shakier. Just as importantly, beginners may have a more challenging time using high-zoom models without a tripod, which eats into your budget.
Which is Better 8×42 or 10X42 Binoculars for Birding?
Beginners probably do best with an 8×42 pair of binoculars because they're more stable and typically more within their budget. However, 10×42 provides a more zoomed image that, in expert hands, may make spotting birds easier. It all depends on your skill level and comfort with binoculars, so try to find a model that fits in easily with your budget and personal interests in birding.
What is the Best Brand of Binoculars for Bird Watching?
Options like Celestron, Gosky, and Nikon all work well for bird-watching binoculars. However, we strongly recommend Celestron for bird watching. They typically have a sleeker design, fair pricing, and many unique amenities and features. They are also more durable and weather-resistant, which is great for getting out in the wild and experiencing fantastic birding situations.
What are the Best Binoculars for Bird Watching for Beginners?
There are many beginner-friendly binocular models that may work well for many people. We strongly recommend the Celestron – UpClose G2 option. While its 16×32 zoom might seem overwhelming, its multi-coated lenses, roof prism design, and multiple features make it a useful option for beginners who are just getting interested in high-quality birding binoculars.
Wrap Up- THE Best Bird Watching Binoculars on a Budget
Quality doesn't have to be expensive. We hope you enjoyed our top 10 picks for the best low cost bird watching binoculars!
Related post: The Best Birding Boots