Famous BirdHouse Designers
Birdhouses provide avian lovers with plenty of unique and gorgeous styles that can compliment their yard and give birds a comfortable place to live. Surprisingly, many architects have designed birdhouses over the years and brought their specific style and design sense to these bird homes.
The following article will explore several famous birdhouse designers, including modern architects, who have created unique and fascinating birdhouse styles. We also include an FAQ section to answer your burning questions about birdhouses. So let's just dive right in and learn some more!
Douglas Barnhard
This architect owns the company Sourgrassbuilt to design and build high-quality birdhouses inspired by more modernistic styles. Barnhard is particularly focused on emulating modern stylists like Frank Lloyd Wright and Joseph Eichler, as well as the Bauhaus School in modern Germany.
However, he also brings in unique elements of the surfing and skating scenes and uses repurposed materials to create fun and engaging birdhouses. For example, he may build his houses out of plywood, bamboo, teak, and any other materials that make the most sense for his design ideas. You can see many more of his birdhouses on Instagram here.
The primary focus of each design is to integrate the birdhouse as much into nature as possible. Their minimalist styles use their surroundings within the design and are one-of-a-kind birdhouses that Barnhard builds to suit each customer. No Sourglassbuilt house is ever the same as another.
Unfortunately, it's difficult to find items made by famous birdhouse designers like Barnhard. However, the ones we've found on Amazon have similar modern styles and are readily available!
Duncan Lewis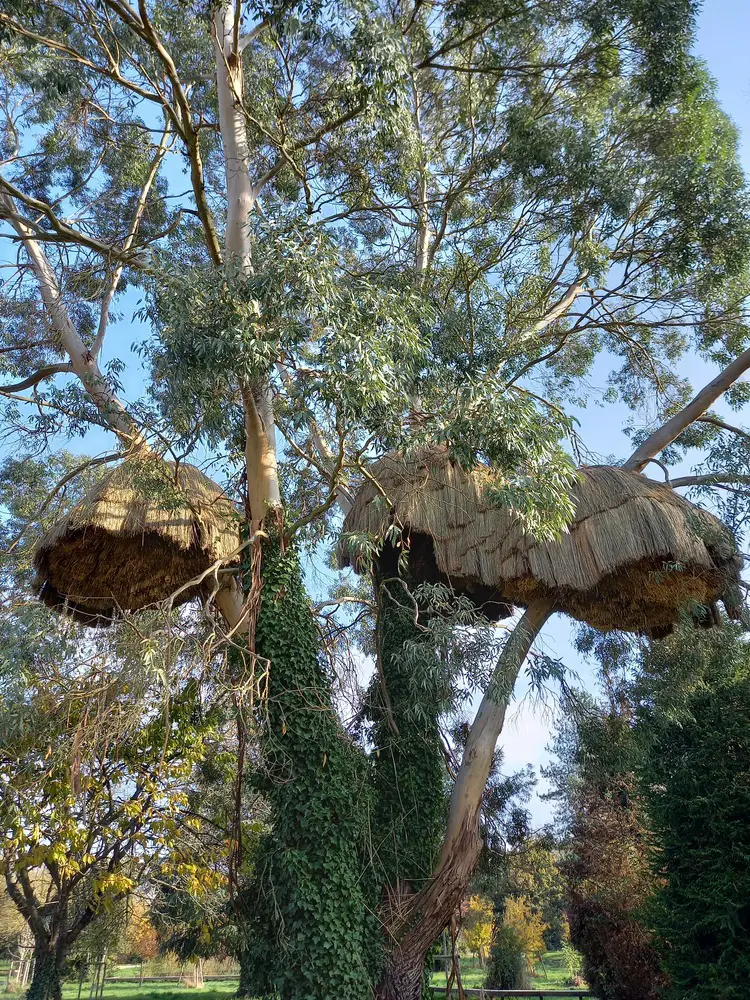 Duncan Lewis' intriguing natural designs try to integrate nature even more into birdhouse designs by using more natural materials that emulate wild bird nests. Lewis was inspired by Architecture Without Architects, a 1964 book by Bernard Rudofsky that argued for buildings created with the users in mind.
As a result, Lewis focused his birdhouses more on meeting the birds' needs rather than simply being visually appealing to people. Each of the structures was woven with straw to create a natural look that birds would like and also used natural materials and scraps that birds may use in their nests.
The result is a large and effective birdhouse that is likely to attract more birds than a modernistic style. While the somewhat ramshackle appearance may at first seem off-putting to some people, the overall effect can be very appealing for bird lovers who want to make their avian friends happy.
If you're looking for something similar but that might actually fit in your yard, check out these unique-looking birdhouses!
Kengo Kuma and Associates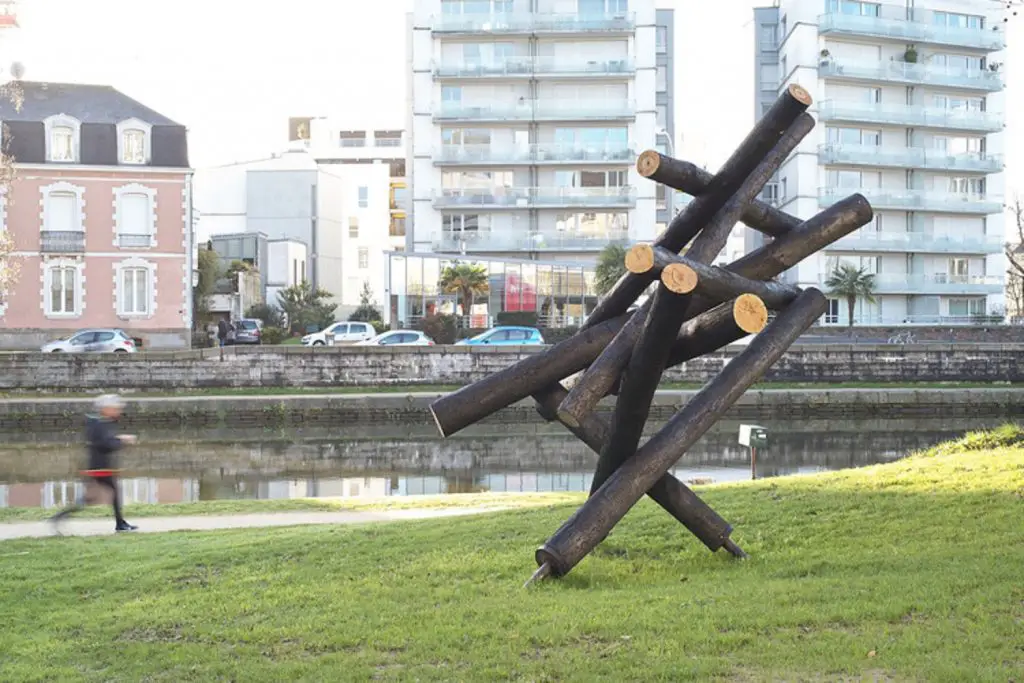 Kengo Kuma focuses on integrating natural Japanese designs and materials into birdhouses of completely unique style. The Dancing Forest house looks like a collection of logs stacked together randomly, but it provides a comfortable place for birds to live during harsh weather.
The goal behind each of Kuma's designs is to emulate an actual environment in which a bird may live. These designs argue that birds aren't attracted to small, human-style houses. Instead, they are likely to nest in piles of wood, high in trees, in dense shrubbery, or in other areas in the woods.
Kuma's designs use a concept known as "tensegrity" to balance thin and thick materials and create balance throughout the home. Each birdhouse and shelter is designed to look as natural as possible but to have a balanced look and feel that emulates classic Japanese architectural concepts. You can view more of their architecture on Instagram.
a/LTA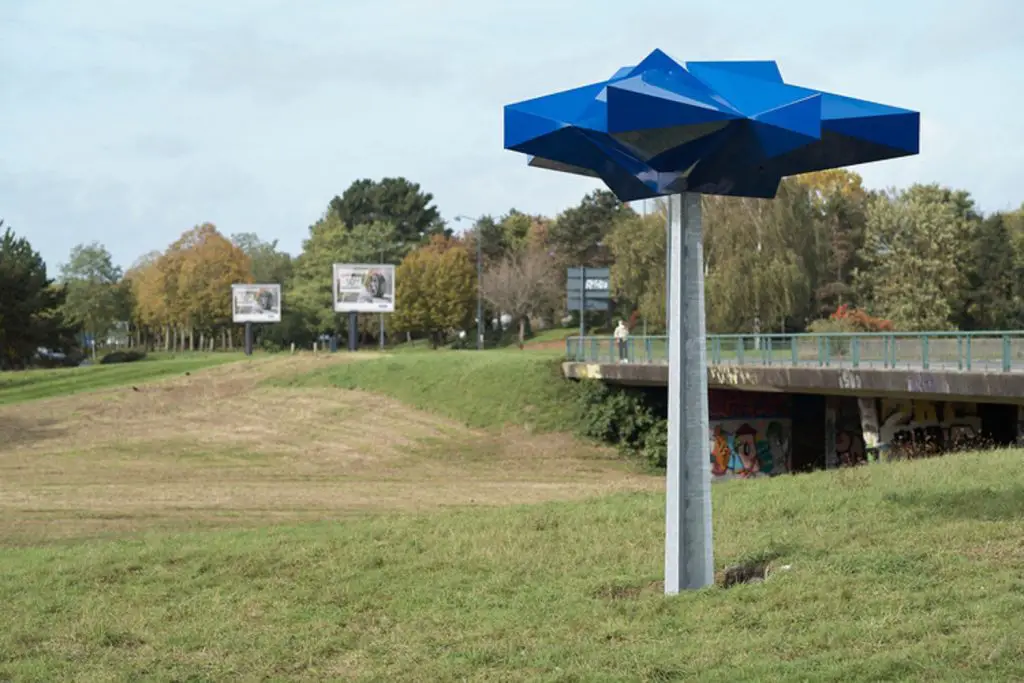 This French architect firm creates a broad range of different projects, including gorgeous and unusual birdhouses. It is an emulation of a university restaurant named Le'Etoile that was designed by famed architect Georges Maillols. The birdhouse name, Georges Star, references this history.
It is a blue birdhouse on a metal pole that has multi-faceted designs that emulate a large star. Standing about 18 feet off the ground, it provides a unique and eye-catching design that birds find interesting. It typically gets a lot of attention from local birds and intrigues residents as well.
That interesting look is a big focus for a/LTA, which often focuses on contrasting modern architectural designs with capitalistic concepts. This is the only birdhouse that they have created, though they have often discussed potentially creating more throughout their operating region.
Marion Normand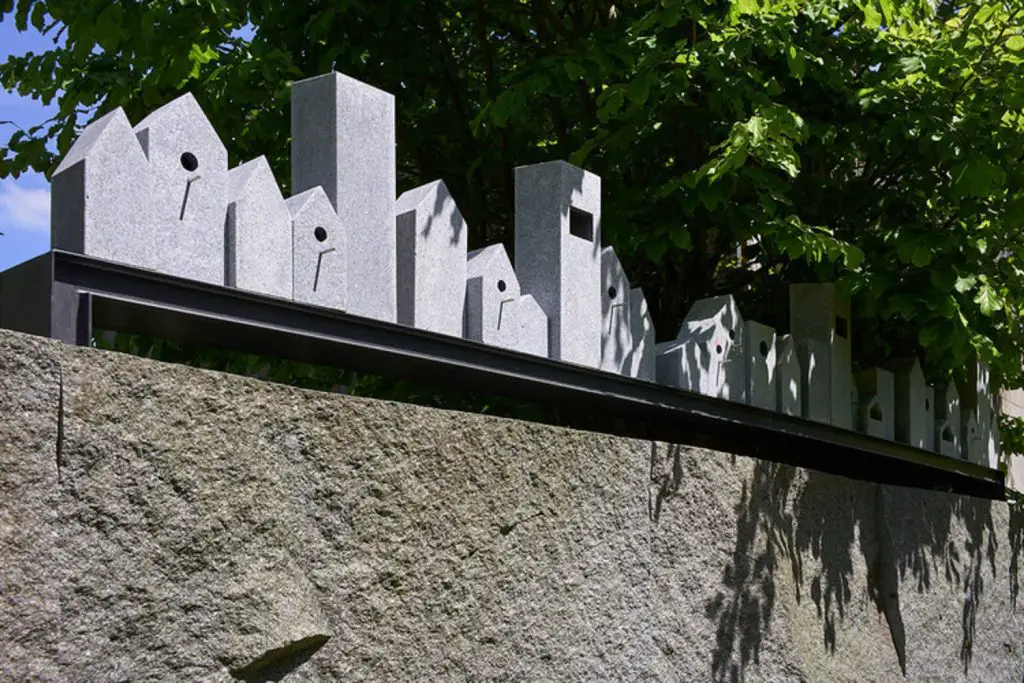 Marion Normand went the opposite route of many nature-inspired birdhouse designers and architects to create a style that emulates a city view. Her design integrates 30 different granite houses along an architectural school wall. Granite was chosen to provide a long-lasting house that many birds would enjoy.
Each box is designed to comfortably fit a few birds and follows all standard guidelines for hole size, dimensions, and roosting areas for various species in the region. The overall look creates a small and gorgeous city skyline that reminds viewers that animals like birds have social structures of their own.
Furthermore, Normand went to great lengths to ensure that the houses look different but have a similar style to create both a diverse and uniform look. In this way, these birdhouses are attractive to both people and birds and provide a safe and unique nesting environment for many species. These designs help create a look and feel that many birdwatchers may enjoy.
Normand's bird house is a one-of-a-kind structure. You could simulate the look in your yard with one of these birdhouses from Amazon.
If you wanted to go the extra mile, paint them grey to mimic the granite look of Normand's style.
Other Famous Birdhouse Makers
Many creative people and companies have crafted high-quality and unique birdhouses over the years. Discussing all the cool and inspiring design specialists who probably double this article's size! So, let's compress a few of the most interesting options we didn't have room to explore fully. Just a few of the coolest birdhouse makers on the planet right now include:
Dominique Perrault and Gaelle Lauriot-Prevost: These architects used materials like stainless steel, glazed ceramic, and other classic concepts that emulate things like mobiles and minimalist art.
Birdhouse With a Soul: This birdhouse design company creates modern and contemporary birdhouses that focus on unique styles and designs that suit a buyer's specific yard and species' needs.
Modern Birdhouses: These designs use concepts by J.R. Davidson, Ralph Rapson, and Richard Neutra to produce streamlined and simple birdhouses with surprisingly handsome appearances.
Nathan Danials: This designer owns a one-person company, Modern Birdhouse Design, that focuses on finely crafted birdhouse designs. Danials integrates modern and old-school designs, depending on what each of his customers wants.
FAQ About Birdhouses
Birdhouses have been around a lot longer than you might think. In fact, they have likely been present for far longer than recorded history knows! Many cultures love birds and have cherished them for centuries. As a result, it is important to take a deep look at a few frequently asked questions that some people may have that could help explain birdhouse history a little more.
When Was the First Birdhouse Built?
The earliest known birdhouses in European culture were built in Belgium and Holland in the 15th and 16th centuries. They were made to capture the birds rather than house them. Once captured, the birds' eggs or the birds themselves were often cooked and eaten by hungry Europeans.
These early clay houses looked more like vases than the modern birdhouse and were often attached to homes and trees. However, Europeans began slowly developing houses to protect birds and even added positive messages or talismans to their houses to make them even more protective of their birds.
However, North American birdhouses have been created by Native Americans for far longer than history probably knows. These houses were built to attract and shelter birds from bad weather. Many Native Cultures venerated or even worshipped birds and built homes to keep them safe.
Are There Smart Birdhouses?
Smart birdhouses are those that integrate more modern design elements, including electronic features, that make them more useful. They're not heavily common throughout the market just yet but can provide a unique experience for many birdwatchers with a good budget.
With smart birdhouses, you can track your birds in different ways with features like synced cameras that can provide a constant video feed of your birds to your phone. These options may also include insulated walls or even feeders that can keep birds safe in a home.
Are these birdhouses a good option for bird fans? That all depends on a few things. Smart birdhouses may help you track your birds with cameras and other elements but can be costly. Some might even get damaged by birds when they make a nest inside the house, so be careful when deciding here.
How Should Users Choose Among Stylish Birdhouses?
When choosing between unique or more stylish birdhouses rather than traditional models, it is important to take a few things in mind. For example, do you want a house with a minimalist or modernist design? Birds typically prefer those that look as natural as possible but aren't picky when the weather turns bad.
Next, consider your budget and how much you can afford. Many of the birdhouses discussed in this article are either one-of-a-kind options or offered in limited numbers. That drives up their price, so make sure that you pay attention to these costs before buying a birdhouse.
Make sure that you buy a birdhouse that fits into your yard's overall style and which feels comfortable for your needs. For example, if a more natural birdhouse design feels better in a more rural environment, it may be the right choice for your needs.
Related Posts: