Famous Bird Paintings Worth Checking Out (Beautiful Avian Art)
Birds are some of the most beloved and popular subjects for painters, cartoonists, photographers, and other skilled artists. Their beautiful shape and ability to fly make them wonderful to capture on the still page. Here are some of the most famous and popular bird paintings in the world. We'll discuss well-established masterpieces and some more modern paintings that may look great to you.
As an Amazon Associate, I may earn a small commission from qualifying purchases at no additional cost to you.
Famous Bird Paintings Considered Masterpieces
Over the years, many artists have painted beautiful bird paintings that are considered masterpieces. Most are collected in museums, where they're displayed for all to see. Let's take a look at some of the most important of these paintings to get a feel for what types are available around the world.
The Goldfinch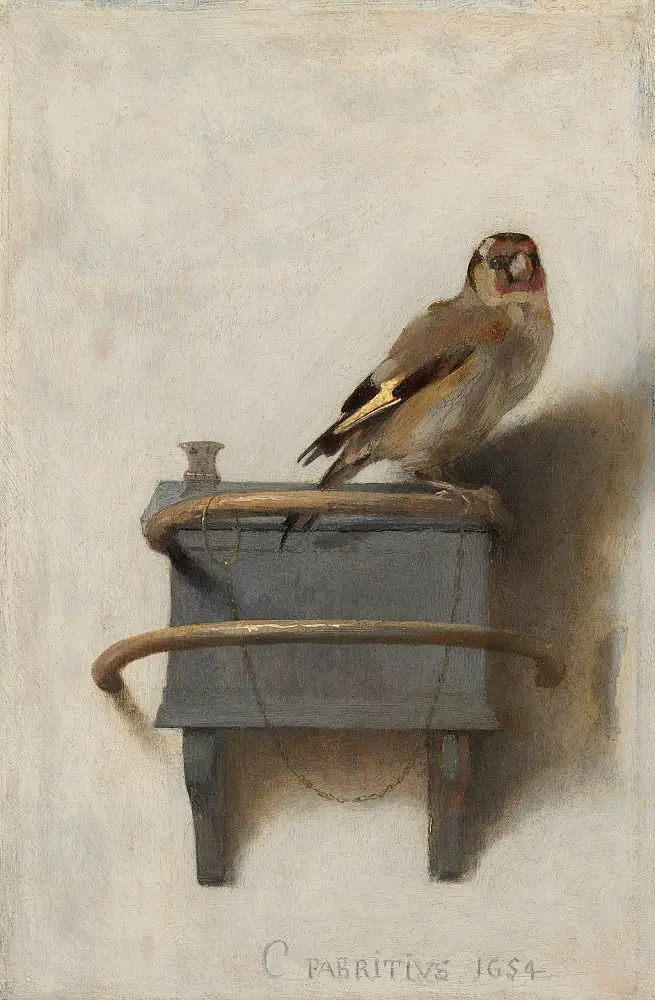 This 1654 painting by Carel Fabritius showcases a finch chained to a perch. The muted colors highlight the somewhat somber feeling of the painting, with the bird's plight being very heartbreaking. However, there's a beauty and a dignity to the bird that belies its trapped state. This amazing painting is found in the Mauritshuis in Hauge, Netherlands, one of the best art collections in the world.
Little Owl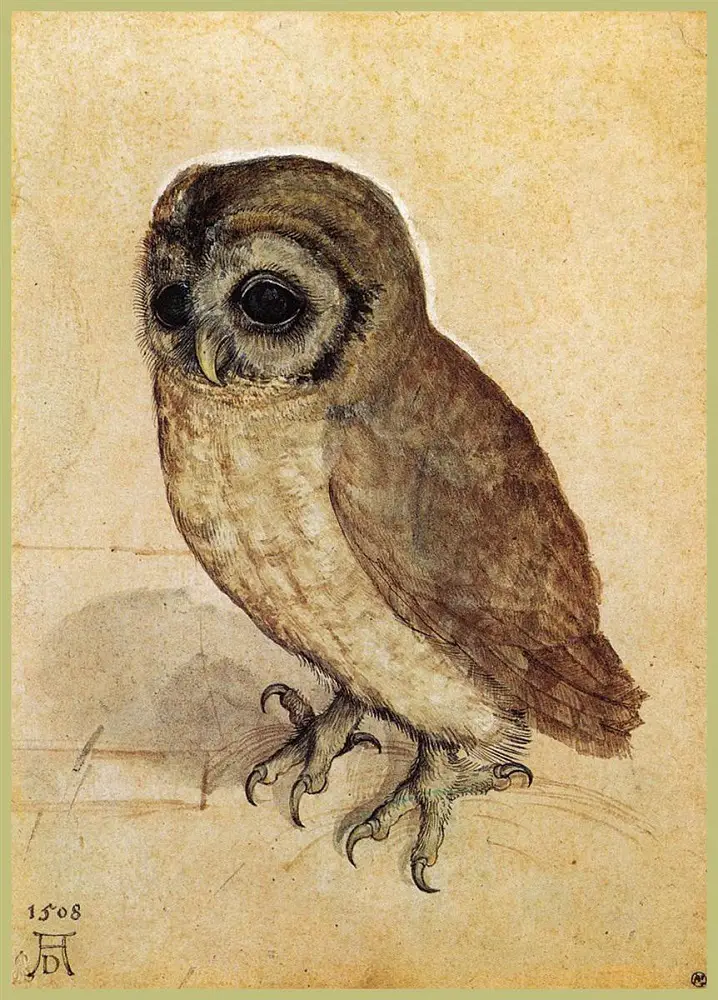 Little Owl by Albrecht Dürer is a simple 1506 painting that shows beautiful attention to detail. It is a still life with the owl against a white background. The brown and tan colors showcase a cute owl that Durer outlines beautifully, with great attention to individual feathers and textures. The owl looks friendly and welcoming and hangs in the Albertina Museum in Vienna.
Related post: Owl Names in Mythology
The Kingfisher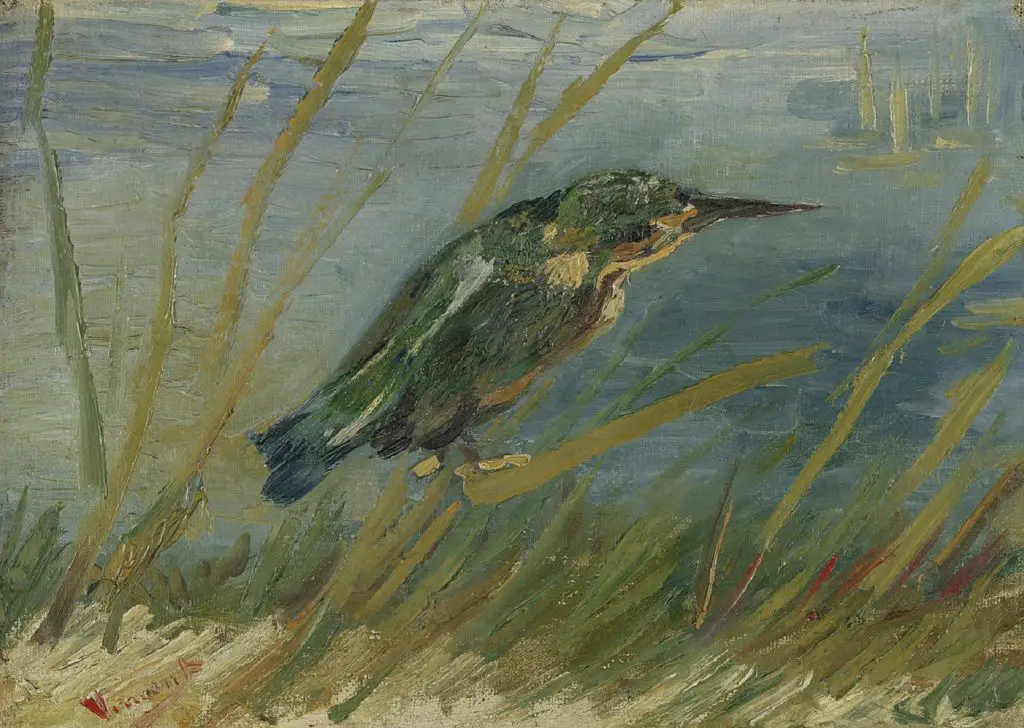 The Kingerfisher is an 1886 painting by Vincent Van Gogh that shows even this painter's lesser-known work is worth investigating. It's a bit more detailed and realistic than his other paintings, though it has his trademark approach. It includes the gloomy dark blues and greens he made famous with other paintings and is one of his few paintings of an individual animal. Find it at the Van Gogh Museum in Amsterdam.
Related post: When did birdwatching become popular?
The Threatened Swan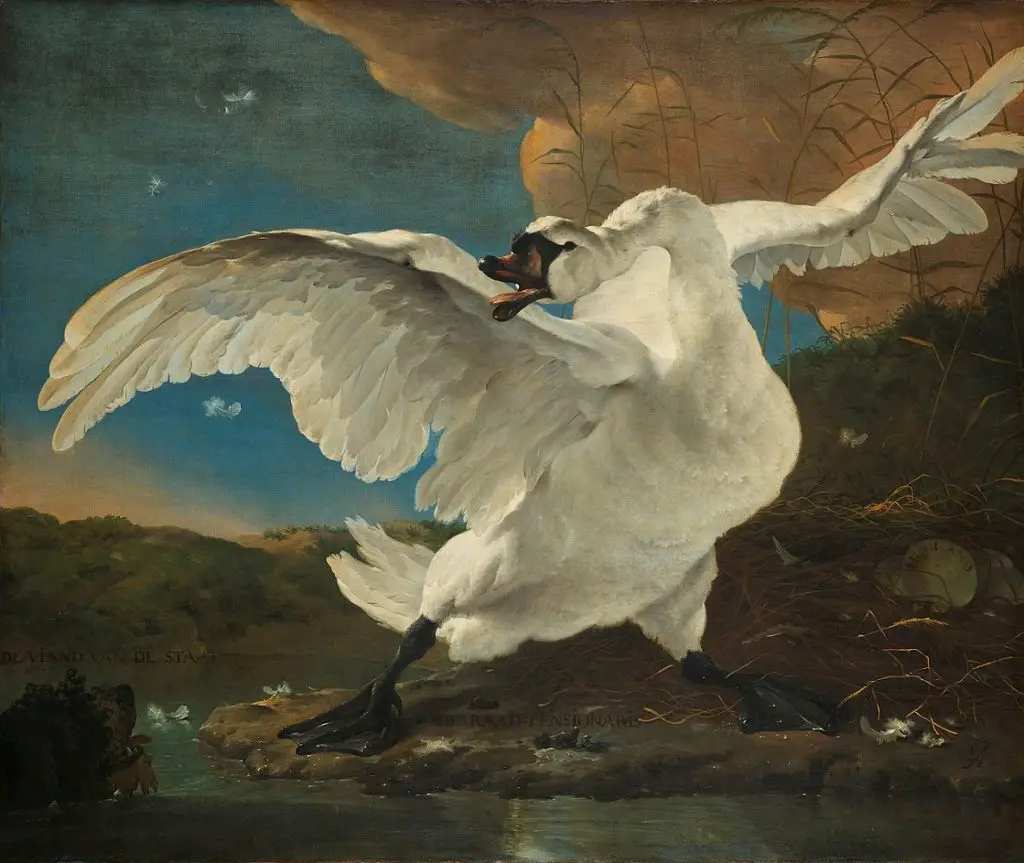 Jan Asselijn painted this fantastic rendering of a swan in 1650. Jan used the natural defensiveness of the swan to capture this bird defending its nest from a dog. The swan's posture says everything: it is upset and ready to fight to the death. Jan uses contrasting colors and spreads the bird throughout the whole painting to create a true masterpiece. It can be found at the Rijksmuseum in Amsterdam.
The Floating Feather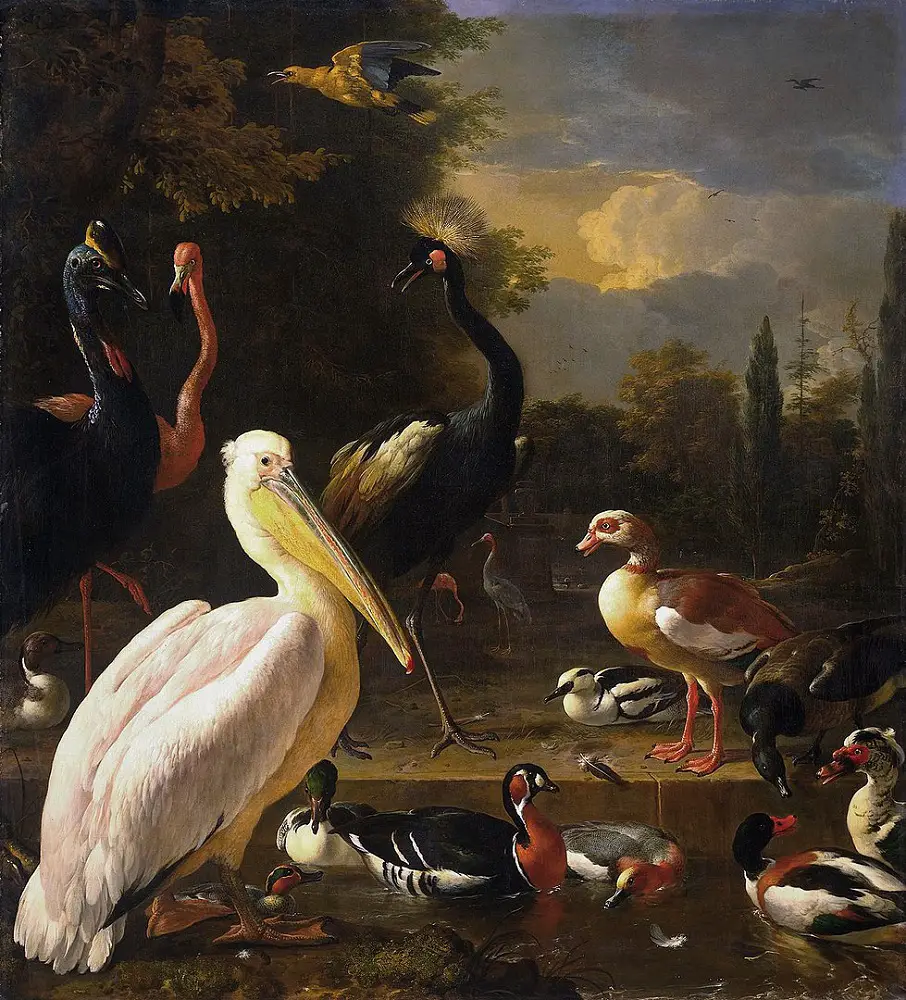 Melchior de Hondecoeter painted this in-depth collage of birds in 1680. While the large pelican in the foreground is the most obvious bird, there are many others throughout the painting. It was de Hondecoeter's tribute to the many beautiful birds throughout his poultry yard. Currently, this painting is found at the Rijksmuseum in its large collection of beautiful bird paintings.
While many refer to this painting as "The Floating Feather," the proper title is "A Pelican and Other Birds Near a Pool." The gorgeously illustrated floating feather led viewers to rename the piece.
Related post: Hawk Names in Mythology
Famous Paintings of Bird in Flight
There's nothing quite like catching birds in flight when shooting photos while bird watching. Several paintings capture this amazing experience in wonderful detail:
Harem Women Feeding Pigeons in a Courtyard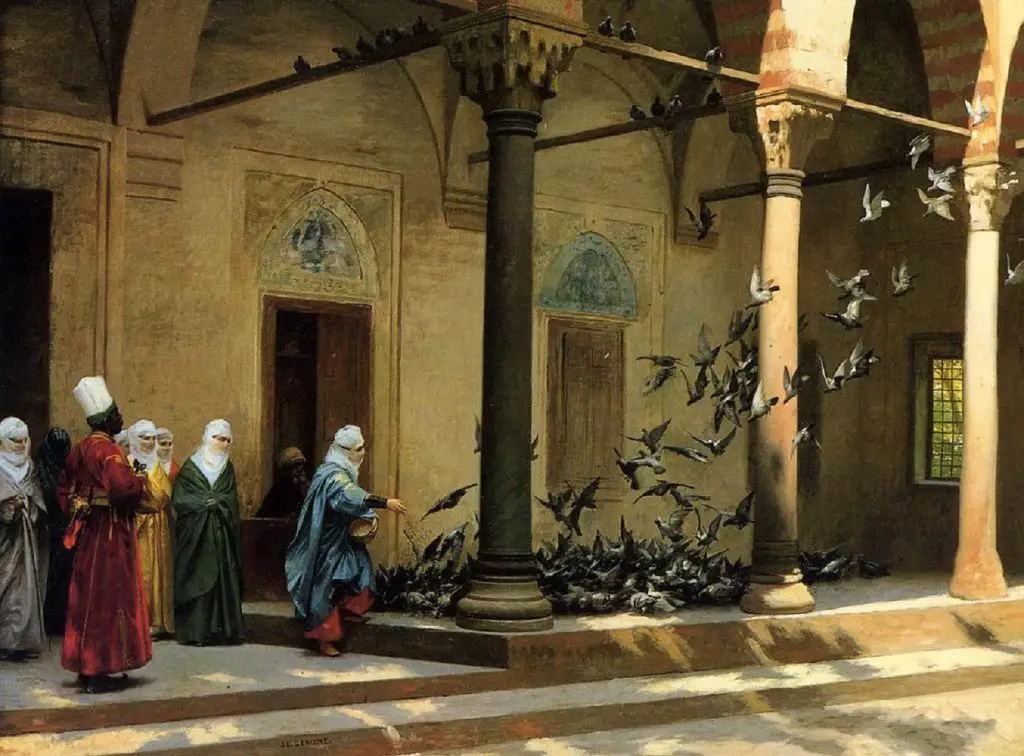 This fantastic painting by Jean-Léon Gérôme showcases birds taking off from a beautiful courtyard and is a great study in contrast and design.
Concert of Birds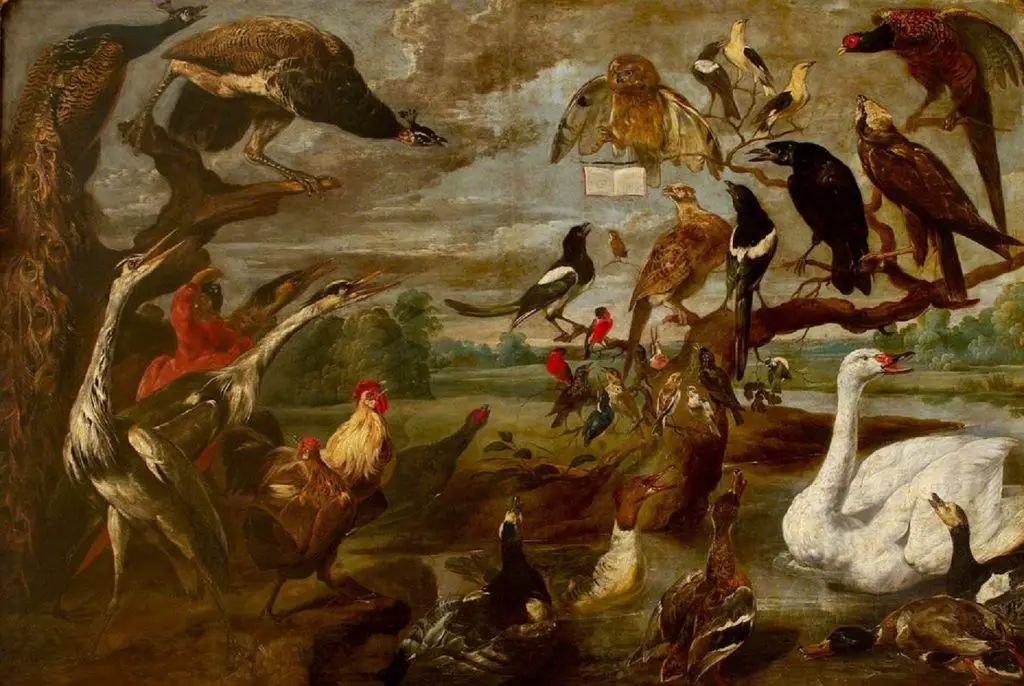 Frans Snyders' Concert of Birds was painted in 1640 and showcases multiple birds on the wing in a striking example of his contemporary Flemish style.
The Tree of Crows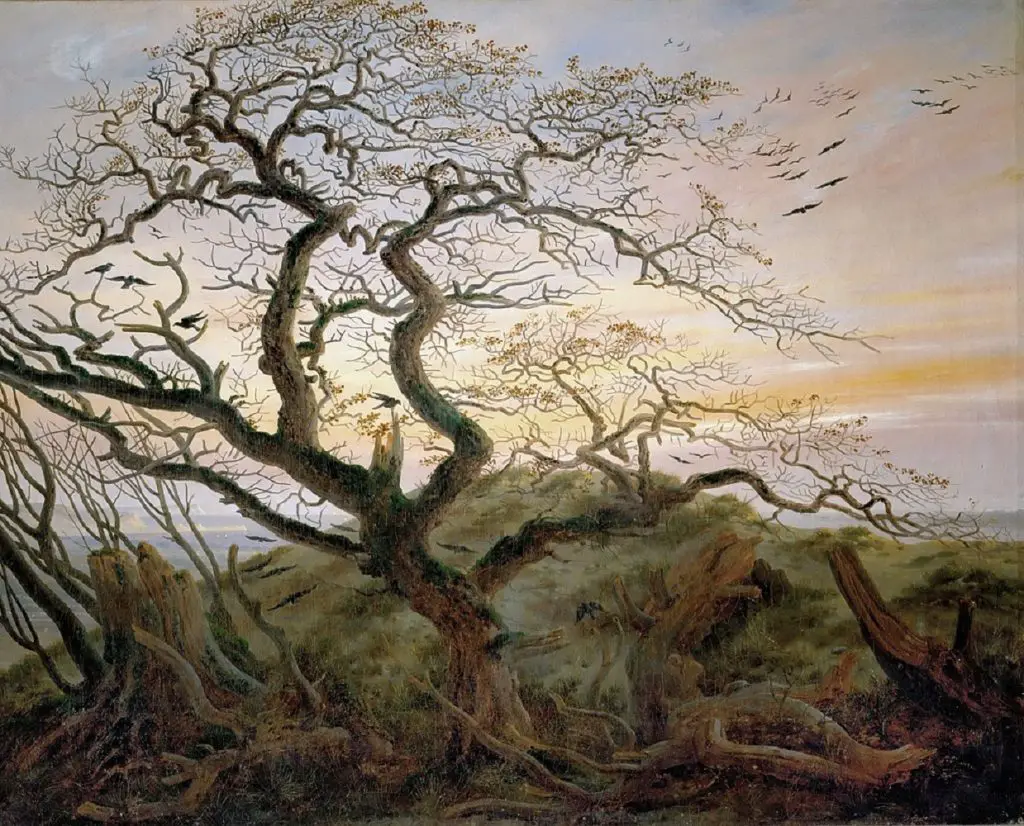 Caspar David Friedrich is a rather bleak and colorless painting showcasing the harshness of fall life and a murder of crows taking flight from a barren tree.
Swifts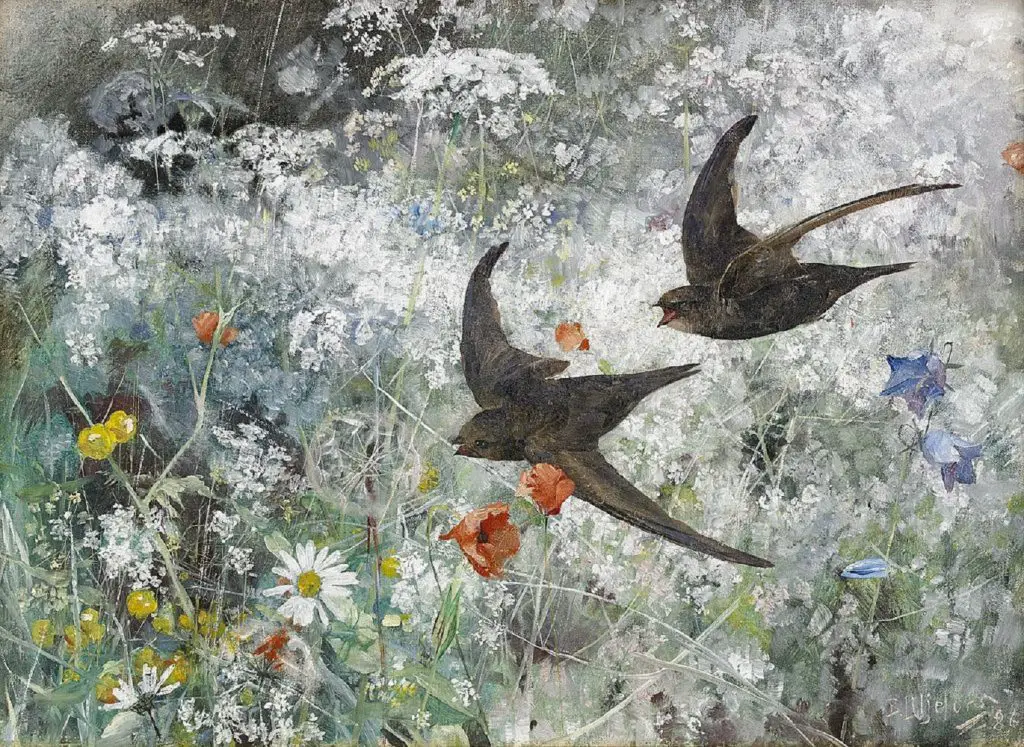 Bruno Liljefors painted two gorgeous common swifts flying over a garden to highlight their beauty and their contrast with the many colors beneath them in the garden.
Famous Modern Bird Artists
Though many of the best-known bird paintings are from hundreds of years ago, there are more modern painters who have created fantastic bird art:
Janet Turner
Turner was an educator and environmentalist who has created multiple bird paintings since the 1960s. Her most famous painting is Wintering Snow Geese (click to view it on the Smithsonian's website), a gorgeous study of these beautiful birds. Turner's paintings are renowned for their attention to detail and love of her subjects.
Roger Tory Peterson
Though operating in the early years of the 1900s, Peterson is still considered a modern artist. He created the field guide "Guide to Birds," which was the first of its kind, in 1934. This book outlined his in-depth identification system that is still the standard for bird watchers.
David Allen Sibley
Sibley is a well-known bird illustrator who taught himself how to paint. His field guides are considered modern birding bibles and includes fantastic details, gorgeous drawings, and much more. He is likely the modern-day John James Audubon (learn about him in more detail below).
Who is Famous for Painting Birds?
Though there are many famous painters who loved creating birds, John James Audubon is probably the most famous. Audubon was an American artist, ornithologist and naturalists who lived from 1785 to 1851. He held various extensive studies on American birds to document their spread throughout the nation. Audubon created multiple drawings and books highlighting his many studies.
His book, "The Birds of America," which he updated from 1827 to 1839, is considered among the best books of its type. In the book, Audubon provided useful information for identifying these bird species and even identified 25 new species that had never been discussed or highlighted by others.
If you have ever heard of the National Audubon Society, it is named after this pioneering artist and bird expert. Though bird paintings existed before and after Audubon (many of which may be finer than his work), no single artist has drawn nearly as many birds as Audubon, who created 435 different bird paintings in his lifetime. There are about 120 sets of his classic work around the world in multiple museums, including in New York and Toronto.
What Does a Bird Symbolize in a Painting?
Birds may symbolize many things when used in a painting, such as freedom, escape, joy, and life. However, there are many individual meanings tied to various birds that are important to understand. Doing so can ensure that you choose a painting or create one that uses the proper bird. Thankfully, this symbolism isn't too hard to understand when broken down properly.
Albatross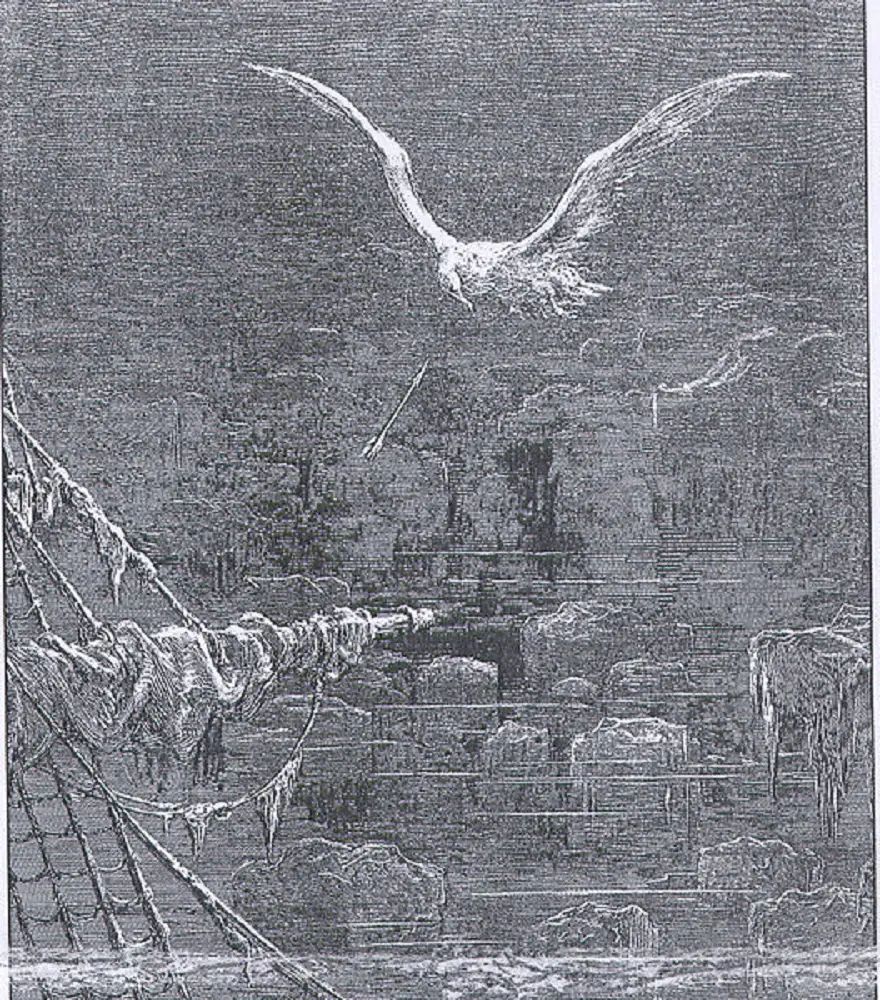 The albatross has been used in many pieces of art, including Coleridge's justly famous "The Rime of the Ancient Mariner." It is typically considered a sign of good luck and positive emotions and is often used in oceanic paintings to show good luck and well-being to sailors. They are also considered a guiding spirit that helps sailors get across difficult weather and challenging water situations.
Bald Eagle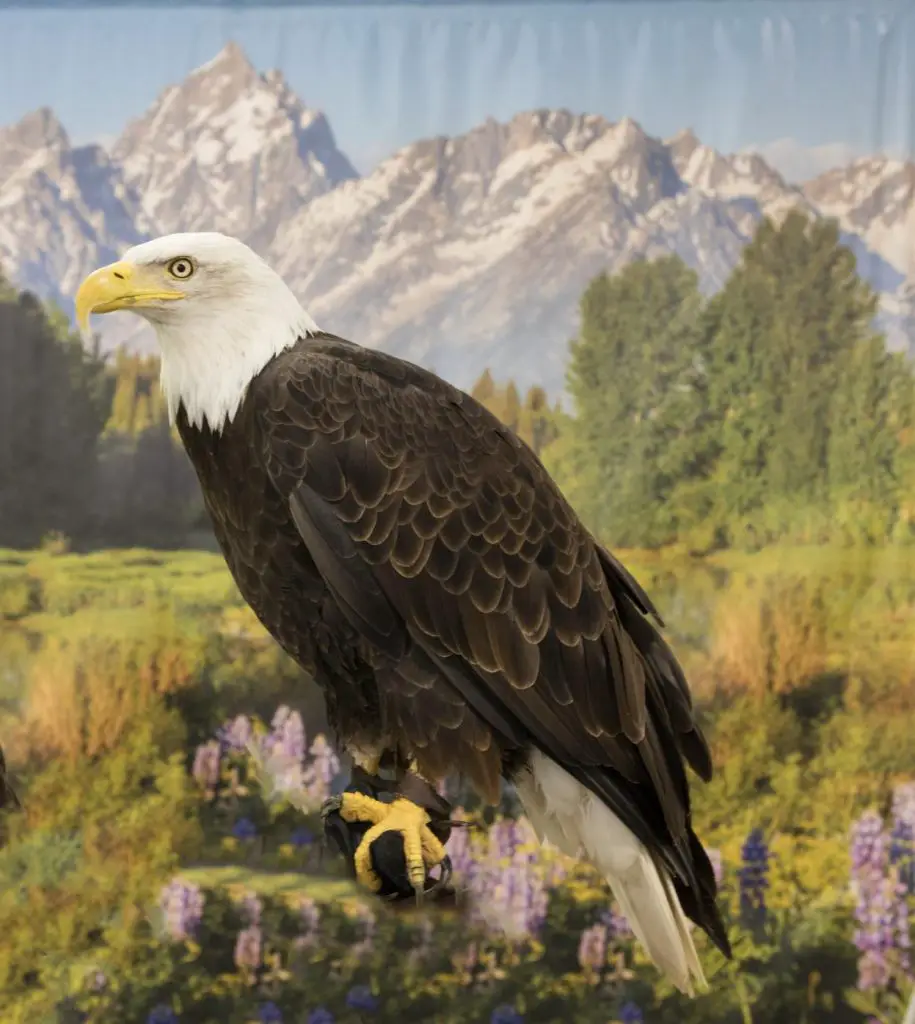 Traditional bald eagle symbolism includes strength, courage, leadership, and thunder. Native American tribes considered them the thunder god and as a positive symbol of success in war and hunting. In modern America, bald eagles can symbolize freedom or serve as a general symbol for the country itself. They are one of the most popularly painted birds in the world.
Blackbird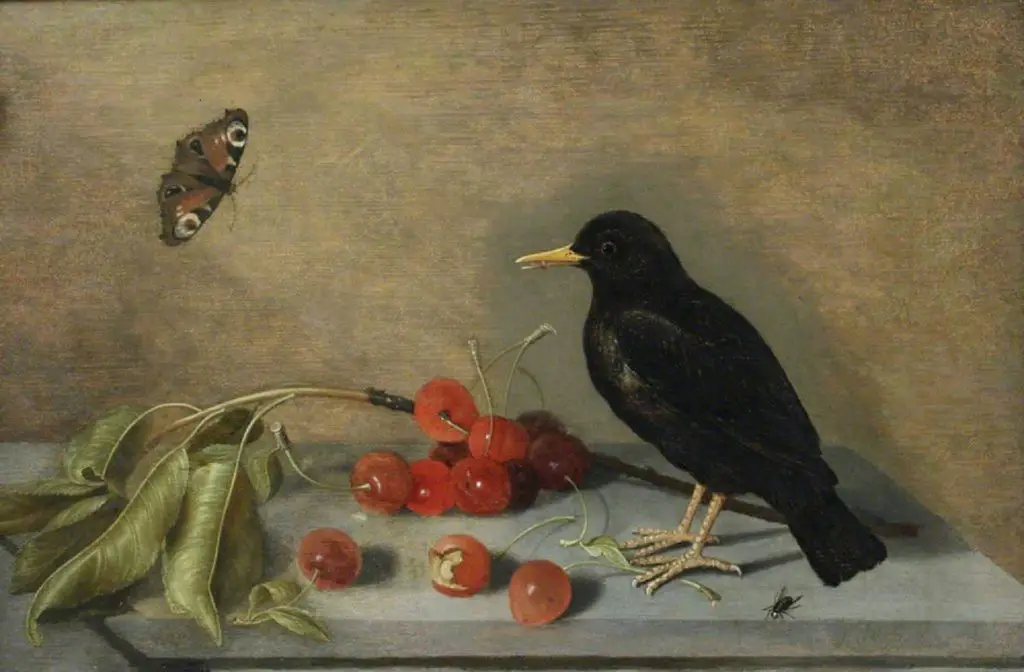 Blackbirds have been considered a symbol of carnal pleasure and evil, especially when used as a totem animal. However, they can also be considered a powerful reminder to stay on a positive spiritual path and that people need to further explore the mysteries of life. This gives them several unique meanings that make them a complex bird to use in paintings.
Canary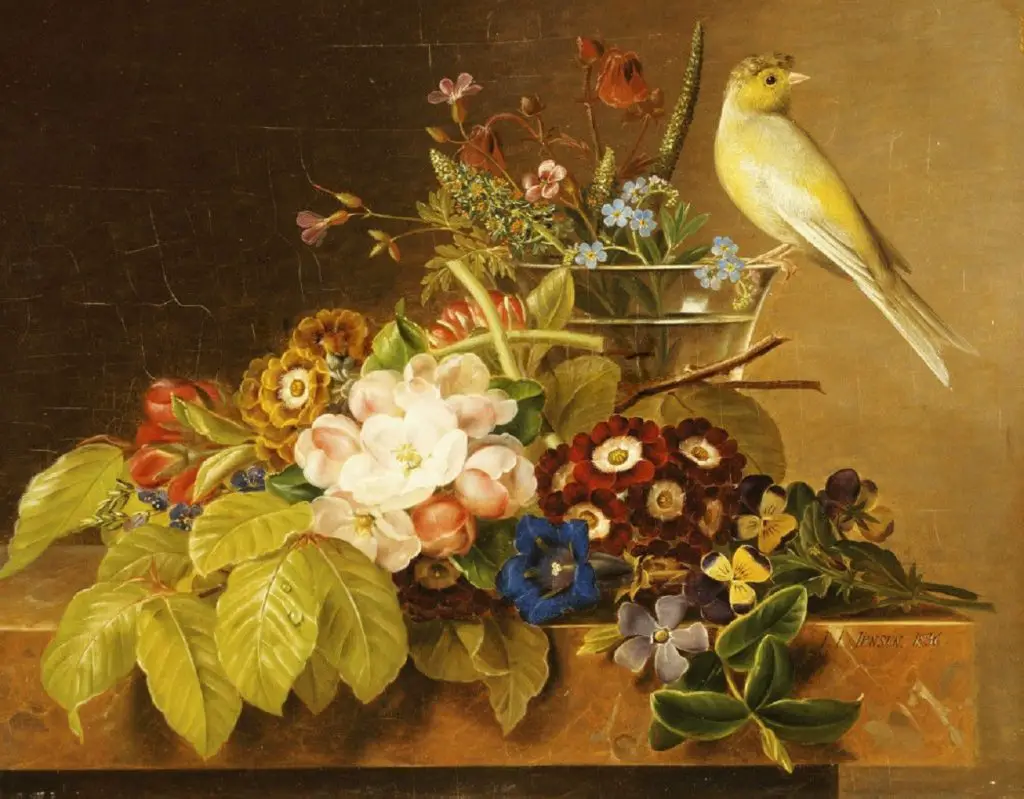 Canaries are considered a pleasant and happy bird with various symbolic meanings. For example, they can symbolize freedom and happiness and also signify gossip. Some use yellow canaries to highlight selflessness and sexual ecstasy. When used in certain contexts, they can also be used as a sign of warning or danger, as canaries were used in coal mines to warn of dangerous fumes.
Dove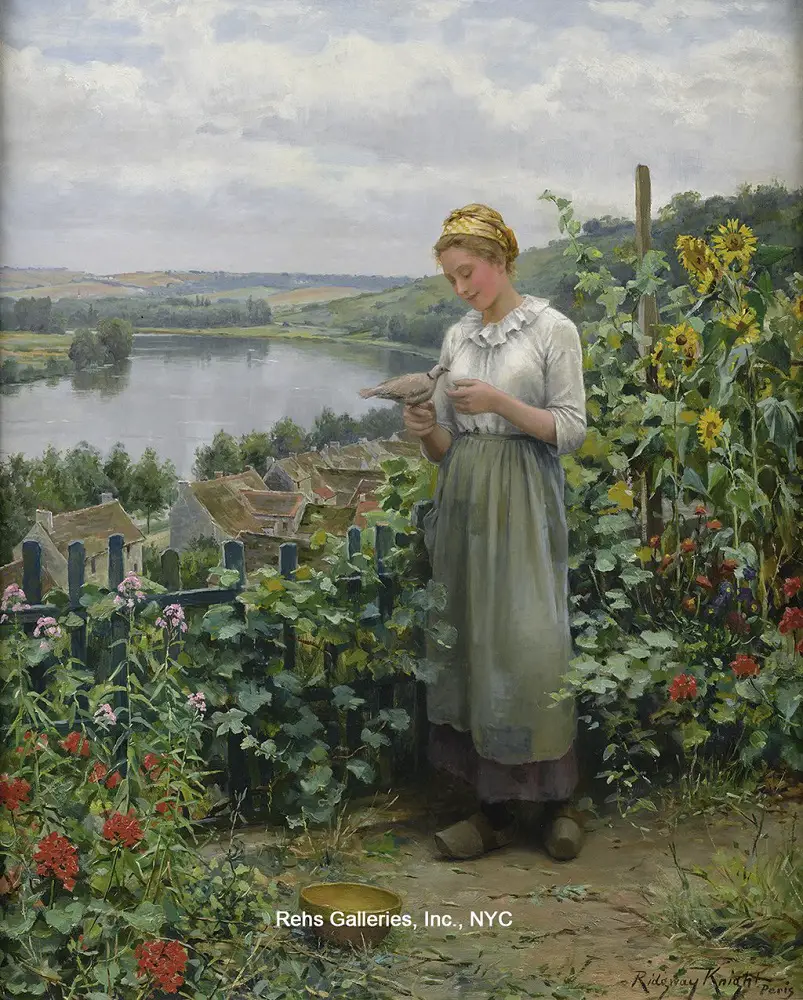 The dove has been a symbol of purity, maternity, love, and peace for thousands of years. They were used in the Biblical story of Noah and the Ark, when they brought back news of dry land after the flood. Doves are also naturally peaceful and gentle creatures, reinforcing their beauty. Often, they are heavily connected to wisdom and courage due to their connection to Athena in Greek mythology.
Falcon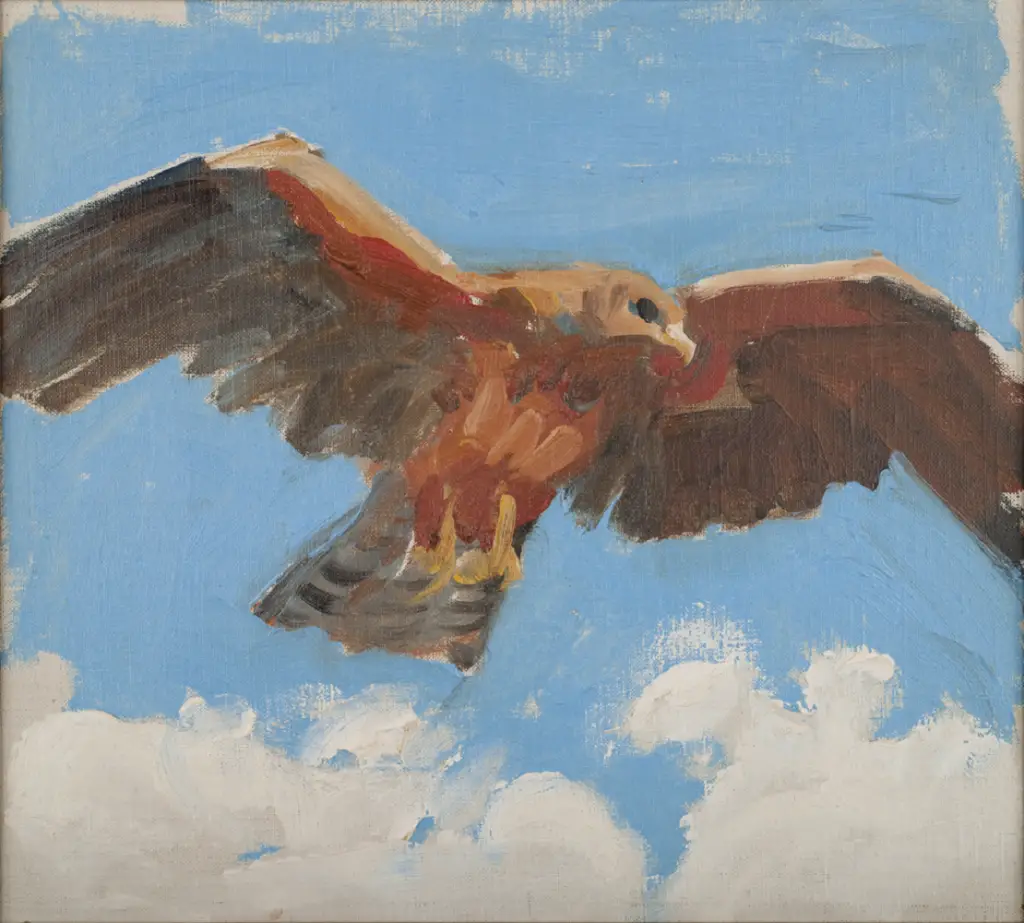 The falcon symbolizes many different positive traits, including gracefulness, power, and agility. They are focused on things like victory, success, and overcoming major challenges in life. Very few mythological cultures consider these birds negatively and many even connect them with superiority, spiritualism, and even call them the messengers of manifestations of the gods
Related post: Falcon Names in Mythology
Goose

One of the most common animals in the world, the goose symbolizes many things. Their tendency to gather in large groups gives them a reputation for being loyal and sociable. However, they are also connected to fierceness and bravery due to their willingness to fight anybody who threatens them. That makes them a useful and complex image for many types of paintings.
Related post: Water Bird Mythology
Raven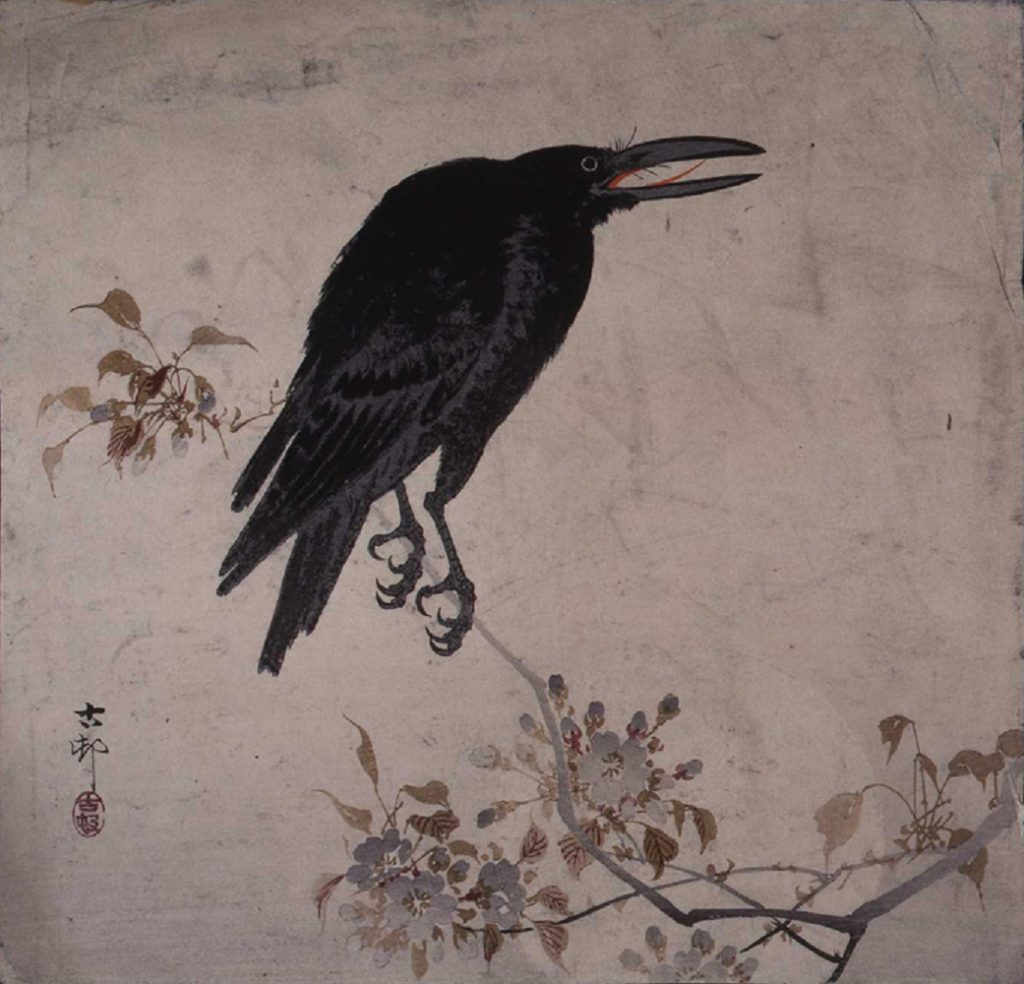 Ravens typically signify darkness, as seen in Poe's fantastic "The Raven" poem. In that poem, they represent the author's dark side. Ravens may also symbolize things like knowledge, guidance, transformation, and magic. Their significant size and dark colors make them a very striking bird that works well in multiple types of paintings, including more brooding portraits.
Wrap up- Famous Bird Paintings
We hope you've enjoyed our art journey discovering famous bird paintings! Which is your favorite?
Related post: The Coolest Birds